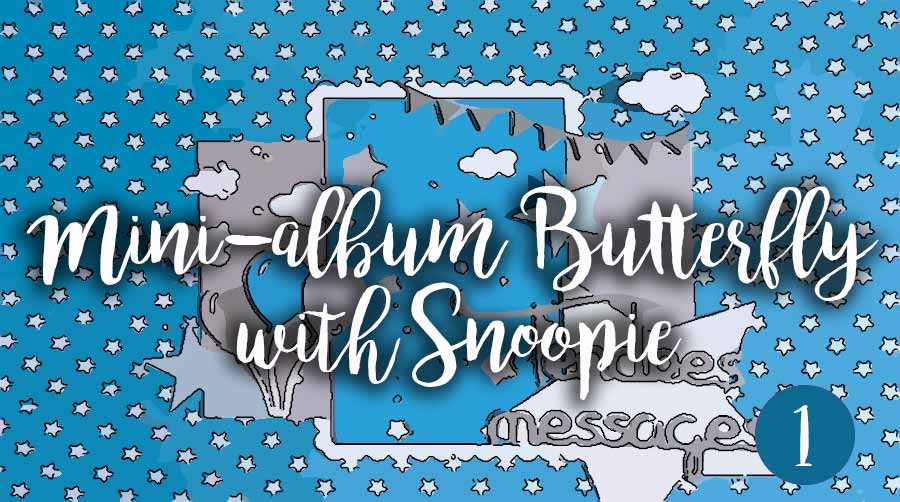 MINI ALBUM BUTTERFLY
WITH SNOOPIE (Part 1)
SNOOPIE
How long do you scrap? I scrap since 2005, I started during the pregnancy of my daughter Manon, thinking make her a little album relantant pregnancy, but I've so got a taste that I could not stop myself from scrap.
What do you like to do scrapbooking?   I love making mini albums as we can put in a lot of pictures but I also love making pages, I started by making 30x30cm, then I changed to the 20x20cm (I always liked to put great photos, I had before a rather loaded style, the 20x20cm allowed me to put my 10x15cm photos) then I finally returned to 30x30cm, with photos of all sizes, and sometimes on the A4, US A4 often with a less loaded style. 
What are your favorite colors?   I love the brown and the colors usually associated such as chocolate / turquoise, chocolate / pink, chocolate / lime green / beige are my favorite duets/trios, although I scrapbook full of other colors once they are brown paper / turquoise / green I rush at the chance to scrap them!
What brings scrap toyou ? a moment of relaxation, a moment for me (but also for my daughters, who will have later all these memories for them) and sometimes a scrap therapy, a way to boost my spirits when Bugs point the tip of their nose in my life.
But what I also like with the scrap is that it can make beautiful encounters! Through scrapbooking I met Miss Mandarine, a scrapper with a big heart and we created a scrapbooking association (a bit of scrapbooking) but also the team "Scrapidées", a blog of sketchs (where we show a sketch every Monday , an extra team with awesome girls ! There is also Cartoscrap with Marianne at the helm, who trusts me to illustrate some of her kits and there are my clients in my workshops, sharing good humor moments and just, that's what brings me scrapbooking.

Visit sites Snoopie's ...
SNOOP has 2 superb sites ...
Her old blog, first where she presents her cards ATC, her mini-albums, workshops and achievements. Very rich and well documented!


http://www.lescrapavecmoi.over-blog.com

And then her new blog  on which she offers subscriptions to its monthly kits (really affordable ... 26 € for 6 months of ticket!). Of course, you can also get a monthly subscription-free kit ...
Feel free to visit !
The material I used


---
- Mini Album Kit - scalloped punch 
- Crop a dile or other tools to make holes and place an eyelet. 
- Brown and black ink 
- Sandpaper or scissors
- Basic first aid kit (scissors, glue, ruler, cutter, white pen, pencil ...) 
- Stapler
- 3d foam
Many things are optional! We can totally do without, even if it adorns the mini.
Preparing papers
---
Cut the papers:
- 2 bands (A & B) 16 x 30.5cm that we will have to fold it the same way and make the folds as in the diagram below.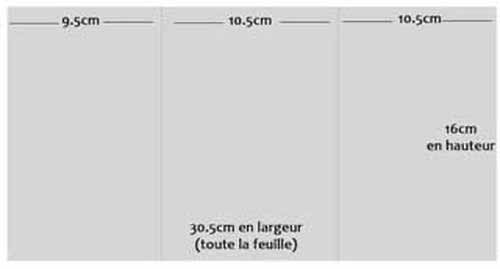 You can scallop one edge (that of 9.5cm) or tear a little on the entire length if you don't have a scalloped punch (you can scallop by hand by cutting and then making the holes with the Crop-a-dile or a small hole puncher but it's pretty long).
Recto papers:                      
Verso papers: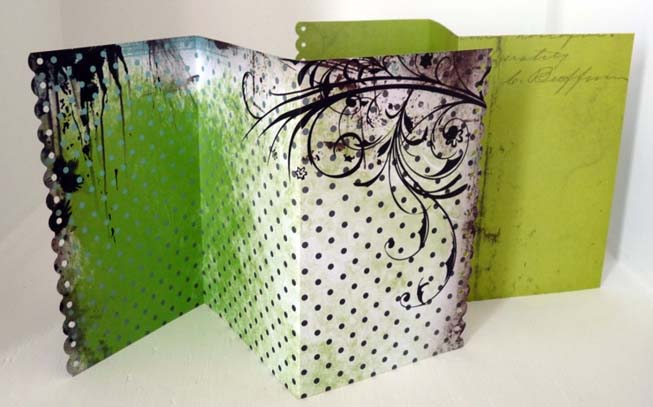 - 1 band (C) 16x16cm, half-folded.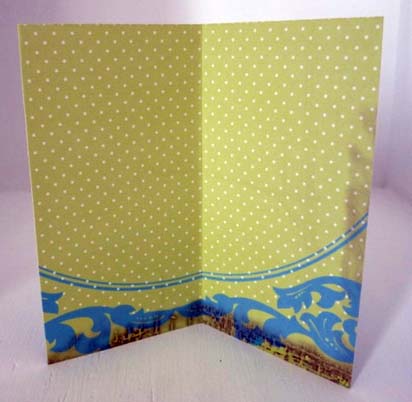 - 1 band 16x10cm (D) folded like the figure below.
- 1 Strip 6cm (E) in the mirror paper .
- 1 Strip 5.5cm (F) in the transparent (it does not appear on the image).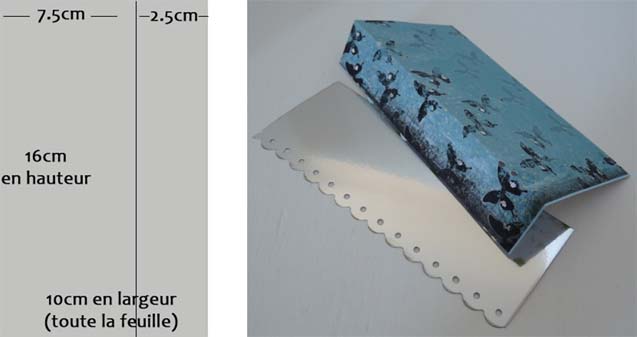 - 1 band 11x30.5cm (if possible with the butterfly, because I clipped it for use it in a decorative way), folded in this way: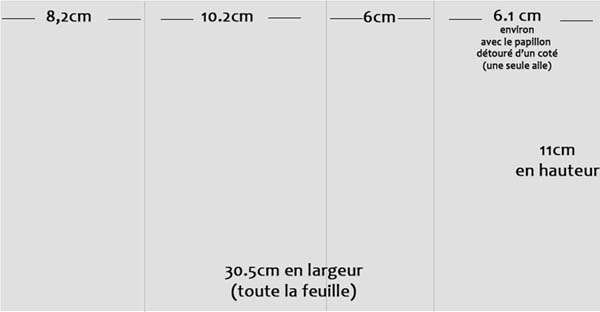 You can scallop around the butterfly, careful not to damage it, I festooned with the puncher to the bottom of the butterfly but when it is over I reproduce the same swags, and I made the detour Crop-a-dile (Paper G).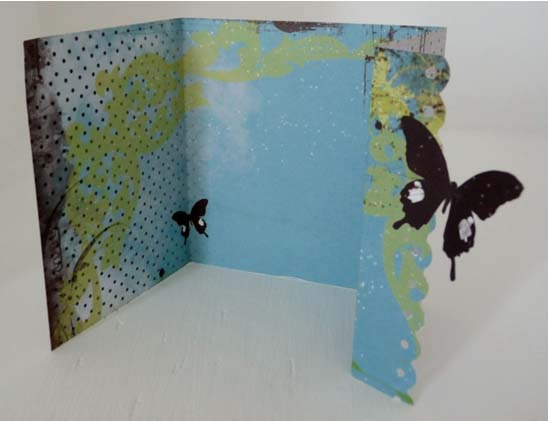 Ink the edges of all the papers with black ink (or brown, choice, or another color ...)
- 1 band in the 18x30.5cm White Bazzill , put aside to cover ...
Structure of the mini-album
---
- Take the first papers (A & B) that was cut in order to stick together, as follows: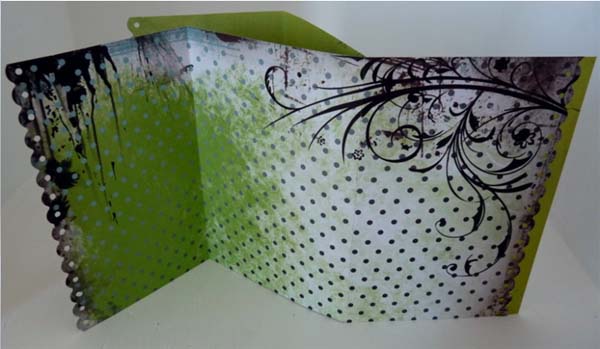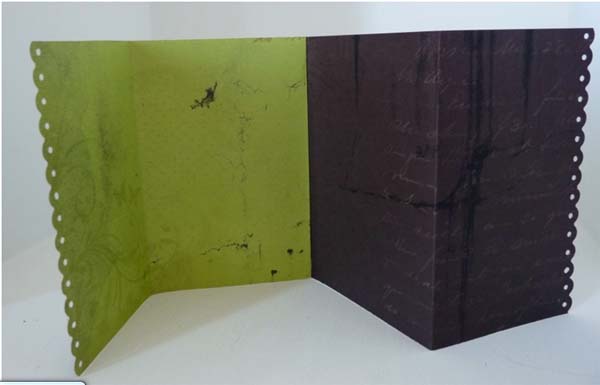 - Take the paper with the cutout butterfly (G), paste it (only the part of 10.2cm) on brown paper (A / B), in a fairly centered way.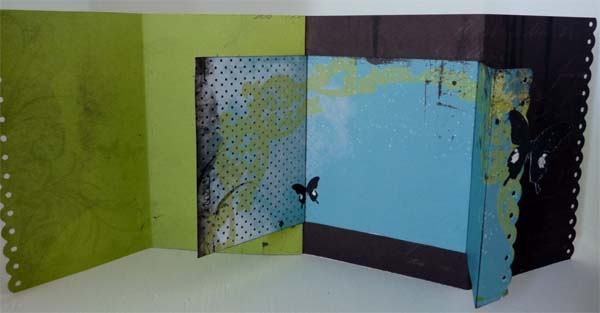 - Take the trio paper, transparent paper and mirror (D, E, F). Glue the paper (D) and mirror paper (E) as follows: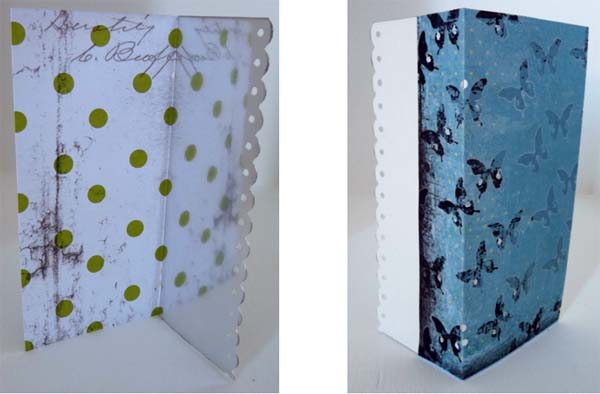 Faced with mirror inside mirror face with the outside
- Stick the clear (F) under the paper mirror (E) and stick the mirror of the paper (only one) on the Green Paper (A / B), like this: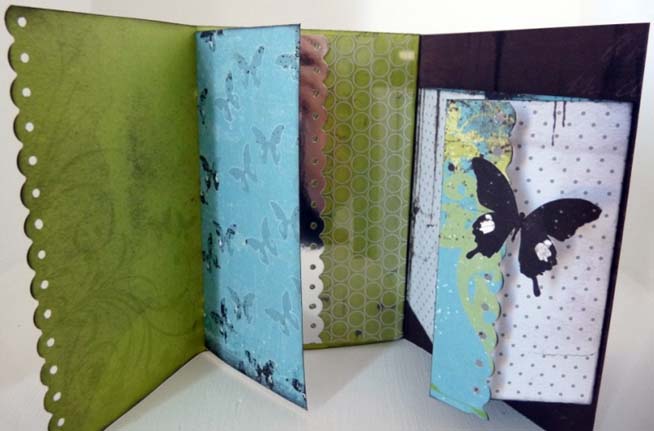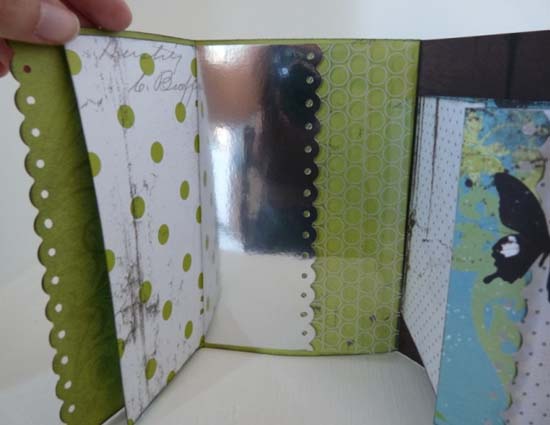 - Take the paper (C) (half folded ) and stick one side of the paper (the other is free) on the back of brown paper (A & B):


The structure is now completed, it remains only to decorate each page. (If need help do not hesitate to contact me by mail snoopinette@wanadoo.fr or tel 06.85.40.04.45 because it is difficult to explain in writing, something simple and spoken) ...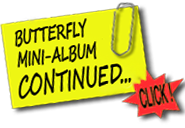 Encyclopedia of Scrapbooking
Creating Keepsakes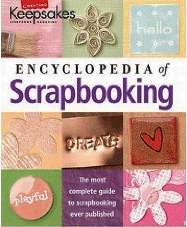 (click to enlarge)
If you have only one book of scrapbooking to buy...
Outstanding Mini Albums:(Paperback)
Jessica Acs (Author)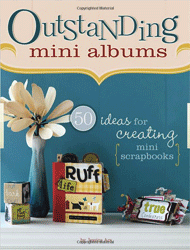 Mini albums have become a popular medium for scrapbookers - they are small enough to complete in a timely manner but big enough to tell a story.
Features 50 albums with step-by-step instructions for over 30 projects - perfect for scrapbookers of all levels...
Make It in Minutes
Roxi Phillips (Author)
these mini-books are perfect for celebrating everything from holiday memories to childhood events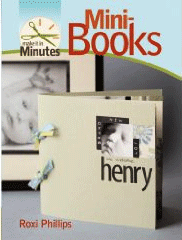 So many styles, so many reasons to make them! Whether they're accordion folded, stitched together, ribbon-tied, or paper-punched and bound with binder rings...