DISCOVERING HOMEMADE CANVAS ... WITH LAURENCE !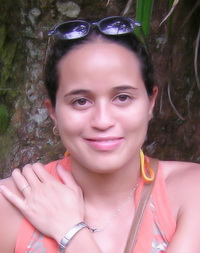 How long have you pratcice home-deco with homemade canvas ?
I discovered this hobby in 2005 along with scrapbooking. I had just moved into my house and I really wanted to customize my deco. And since I'm a fan of creative leisure of all kinds, I launched.
Especially when I made my first canvas in scrapbooking, I wanted to try something else. And now it was gone ! I made my first triptych, mixing paints, stencils and my "scrapbidules".
What do you prefer in homemade canvas ?    
I have no preference in particular. What I like is that I can really use different techniques and use all kinds of materials : painting, gluing, cutting, "scrapbiduling", rhinestones, flower .... I do not remain confined to a single technique. That way I can experiment.
What are your favorite colors? 
I love bright colors : fuchsia, turquoise, orange, green, and then all those who are close to the natural like brown, beige, cream ...
 What brings you home deco ?
In fact it is not only "home deco" (homemade canvas) but for me these are all creative hobbies. It's like a stimulant (my brain is all excited with 1000 ideas that go through my head) and an "un-stressant" (at the end when I see the result I am quite happy).
And what a pleasure to offer personalized gift to a loved one.
Visit Laurence's blog :

What is home made canvas ?
What? HomeMade canvas you said? A term sometimes still quite unknown.
Yet something very simple to practice.
This fun and creative activity allows us to customize our daily lives. Yes, everybody work increasingly in the decoration of his home as a privileged place to live. This art allows us to customize our homes thanks to the various techniques of creative leisure. Moreover, the fact to DIY provides self-fulfillment.
So why hesitate to give you pleasure ?
Officially, the HomeMade Canvas activity consist to apply various decorative techniques such as cutting, gluing, stenciling, drawing on canvas frames ... or fabric covered wood panels, harmonizing with decoration in relief elements.
Personally, doing HomeMade Canvas allow me to use different creative leisure activities such as scrapbooking, digital scrapbooking, beads, mosaics, cardboard, sewing, embroidery, napkin... to decorate and customize my "home", especially events (wedding, baptism, banquet...) just for my pleasure.

The necessary supplies.
- Thin or thick stretched canvas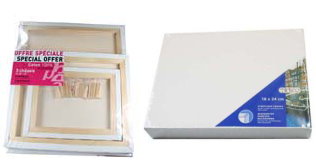 - Acrylic Paint, 3D Paint, Paint Additive (first layer, gel, paste, gel 3D, glitter gel, granite gel ).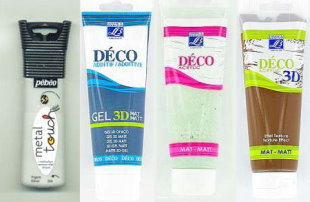 - painting Knives, painting spatulas, painting Combs, Brushes...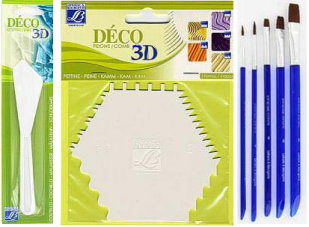 - Stencils.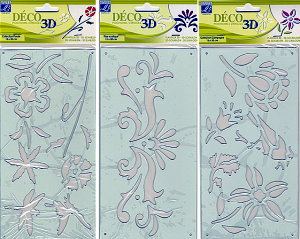 - Various wood or paper Decorations (decorating objects in different forms to paint and paste)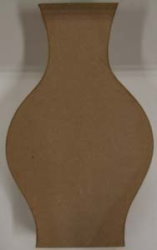 - Other items that can be used for decoration.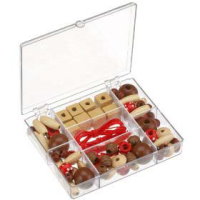 What to do
with Homemade canvas Deco?
- Renovation or creation of various furniture (console, bedside table, chair) creating furniture with cardboard working, recovering old furnitures ...)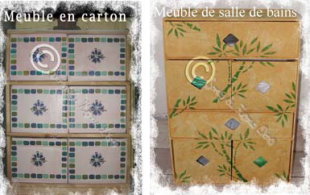 - Wall Decor (canvas frame, 3D frieze directly painted on the wall ...)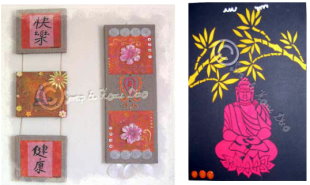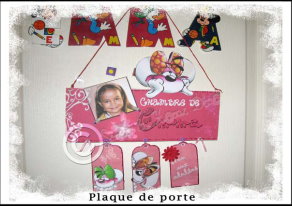 - Decoration of various objects (vases, Pictureframes, glasses, flower pots ....)
Suspension for picture frames ( with grill wand, raffia, rope, photos clamps):

Garland for curtain (rope, flower, butterfly, pearl):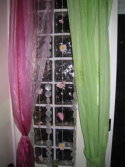 Lighting (cardboard, tracing paper on which I printed patterns, beads, raffia):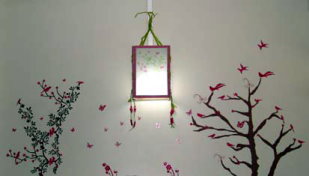 From Recycling (redecorated pots of whiskey bottle, a bottle of liquor converted to soliflore).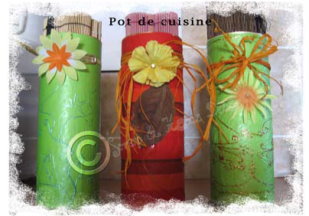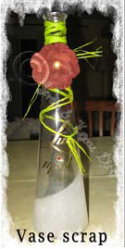 Brands Products Homemade canvas...
Lefranc & Bourgeois invented the concept of Homemade canvas -

Pebeo is a paint manufacturer which has a range Home Deco

Bibliography
African Canvas: The Art of West African Women
Margaret Courtney-Clark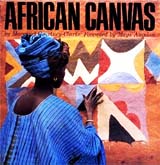 Margaret Coutney documents the bold geometric and symbolic wall paintings made by women in remote West African villages. These women transform objects from their daily world--a fish net, a cooking pot, a weaving, a calabash--into rippling patterns laden with cosmic significance.
A gold mine for creative ideas ! (Expensive ! Buy it used... from $26)
Artful Spaces: DIY Wall Art for the Home
Gerard Smith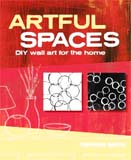 Looking for quick, creative ways to add art to the spaces in your hom e? You'll find them here.Artful Spaces gives you just what you want - art projects that actually look good and take hardly any time at all. And the best part: There's no experience needed...
Click on the picture to see more.
Painting Abstracts: Ideas, Projects and Techniques
Rolina van Vliet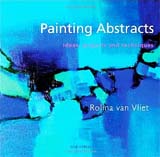 Full instructions for 65 abstract paintings are provided in this guide that urges beginners to plunge right in, learning about composition, theme, and design while they paint...
If you are looking for a book which takes you through the nuances of abstract art without curbing your indviduality, this is a book to pick !
Where to find SCRAP & HomeMade Wall art.
For inspiration, visit my website Scrap and Home Deco :


And above all let your wander imagination, and you will make wonders
And now, your turn!