SCRAPBOOKING STYLES
How can we talk about styles in scrapbooking? Any attempt of classification is dangerous: there are no styles. There are a multitude of styles! In fact, each scrapbooker has its own recognizable technique and therefore defines its own style ... However, there are main trends and a lot of styles are scattered among them.


American Style
---
This is the style of the early days of scrapbooking. Remember that this creative hobby was born in the USA and reached Europe at the very early 2000s ... then necessarily it counts.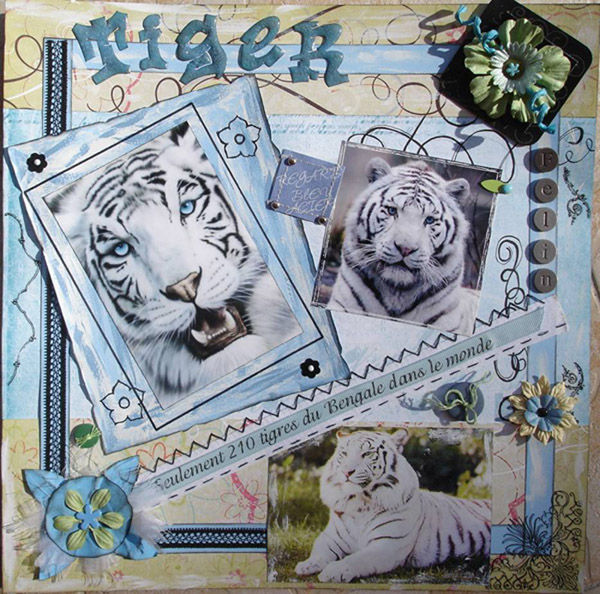 The style known as "American" is a very heavy scrap (For American readers, no problem... I want to say that the page is a bit "busy"...), with relatively few pictures (usually one per page), based on playing with papers of different textures, colors and designs. In this style, is used a lot of embellishments (see page embellishments ). The decor is very important for fitting of textures and colors ... The papers are always coordinated, with complementary or degraded colors.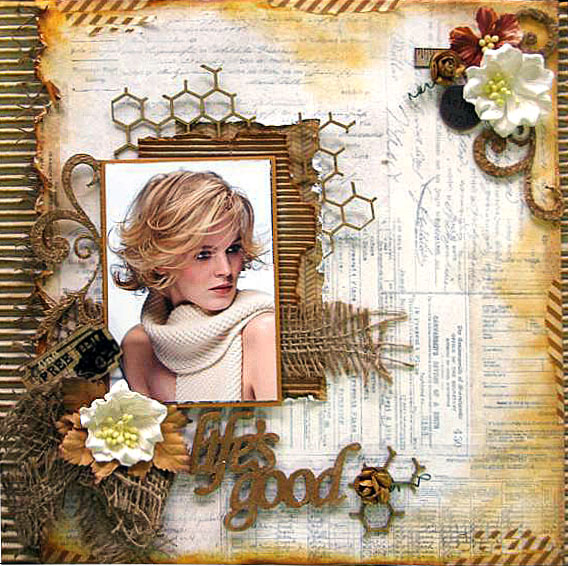 We love the American style because all the pages seem to be different : there is so much work on papers for the page backgrounds, so many embellishments that we always feel a great diversity.
Sometimes this style is too heavy, too much. The interest for the photo disappears because the accumulation of various decorations ...This is what we love... The American origin of scrapbooking became evident as the U.S. things are rapidly becoming excessive !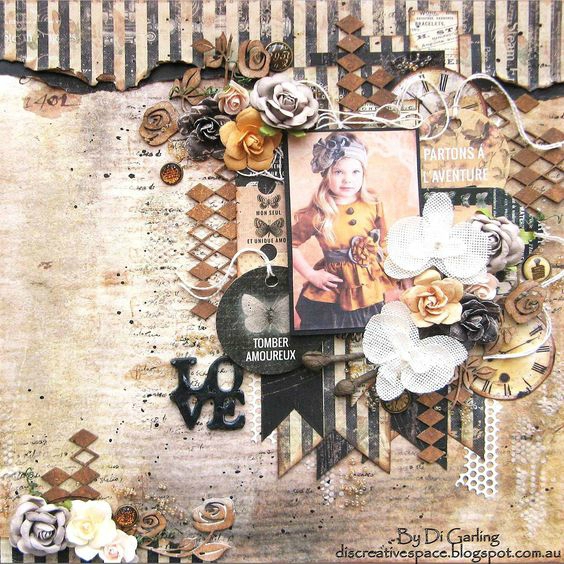 It is often because these excesses that some scrapbookers love this style and be identified on specialized sites.
Note that the cost of this become quickly prohibitive: By trying to surcharge the page with embellishments, the bill from the embellishsement specialized store increase accordingly the number of all kinds of embellishments you order... 


The European style
---
Unlike the American style, European style is much more stripped.. The greatest importance is given to pictures which become the focus of the page.
All the decoration is based on the selection of papers that must be consistent in tone, these papers are then "worked" with chalks, markers and pads.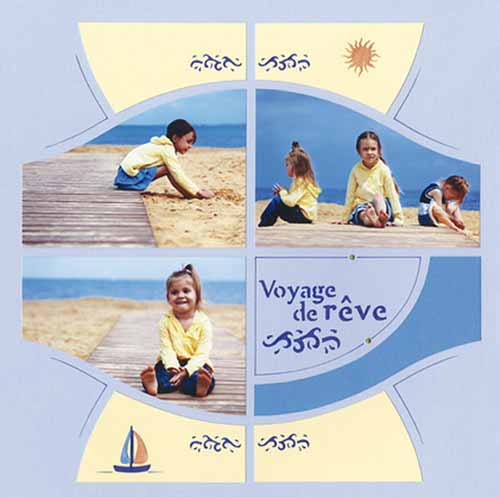 There are fewer embellishment - which is lowering the cost of the page - and creativity takes over to supplement the purchasing of stickers and other decorations from the trade.
The technique is to stage the photos by very simple ways such as cutting, gluing, mounting, framing and adding text and color. Cutting templates become indispensable tools in order to give some required regularity to the pages (TOGA).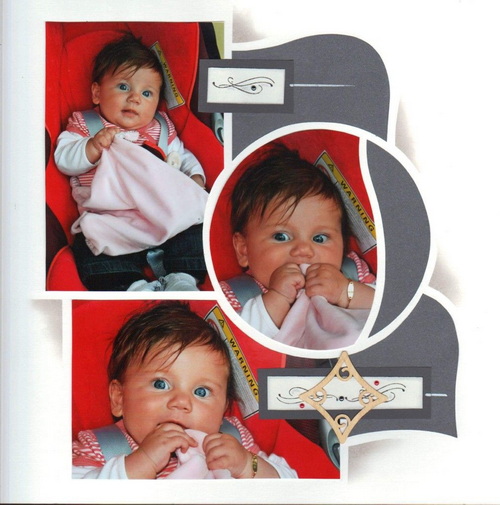 The European leader of commercial scrapbooking is AZZA whose concept defined in the early 2000s is conveyed by a team of animators, all passionate about photography and its highlighting and development.
These "home" facilitators accompany and guide you through your achievements, they will advise you on equipment and help you to choose according to your own project. Of course, these facilitators are custodians of the brand AZZA and sell its products.
In short, European-style decor emphasizes the photo. This photo is used in all its forms: cut or not. The cuts placed on the page create a movement that inspires, gives life. The very reduced and simple decor is does only to assert the picture Simplicity and denudation.
The free style
---
freestyle : is used to describe an activity (often an individual sport), for which a member is free to choose his figures, style, or rules... (Wikipedia). It's exactly what appears to be in scrapbooking about the freestyle.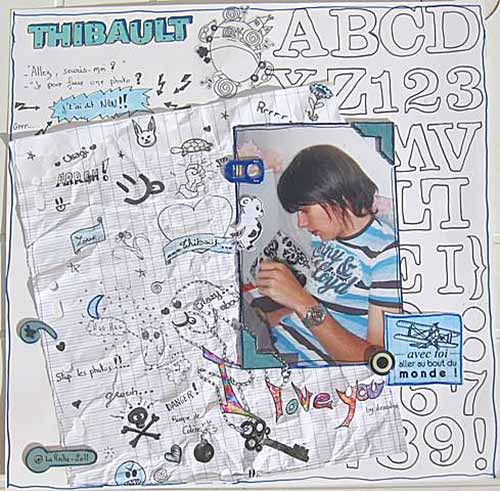 For what interests us, we can say that it is the key of freedom and freshness that is taken from the general rules of scrap. In a few words please :  
Let explode your creativity and let yourself go!
It starts with the use of non-standard dimensions ... Abandon the traditional 30x30 or even the A4! Innovate, invent new dimensions, new forms! Make mini-album, make round pages , domed-shaped, boat shaped... That it's a bit the freestyle!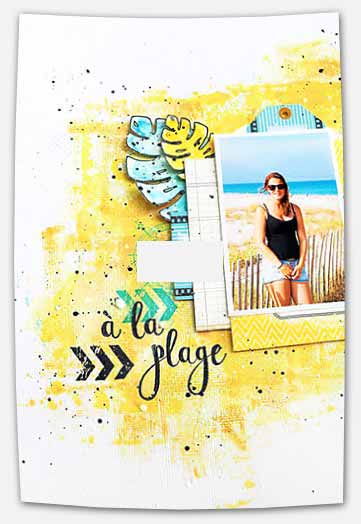 Create your own paper! Feel free to use paint (preferably acrylic) and give brush strokes on your sheets following your inspiration! Use masks - purchased or better, made by yourself - toner gets on your sheets, match your own shapes and colors.
Use for embellishments, unusual materials to embellish your pages. Feel free to write your journaling "by hand". You write poorly? Too bad or good! The key is that you leave on the page a personal touch, your mark! Draw, decorate, do doodleling ... as in this last image ...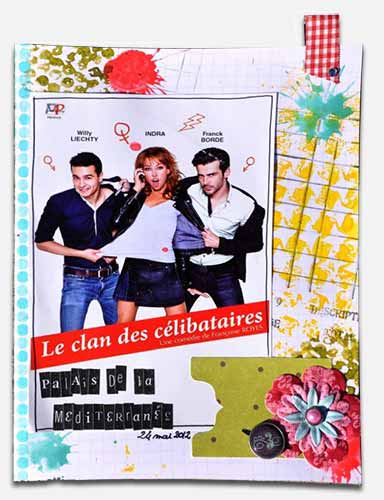 Freestyle is often confused with mixed-media.
As the name implies, mixed media is a mixture of techniques : paper, glue, acrylic paints, old pictures diverted, old buttons, plugs ... very close to the scrapbooking contrary to what some may think!
Clean and simple
---
The clean and simple (C&S) style is easily identifiable: it is a clean, harmonious page, where everything is in its place and stands in perfect balance.
This style falls into the category of European scrap, totally opposed to American scrap.
Pure" C&S is like a page of advertising. No textured papers are used, just a plain background, one or more photos that occupy the main place on your page, and a striking, prominent headline, often accompanied by a journaling. Imagine that your page could be published in a magazine.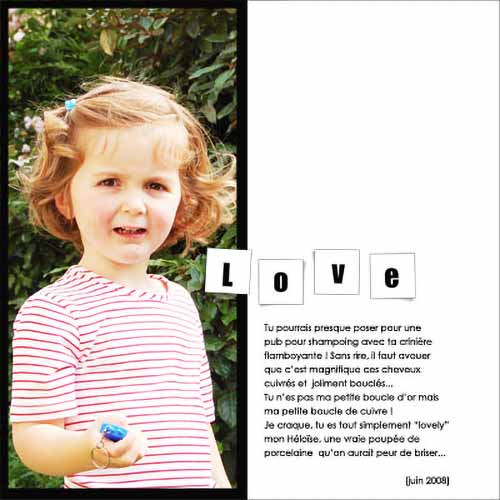 The basic C&S, with the use of patterned and textured papers, a few basic elements (frames, doodle, wordart, fasteners... ) one or more highlighted photos, a title and often a journaling...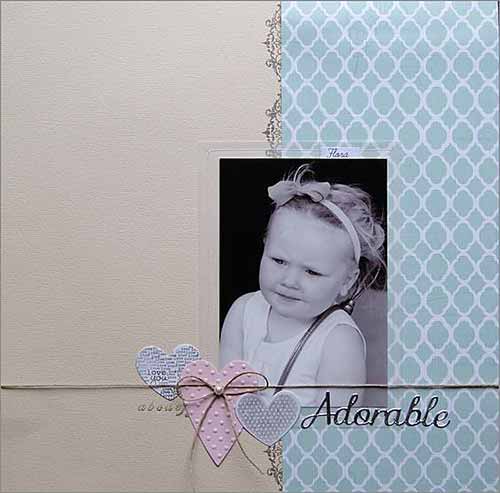 The C&S with a vintage effect. Reworked photos, papers with a vintage effect, always very sober, very few elements, more often doodles or wordarts, a title and/or sometimes a small text.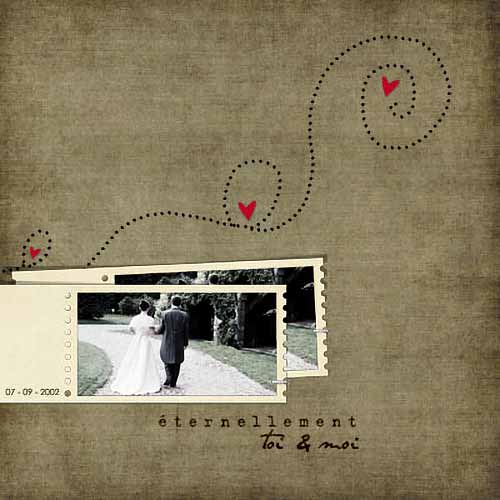 Heritage style
---
The Heritage style makes it possible to present very old photos in an adapted environment...
This environment will be aged by adopting techniques that give the impression of wear and tear... Most often, it is necessary to degrade the edges of the sheets, to give them traces of use, accidents and, for that, one uses sandpaper and inking of the edges of the papers...
Most of the time, the colors used will be "muted": blacks, browns, sepias... Everything to recall the old time.
The embellishments refer to the time ... old lace, ribbons, trimmings, dried flowers ...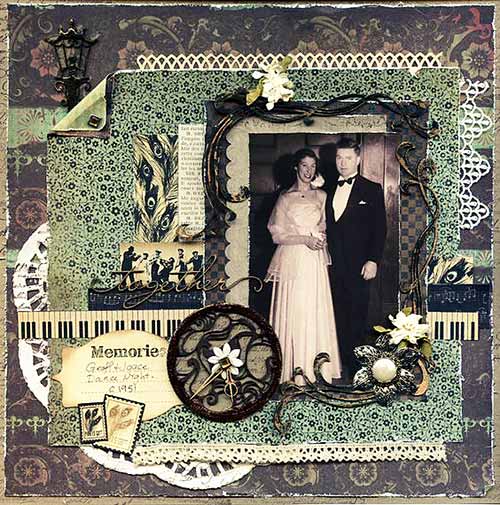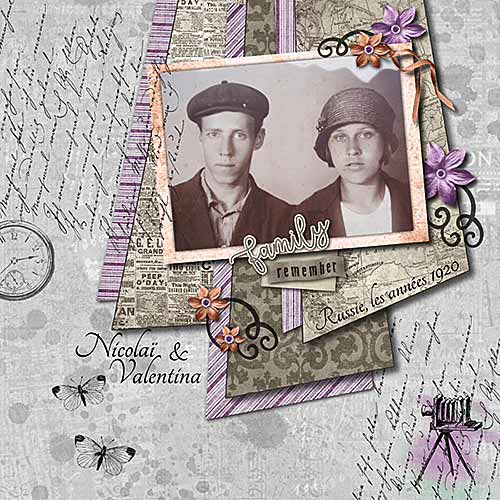 As part of this heritage style, we can first mention the VINTAGE style. It is simply a matter of applying the rules of the heritage style to contemporary photos . Let's take as an example this VINTAGE kit to obscure the colors and graphics of the pictures.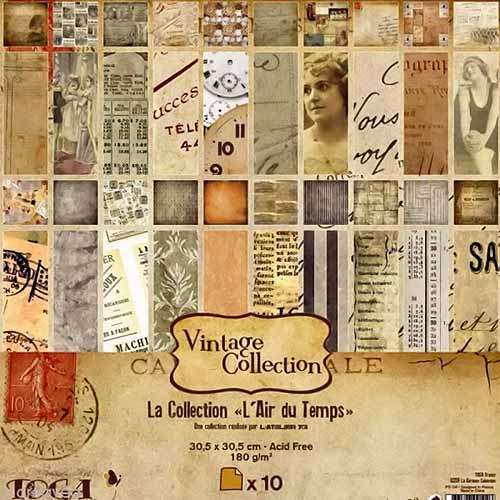 Another variant of heritage scrapbooking would be the "shabby chic"... always with overloaded embellishments.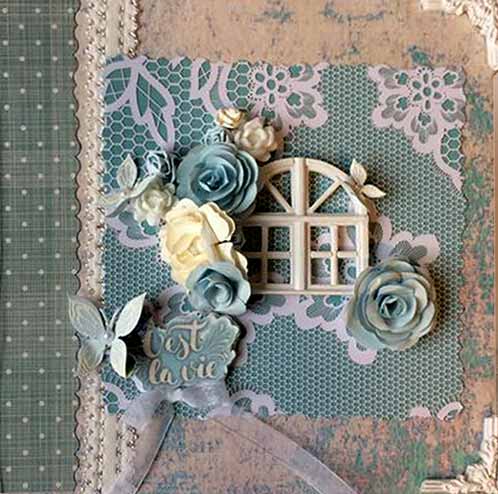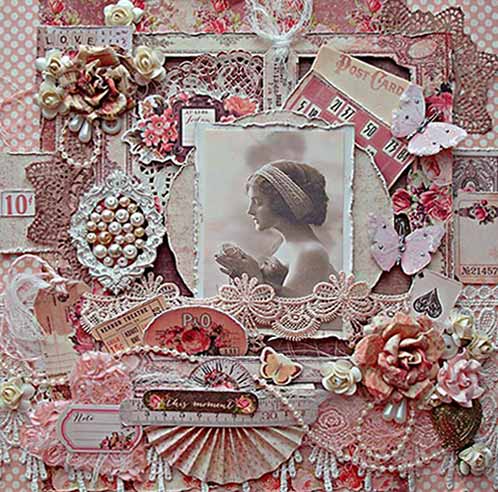 Mixed Media
---
The "mixed media" calls upon several working methods: the classic scrapbooking first to which we add various techniques based on paint (colors and chalk) and collages of various materials that are superimposed. Thus the photos will be accompanied by torn or cut pieces of newspapers, books or postcards, all accompanied by paints, inks or chalk...
Among the techniques used in mixed media are juxtaposition of materials, collage of various materials, dabbing, scraping, spray painting and splashing.
Very often, there is not even a photo... it is particularly used for album covers or collections... Such as this example :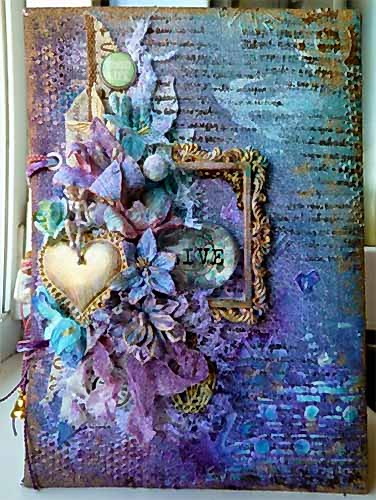 And, in a "mixed media" scrapbooking page, this can lead to overloaded parges, always very colorful but not lacking in elegance, just the opposite of the "clean and simple" style...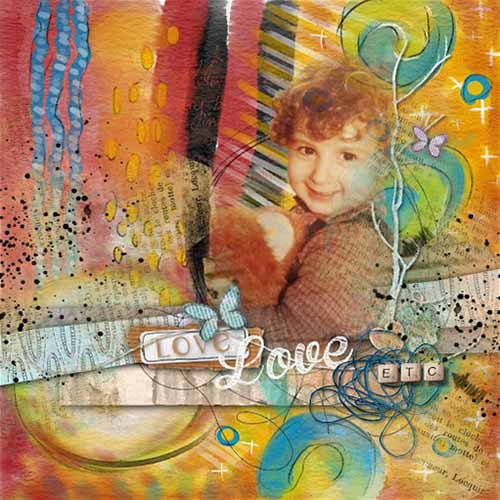 And to conclude...
---
We have here made a tour of the different styles of scrapbooking... by citing only the main trends.... Of course, we could find others, more confidential : doesn't each scrapbooker develop her own style, her own trends!
Good scrapbooking to all of you!