Pictures Framing advises
How to frame your pictures?
What is framing pictures?
---

We cannot frame an oil or acrylic painting made on canvas like a watercolor or a photograph. To frame a canvas, you simply slip the painting into the frame from the back as usual. This frame is only built with an assembly of decorated wooden or metal mouldings.. It is possible to make its own "frame" with commercially purchased mouldings or home made of simple wood offcuts (see pages FLOATER FRAME #1 and FLOATING FRAME #3 or classic frame on this site).

A watercolor or a photograph require a mat and a glass pane to prevent dust, molds and buckling... It's a bit more delicate but it's worth a try: the techniques are simple but precise and require a bit of equipment... SEE HERE.

Another possibility, which will give you an impeccable job, is to go to a professional framer... which will cost you a nice amount of money !!!
But most of the time, with a little care and method, you can easily make frames like the one I present below. It is a watercolor, "family house" framed with the English bevel technique andwhich you can find here
.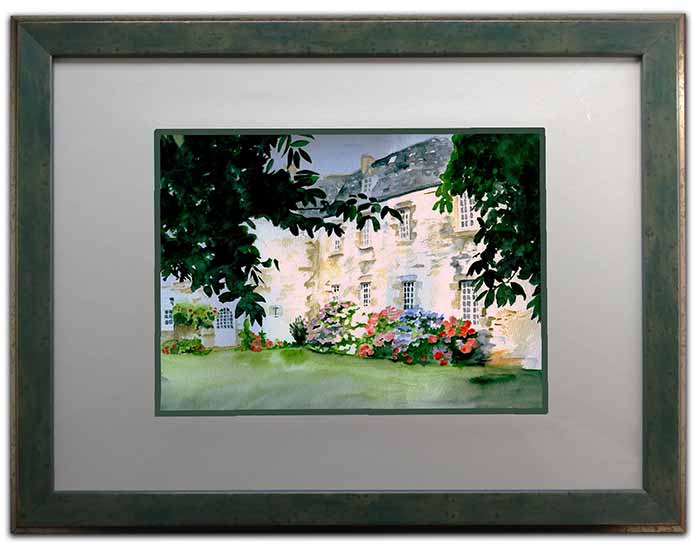 Several options are available : standard and custom-made to measures.
A frame made to measure.
---

DIY Stores
DIY stores often have a FRAMES MANUFACTURING department. You can find a large selection of mouldings and it's quickly done (they make the frame to your measurements while you shop in the store) . In any case, you bring your art work, you compare the different frames or mouldings, the colours, and imagine the set on the wall in your home.
I am thinking for example of the stores: HOME DEPOT, LOWES'HOME or Headley Hardware... You will easily find one near you.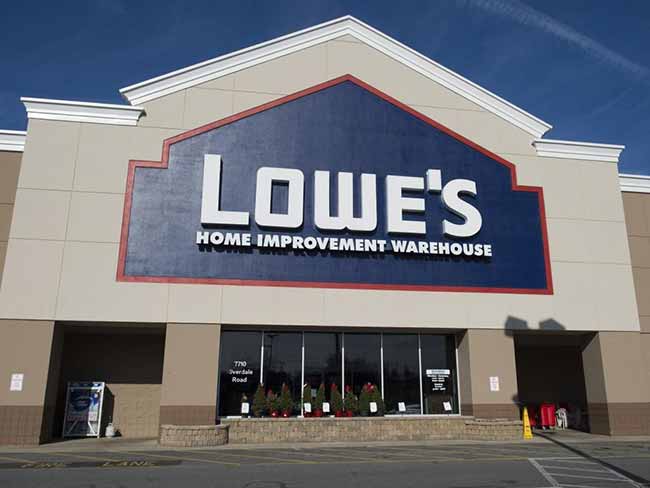 It is also very important to set a limit on how much you want to spend, because picture frames prices have a range from 5 dollars up to hundreds ones.

Specialized sites
On the Internet, many framing sites exist and offer "ready-made" frames for standard frames and even custom-made frames for your paintings.I leave it to you to google them: they are very numerous!
You need to carefully measure the work to be framed and choose among the mouldings they offer... In general, the work is fast and inexpensive, you receive your frame by parcel and it is up to you to make the assembly.
A search on google will give you the essential addresses...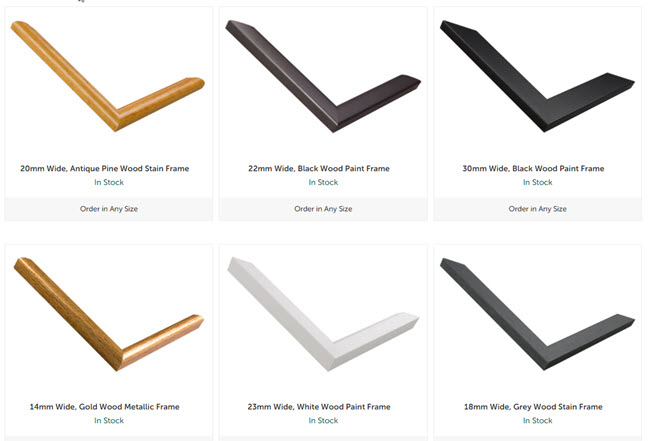 Take a look at this page to see how easy it is to choose and order a frame to your measurements!

Local professionnal framer
There is always a professional framer near you who will be able to offer you mouldings and make the frame to your measurements... It's always a little more expensive but you will have the satisfaction of having a local craftsman work for you.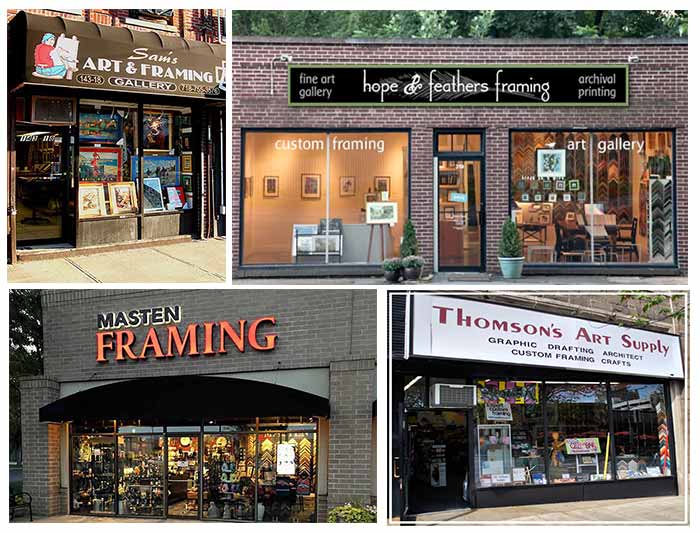 Also look at stores that sell framing supplies. In this type of stores, you will find choice and above all advices. The salesmen are perfectly trained in decoration and will give you ideas that you might not have thought of... Of course, everything is paid for and the final bill will be higher: if this can help you avoid mistakes, it's worth it!

Buy a standard frame
This is the most advantageous solution: a standard frame will not cost you much but you will have to adapt the dimensions of the work you want to frame. The only problem is that you will have less choice in the mouldings . It is not possible, as a standard, to ensure the diversity of individual manufacturing...
All the major mail order sites have an frame department... WalMart for example has a well-stocked frames department, You will undoubtedly find your happiness there! Don't forget Amazon and its formidable offer, from the most advantageous to the most luxurious... I particularly like their assortment of frames that allow the creation of "walls of frames"...
Framing a watercolor or photo
---

For a photo, a watercolor, an old postcard ... it is not possible to be satisfied with a simple frame.
The presentation of this type of art requires a "layout" based on framing techniques as well as the presence of a protective glass.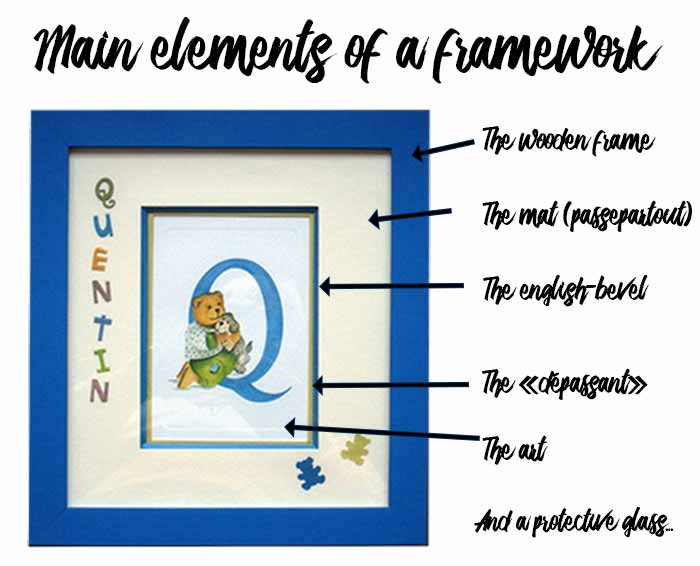 The "packet" will be made : an assembly of backingboard, passe-partout, heighteners and other bevels, in charge of leading the viewer's gaze towards the work presented.
This "packet" will then be installed in a frame, very often under glass to protect the artwork from dust and stains . You will see, in the following pages, examples of simple "packages" (How to make the right bevel or How to make english bevel).
Framing techniques are extremely diverse and vary from the simplest to the most complicated: enough to put off the neophyte framer!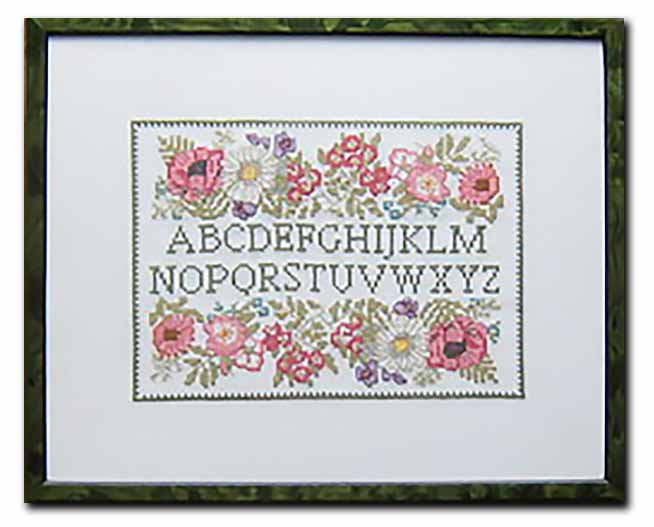 You can learn a lot from introductory books, some of which are presented on this page. I have chosen only easy-to-access books that will allow you to quickly realize your first frames.
See in particular on this page, on which I have gathered a basic library, the very complete framing course of Bernadette DECONINCK particularly accessible to beginners.
A little bit of material will again be necessary... see this page dedicated to the very powerful LOGAN tools and this other . All these tools will help you to cut out the mats, make the wooden frames and hang them on the wall.

Commercial frames and coasters
---

You can also work from simple commercial coasters or even "coaster frames" (clip frames), of standard dimensions and bought ready-made in supermarkets or "GIFI" style stores or even cash registers (how to make a simple coaster).
Sizes are from 6x4 inch = 15x10 cm for the littlest to31.5x23.25" = 80x60 cm for the biggest !
It consists of a bottom plate, usually rigid, and a protective glass, that's all. 4 clips make these parts integral. You will just have to cut a passe partout to size and hang your work. Of course, it's a bit like "do-it-yourself" but it's fast and efficient!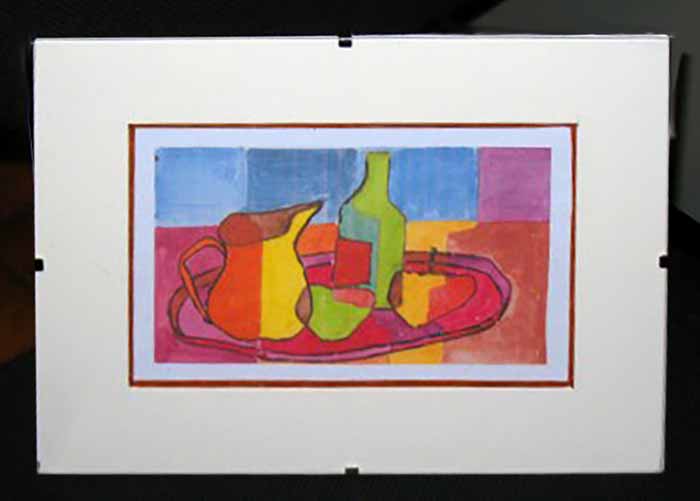 This is the cheapest solution. Contrary to the classical methods of framing, it is not the work that determines the size of the frame but the size of the object to be framed that must fit the frame.
It will thus be up to you to calculate to adapt your work to the dimensions of the standard coaster ... See that page
Make your own wooden frame
---

With a little bit of material, cleats and mouldings, glue that can be found in any DIY store, you can assemble and make your own floating frames and frame mouldings... for a much lower cost.
Of course, the finishing will require some effort, but the result is well worth the effort... Below is an acrylic painting on canvas framed in an DIY floater frame.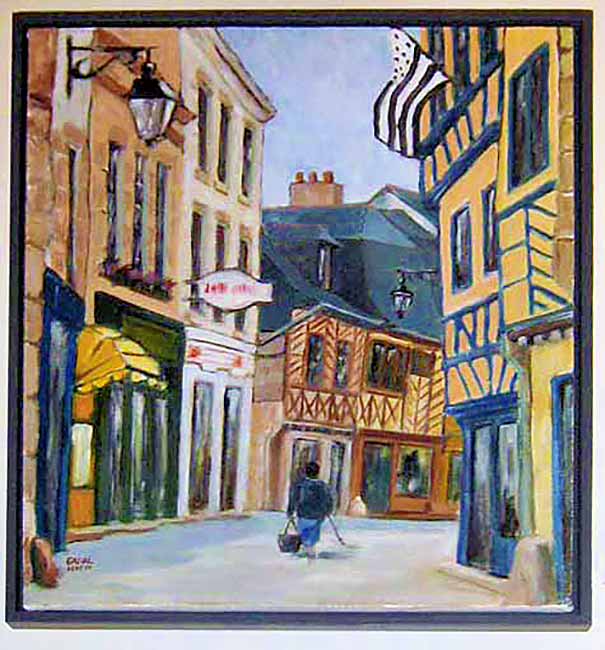 It's best to practice a little on woods of little value: mitre jointing requires precision. With a little practice, it becomes easy.
See an example on this page: moulding made from standard elements.
For the material required, it is relatively small: an inexpensive framing saw, glue, a clamping device... and you can go for it.
See the material pages of this site: wood material and framing material under MATERIAL in the left menu of this page.
I wish you a lot of good framing!
---