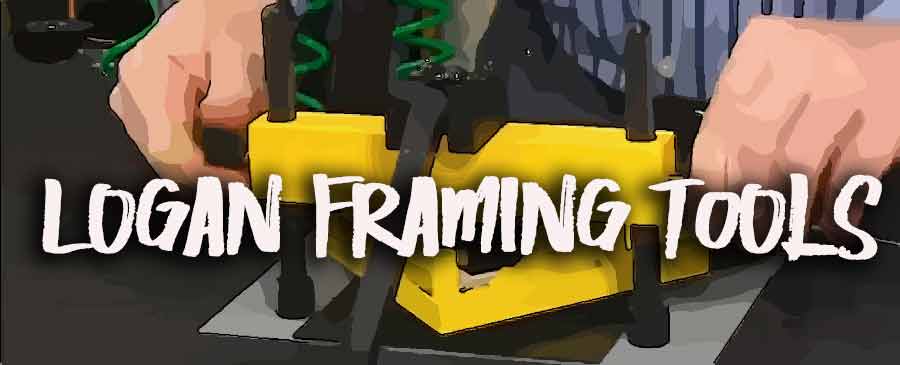 LOGAN SPECIAL TOOLS
TO MAKE A WOODEN FRAME
Joining the frame bars
---
When constructing a wooden frame (from trade moldings or home made moldings) we cut bars with mitered ends ... which must then be joined by gluing and clamping ...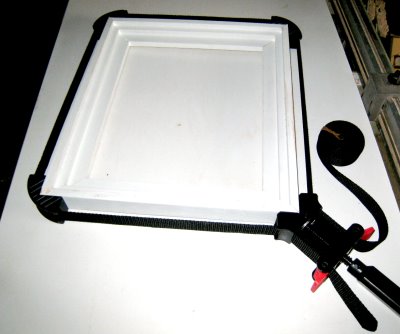 The modern adhesives are extremely strong and, if the tightening has been successfully performed during the drying of the glue, the assembly appears to be very solid and sufficient for an amateur.
But the framing professionals have more elaborate assembly methods... especially those based on "Vnails". These are special staples that will hold the uprights of your frame together in addition to the glue: which makes the whole thing very strong!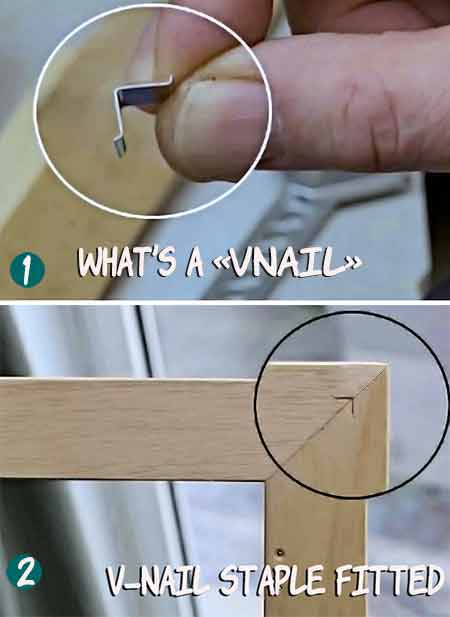 But for those who seek, however, a foolproof joining modeled on the professional framers, the firm LOGAN has developed a handy studio joiner, which produces a perfect result in all types of wood ...
This manual joining tool is particularly distributed by the company AMAZON.COM , I had occasion to quote in the test about purchasing equipment online regarding LOGAN tools. You can find there tight prices... and an excellent after sales service.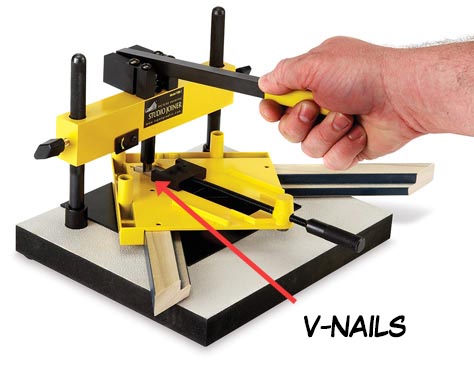 This machine for amateurs lets you to push "V" nails in all kinds of wood, hard or not. Economic and highly efficient equipment : the assemblies made with it are accurate and robust. Its implementation requires a little learning, everyone can do it!
Rather than talk about it, better to watch how to use this joining tool F300-1 (STUDIO JOINER). You're lucky ! The video I found on Youtube is in English ... If you don't speak english, it's not too embarrassing : Just look at the pictures !
There is a tool for setting Vnails: it consists of a telescopic magnetic rod that holds the staple while you hit it with the hammer... this rod is gradually inserted into the handle as you drive the Vnail into the wood of the frame. This is the LOGAN F400 that you can find without problems HERE.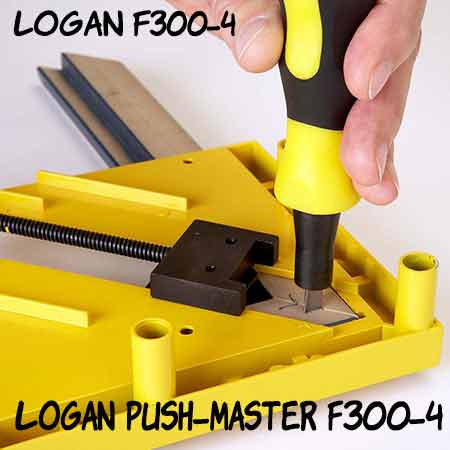 Of course, you can also drive "VNails" without having to buy any special equipment: a hammer is enough! But it's so much less practical !!!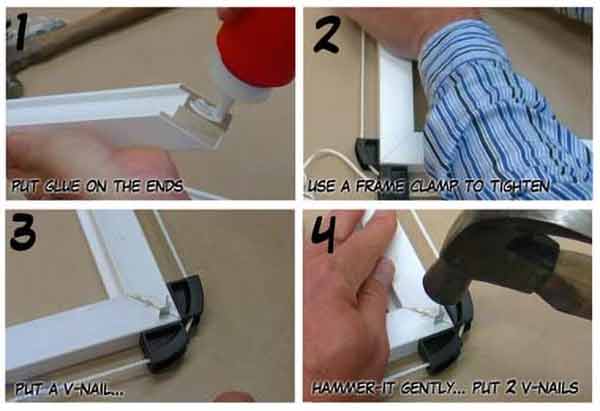 If to get an idea, you prefer read the very complete technical manual look on STUDIO JOINER ASSEMBLY AND PARTS...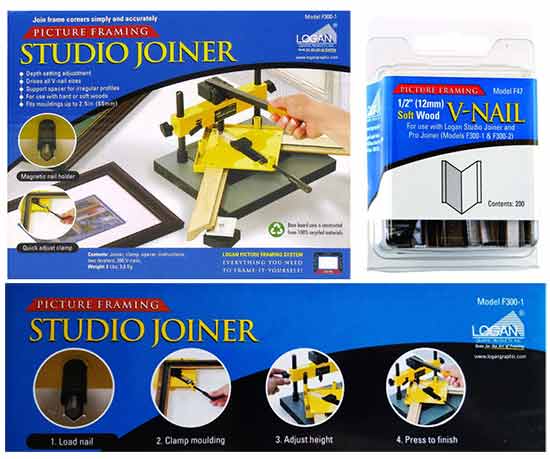 Naturally, the F300-1 is more expensive than a cheap chinese equipment ! But he can make the happiness of a club or an association which shares all investment among its members.
| | |
| --- | --- |
| | Logan F300-1 |
| | $ 100.96 |
| | $ 110.49 |
| | $ 133.99 |
See also the UK web site GREAT ART ... where surprises are sometimes available (prices are quoted excluding VAT) ...
Also take a look on ebay ... where sometimes you can do good business !
How to attach the "Package" in the frame
---
Let he who has never broken the protective glass when setting the "package" in the frame does not read these lines ! In fact, it happens more often than we would like... and even the most experienced !
The FITTING TOOL LOGAN F400-1
LOGAN has designed a very clever tool (a kind of stapler for the bottom frame) to insert, with no risk of breaking the small spikes or "brad nails" that we use to set the "packet" in its frame.
This same tool is able to insert these small flexible or rigid insert points used by "pros" of picture framing.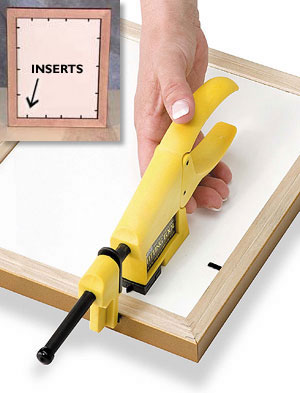 With a rotating turret, 4 different types of nails or inserts may be used : no complicated settings, ease of use, this great tool is used both in hardwoods and softwoods. It is also common to all widths of frame moldings ...
And since nothing beats a little demo video ... (This time, neither English nor ... in French!). Here is what you insight into the functioning of the "Fitting Tool" F400-1:
Apparently, in USA, many companies distribute the Fitting Tool F400-1. For that I quote the prices are almost identical. Click on the links in the table for a fuller description :
| | |
| --- | --- |
| | Logan F400-1 |
| | $ 25.23 |
| | $ 34.99 |
| | $27.99 |
For our friends living in UK... Think about Great-Art... where the fitting tool can be foung at 29.45£.
The automatic stapler Logan F500-2 Dual Drive
The dual-drive elite point driver Logan F500-2 does the same work as the previous stapler, but it does it so without any need to "reload" each time with clips so you can work more efficient and faster.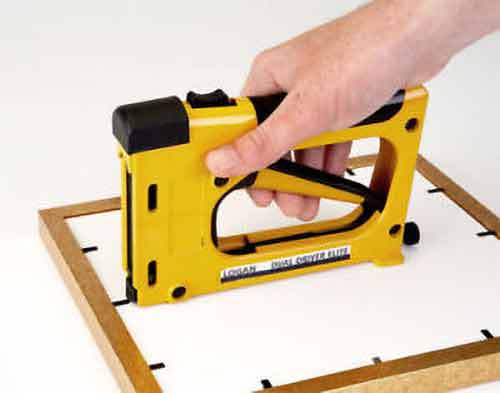 It's semi-professional equipment, with adjustable tension depending on the type of wood. It works seamlessly with all types of staples, soft or hard.
Again, given its price a bit high, it is a tool that may be part of the collective tools of a club or association.
Here are some companies that distribute in USA this kind of material ... If it is better to purchase preferred e-commerce which also distributes the inserts (flex or rigid)!
Also, have a look on ebay auctions and "buy it now" : search about "dual LOGAN F500-2" ... there are a lot of offers from U.S. dealers ... cheap but be attentive to the shipping cost sometimes prohibitive!
Good framing!
How to Make Your Own
Picture Frames
Ed Reinhardt, Hal Roger
Here is the most complete, practical handbook available on making and finishing over 60 frame styles...
The best book for the beginner. Clear and concise. Step-by-step instructions with photos for each and every step.
Covers all aspects of frame construction, painting, mats, glass-cutting and usage. A great book to trigger your own ideas to create custom frames.

Frame It!
by Tonia Davenport
Framing isn't something one has to leave to the professional.
With Frame It! readers will learn how to use ready-made frames and inexpensive framing materials to create frames perfect for their favorite photo, piece of artwork, canvases or souvenir.
Matting and framing made
easy
Janean Thompson
Since the cost of framing often exceeds the price of the artwork itself, it pays to know how to do it yourself.
Even if you're not ready to invest in specialty tools like a mat cutter or miter box, you'll find useful instructions on working with ready-made frames using simple tools (a ruler and utility knife)...