SCRAPBOOKING GLUES AND ADHESIVES
There is an almost infinite variety of adhesives used in scrapooking : each presents its advantages and disadvantages ... the choice is not as harmless as it will appear ...
Most of the time you will use one type of glue or adhesive - usually "all purpose" glue is sufficient - but for special models, you will be required to choose a more specialized glue... For example, for some uses, a repositionable adhesive has advantages over a permanent glue.
For the smooth conduct of your achievements, make sure the glue you use is "acid free" (which eliminates some cellulosic adhesives with strong solvent smelling and that the photos do not resist!).
So here is a list of glues and adhesives you can find in your scrap-store... just not to lose itself there!


White glues
---
The glue sticks ...
All brands have their "stick" of white glue (UHU, Scotch ...) which are almost all acid free (or "photo safe"). Their tack is excellent on all papers and boards (to avoid on plastic surfaces or on glazed paper), they do not form lumps and allow for a precise application, even on small pieces ...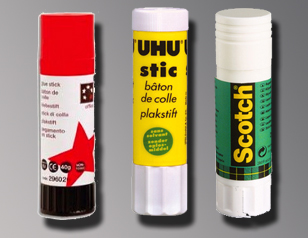 Moreover, they are particularly low cost ... and if one day your glue stick disappears from your desk ... 'll do a little research in the school-kit of your daughter ... because it is the kids favorite glue!
White viny glue ...
These adhesives are used in scrapbooking, but also in framing, cardboard working and even in carpentry because they have a strong permanent adhesive. These waterbased adhesives are therefore likely in case of excess, to "soften" the papers you might have to paste.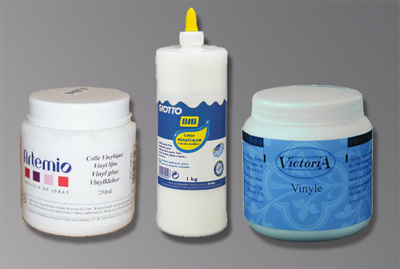 So use them sparingly, spread them with a small flat brush (do not forget to wash the brush with water and soap at the end of your session) and rub well to avoid the appearance of undesirable air bubbles.
These "Glue Pot" are perfect for dressing up a box with a fancy paper (an album cover for example). They are guaranteed free solvent (for those who are bio ...) and the white film of glue becomes transparent when dry.


The all-purpose glue ...
---
The tube of transparent glue ...
That's the "universal" glue type that will be suitable for most materials including paper, fabric, wood, metal, plastic (if it is a solvent-free glue) ... You will find both forms: with or without solvent (those with solvent have a fairly strong smell).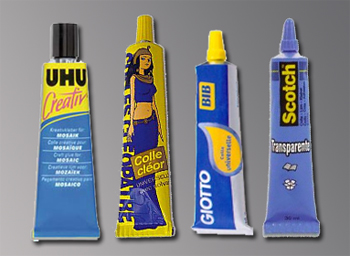 Some of these adhesives are presented in the form of gel (Scotch for example) and not "run" when applied (it is an advantage because you keep your fingers clean). Warning for pictures : use only solvent free glue... and in moderation because they can easily warp the edges thereof.
Adhesives with applicator ...
Mostly plastic tube, they have to end a foam applicator tip handy for spreading glue on quite important surfaces .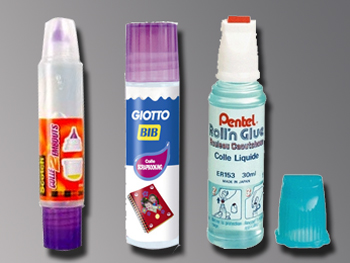 Some brands (like Scotch, UHU...) have two tips: a great and a finer for precision collages (this avoid the purchase of a glue pen!)
Glue pens...
These pens enable you to accurately place small dots of glue where you want : it allows you to paste some embellishments like die cut, charms, sequins, stars ...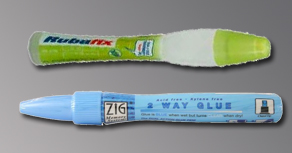 An idea of using glue pen : write with this pen a text of your choice. Immediately sprinkle your text with glitter or colored sand .... After completely dry, give some flicking on the back of your worksheet, the excess material falls and you still have the original text written with glitter!
A Special mention for "2WaysGlue" as its name indicates you can use in two ways :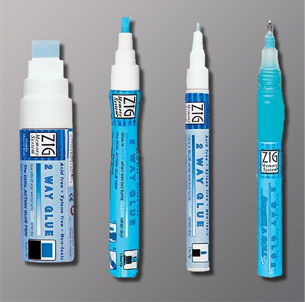 if you want a permanent joining, apply adhesive on one surface and immediately stick the other side ... if you want a removable sticking, apply glue on both sides and allow to dry (the glue becomes transparent blue) before applying the sides against each other ...
It only remains for me to wish you : good scrabooking !