Choose your frames in harmony with your home
The different styles of decoration
Would you like take control of the decor of your home by laying out frames on your walls ?
You want to give your home the personal touch that could create an atmosphere that suits with you ... but you wonder how to begin...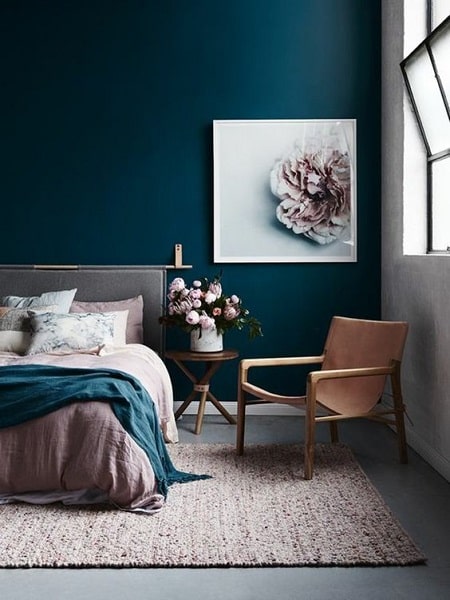 You have already tried to "copy as is" compositions of frames you have seen on Deco Magazines ... but the results seem disappointing when you set up.
You realize that "it does not fit" ... and would like to understand why and overcome once and for all the problem of choosing frames...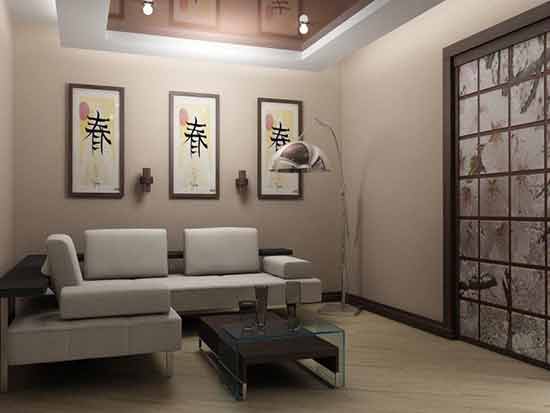 In short, you want for your home interior a new design that suits you, which will be in harmony  with what already exists ...
This page is here to help you make critical choices based on the style of your home!
The essential question is : What is the style of your home?
Start by determining what is the current style you love... This is important because it determines the choice of the decor elements that you'll hang on the walls.
Her some examples and the choices that flow from ... These are only "guidelines" ... YOU are the designer !
the modern style
---
Your interior is decidedly bright and modern and you choose to furnish it, design elements with generally pure lines and light colors.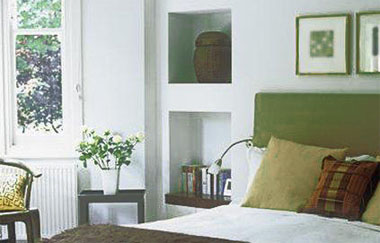 Then you need to focus on sleek frames, "clean and simple" with straight lines, metallic (aluminum or steel) or painted with bright vibrant colors.
Molding frames are thin, with no frills to keep your decor the contemporary style you want.
Embrace both "floater frames" (called in France American Cases), that the modern art galleries use without restraint. If you are a little DIY, do it yourself (see our tutorial: how to make a floater frame )
Rather than disperse attention to an accumulation of small art works, choose the "big canvas or poster" that will occupy itself an entire wall. It's time to let go of you with big coasters framed poster ( this one as an example ).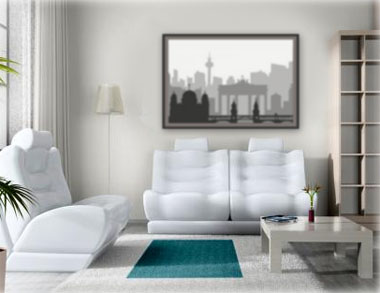 You can also show "no framed" a large canvas art painted by a contemporary artist ... it's trendy.
If you align several frames, above a bed or a sofa, choose all the same size, rather square-shaped, and aligned by their centers.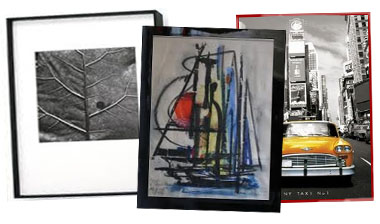 If their dimensions are different, align their upper parts by searching the visual balance and harmony of the exhibition.
Allow 3 frames ... or, to break more with the traditional rules who advise to layout an odd number, hang only 2 frames!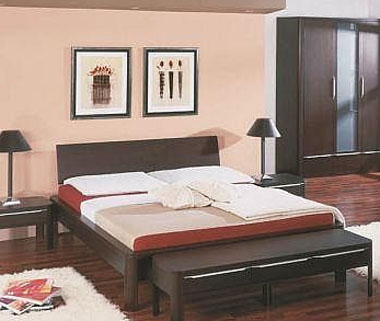 "Shabby Chic" style
---
You like antique and timeworn furniture and objects . The shabby chic style fits with your passion to recover, to run the flea markets ... You are a fan of garage sales and old attics of your grandmothers.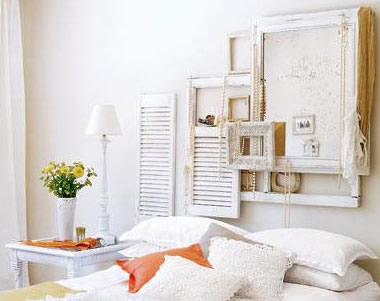 The furniture that you get with all old traces of their use, are painted in very light colors and when dry, worked with sandpaper... then you coat in places a dark tone to give them a old patina ... You have a very bright house ...
With this in mind as you choose your frames : get old wooden frames painted or not at very low prices in garage sales or flea markets. You can also buy new frames in discount stores...

Clean, strip and sand them before giving them a off white coat of paint in different shades of dusty pink or faded blue.
Worn, sand, scrape ... in short make your frames older and older!
You can find in some stores frames with light tones and with a vintage look.
You can also cover your wooden frames, new and older with fabric : old blues or "Toile de Jouy"...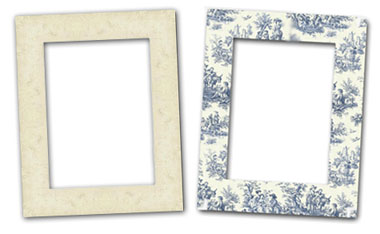 If you do not know how to do, have a look at this tutorial How to cover a frame with fabric .
It's time to use a frame shelf (have a look on this page : Picture frame ledge) where you can put as is your findings and when they are completed.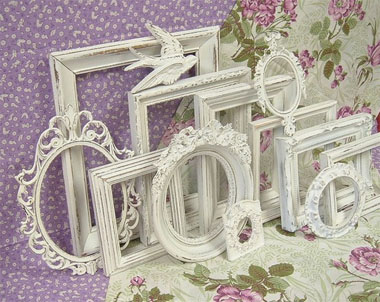 You can even expose them empty (very trendy!) but feel free to group small frames containing, for example your family photos ...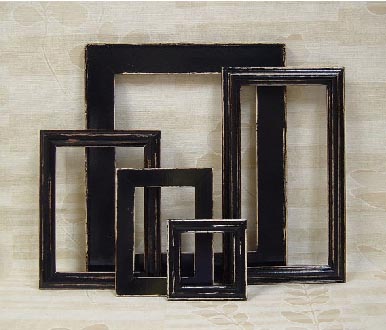 Avoid the "large frames" ... isolated on a wall. Combine an odd number of smaller frames by adopting a "flexible" layout, less geometrical than a modern interior ...
Country or Rustic Style
---
Your home is rustic ... your walls are made of exposed stone or troweled plastered, warm colors, ocher or siennas ... The beams are dark or graypainted. Your furniture is rather "natural" waxed wood (pine, cherry, elm ...) and wrought iron ...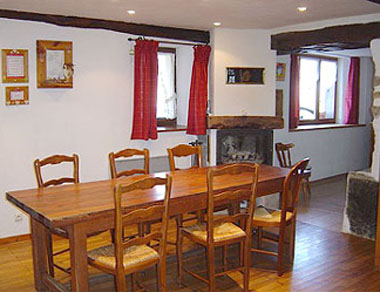 You've adopt for your decor warm colors: red, orange, yellow ... You love embroidery, old tiled and your house smells like fresh lavender or wax ...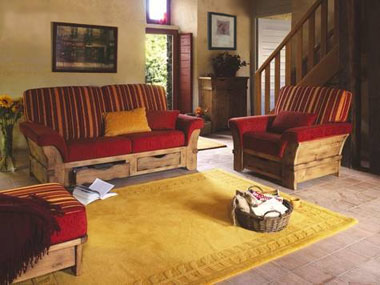 Your framess will therefore be in harmony with the decor you have chosen : mainly wood, natural, waxed or polished burr elm,sometimes with golden threads, or terra cotta, wrought iron...
Give priority to warm tones avoiding too dark tones.
The square frames out of thin stick, fully gilt also fit well with a rustic atmosphere to the condition of not being too "worked" ...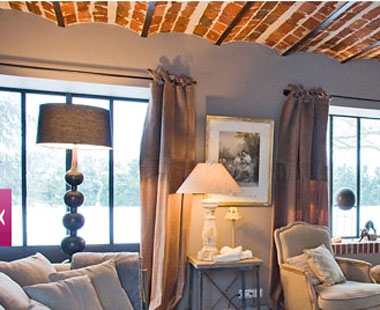 You can also cover an ordinary frame with natural fabrics: linen ecru, red cotton ( see HERE )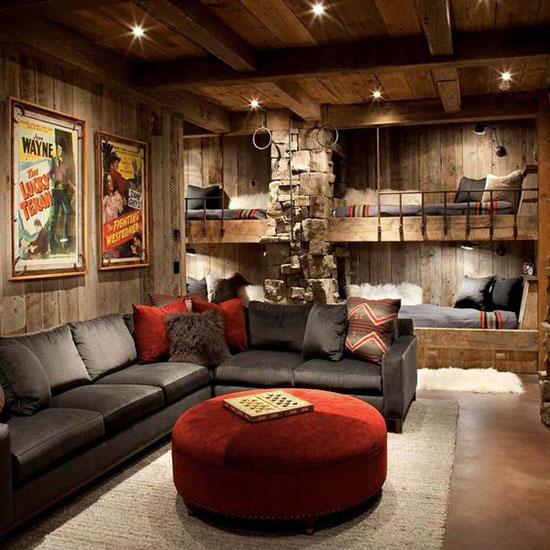 The frames moldings  will generally be  broad  and rounded.
The framed  arts should preferably be old arts (old maps, old prints from garage sales, old oil paintings ...).
Feel free to place several small pictures on the top of a cabinet (eg. jam cabinet) that will be so better highlighted ...
Do not align their outer edges(which give a too modern style to your exposure).
Center them in line with the cabinet axis.
Here are some models of frames according to your country style:


To avoid monotony, you can put one or two more modern frames (glass, aluminium...) in your layout. It's a good to have some mix in styles !
The Classic style
---
You like the "style" furniture... you have chosen with care : Louis XVI, Louis Philippe, Directoire, baroque, rococo ... your home is full of "best bets"!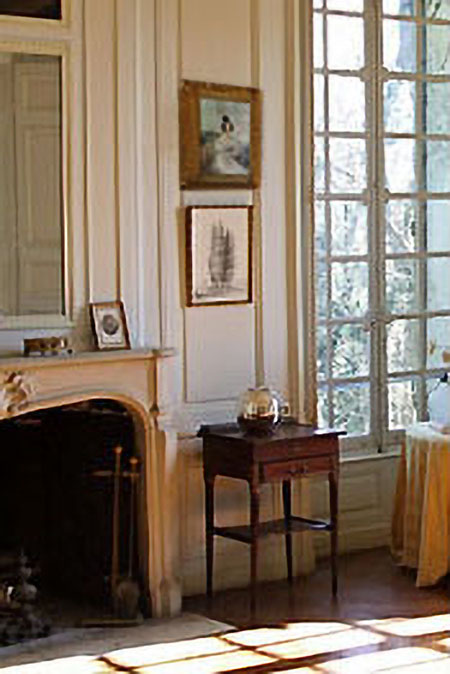 Your favorite colors are taupe,black, grays of different stylishe off-whit shades,. The fabrics are "noble", silks and brilliant satins ...
You have chosen your items of decoration for their beauty and quality... in short, your interior exudes understated luxury and elegance.
So, gilded frames with corner blocked or not are for you, painted frames with light color,discrete developed clip framesand all frames out of wood covered in dark tones (black for the Victorian style of our Anglo-Saxon friends) .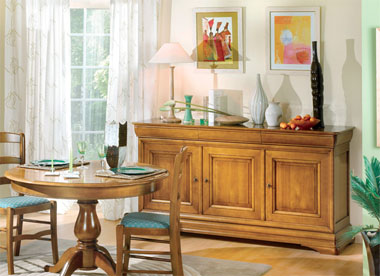 Everything is possible provided it is sophisticated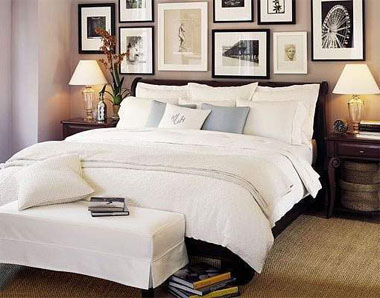 Run the flea markets, antique dealers, garage sale to get low-cost frames that you'll carefully restore.
There are "gilding painting" from PEBEO from home or the"Gilding cream wax" from Lefranc and Bourgeois ideal for this kind of work ...
Here's a short video in which Joelle TANGA shows how to use these "miraculous" products... (In french... but no need to speak to understand !)
All the shape of the frames are good, everything is also possible but also rectangular, oval or circular.
The framed arts will fit closely to your decor. A tip : expose such a large size (old painting) alone above a sofa or a base cabinet.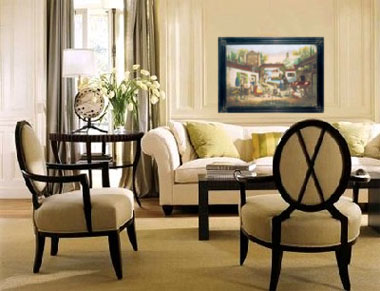 Group together on a cabinet small gilded frames containing your ancestors gallery on an old embroidery...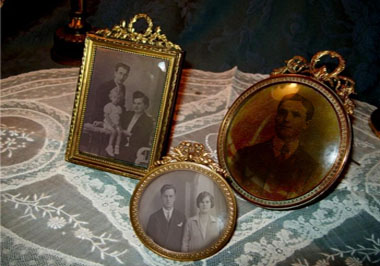 And if you do not hate frames "a little over-ornate," Here is a selection of traditional classic frames.

PAM