HERITAGE and VINTAGE PAGES
HOW TO AGE YOUR PICTURES!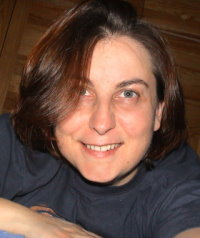 How long do you scrap?
Since May 2005, I am passionate about scrapbooking as I discovered it thanks to my best friend, Sandrine alias "Gregre" (http://scrapgregre.canalblog.com/) who transmitted me the virus, lol!


What do you do in Scrap?
My preference is the Heritage style... no doubt, but I also love vintage and shabby chic!
I make also more modern pages especially for my daughter who love the pages with any peps!

What are your favorite colors?
The brown, pink, purple!

What brings you scrap?
For me, scrapbooking has become vital, It's a bit too much, no ???
I no longer have a job since several years and even keeping a house and being a mother at home is nice I found with scrapbooking a balance and well being!
My family appreciates my pages and I am pleased to see their eyes shining when I unveils them a page or a mini album!
 Equipment and supplies
---
- 30x30 Paper My Mind's Eye Collection "darling": "Beauty" Floral Stripe
- ivory color simple printed paper
- Flowers Prima Marketing 130,268
- Ink Color Box "creamy brown"
- An American label (called tag)
- old lace and a piece of ribbon recovered from a garment.
- Printer, cutter, glue, sandpaper and "THE tool : the "Edge Distress".
 The Sylvia' advices
---
My advice is : dare ! Dare to go in the junk stores, run to "empty your attics", Retrieve the taste of "old", find wonderful small trinkets of the past that give life to our pages.
I told my best friend : "I will never make heritage pages... it is too complicated!"
She still laughs at it !
While making more current pages (scrap'Issia) I am interested gradually by heritage style
The opportunity to showcase old photos of my family enchanted me and I finally became hooked about that.
I suggest you to follow me in this "step by step" that you allow you to produce a page in this style, with just a little equipment and a bit of scrap retrieving!
AGING A PICTURE
---
 The scan of the photo
For this page, I chose a very feminine picture because it seems easier to scrap this type of photo for a first heritage page.
As I never use the originals, I begin by scanning and printing my picture :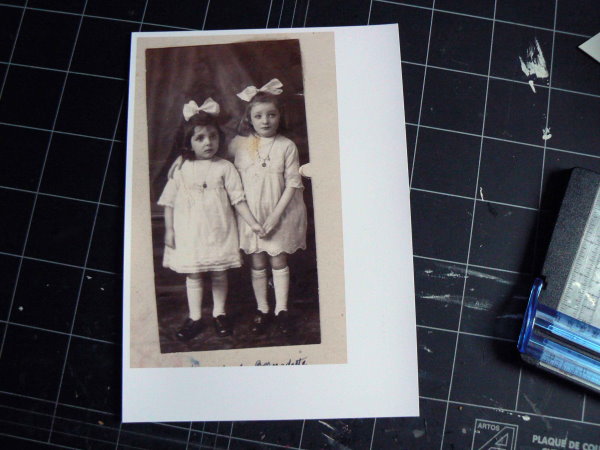 I cut it with a picture trimmer.
 The aging techniques
I age the edges with a special tool called the "Edges Distresser" (if the style you like heritage style, this tool is a purchase that's worth it!)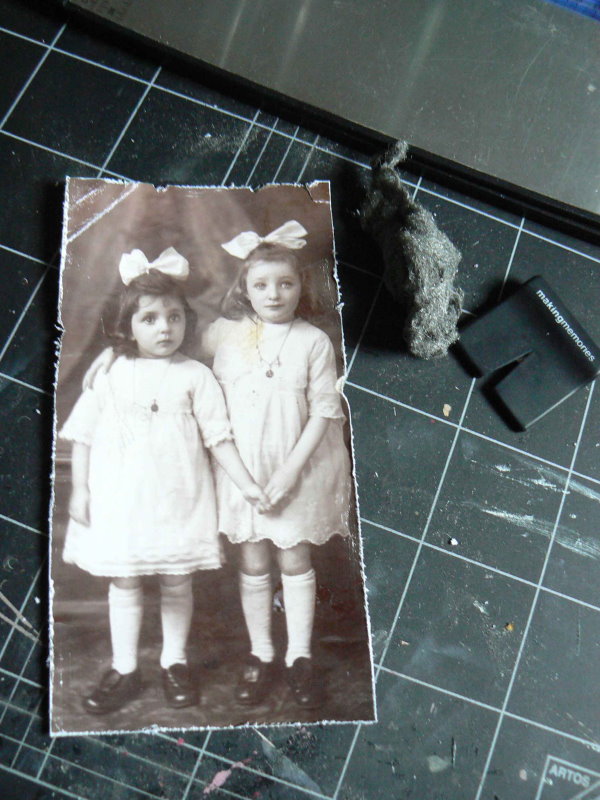 I crumple a corner and I make a light sanding with sandpaper to enhance the old appearance of my photo: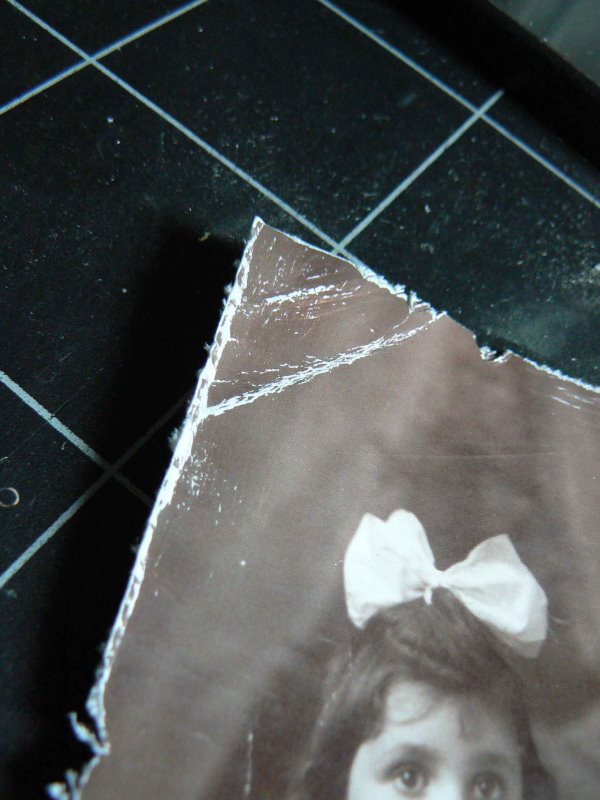 Then there are different methods to age the paper: lemon, walnut, coffee, etc..
For my part, I use an ink that is able to give me this look without problems and without waiting. These ink "creamy brown" from Color Box : by inking, from inside to the outside, edges of your paper previously worked with the tool mentioned above (edge didtresser), then dabbing the surface of the worksheet, you can get a very aged paper quickly: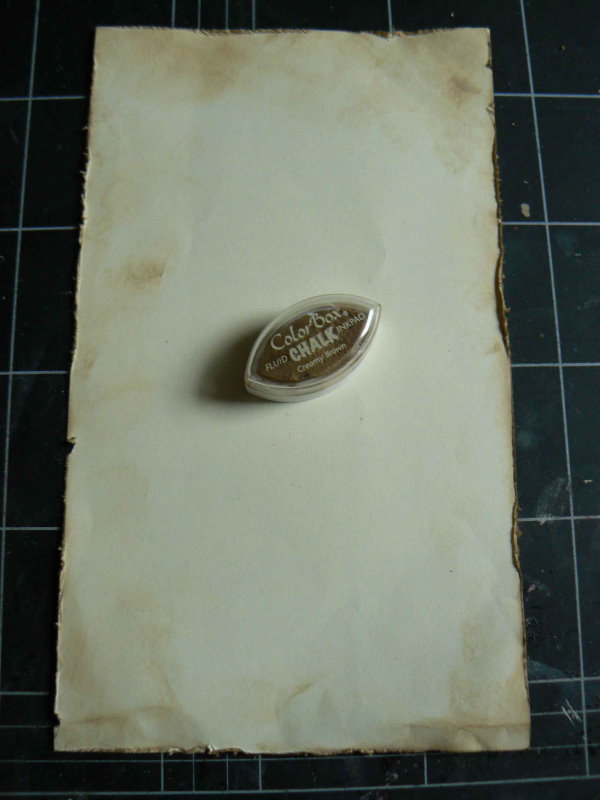 I use also this ink to age the contour of the image by rubbing the edges: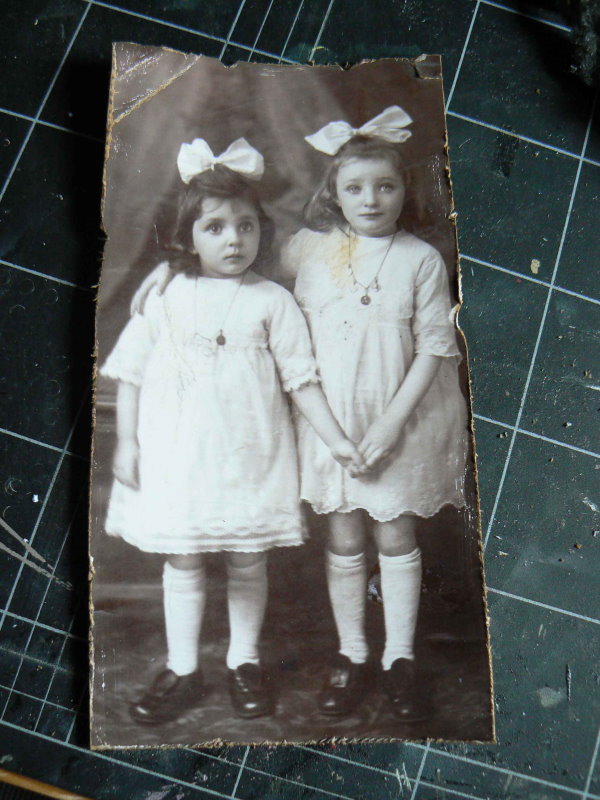 Page lay-out
---
The result is much simpler.
I stick my photo on my inked ivory paper before placing on the 30x30 paper.
Then I position the lace and the flowers :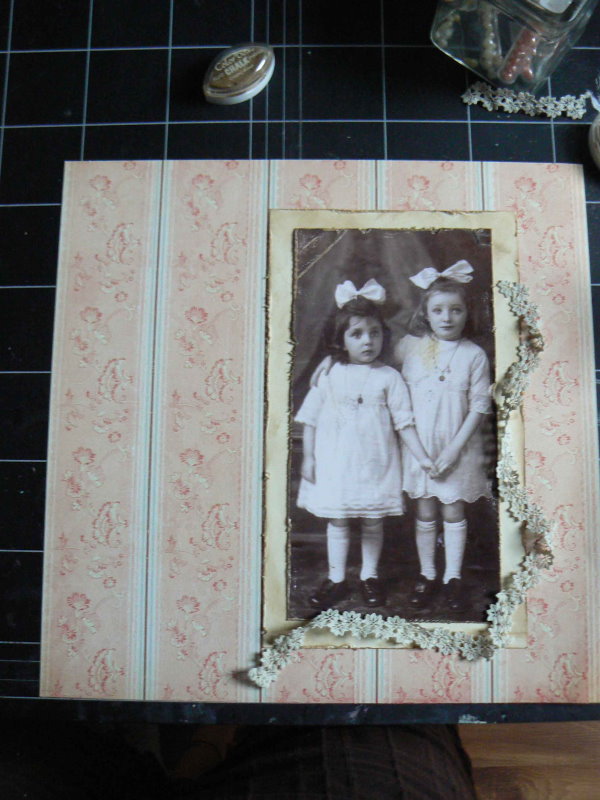 The journaling
---
I print the title and journaling on the same paper ivory in style "yorkshire" font
I cut it with a pair of scissors.
I crumpled journaling "Etre soeurs". I work the edges with the Edge Distresser "and I ink it. I finally glue the journaling on the tag, too crumpled and inked:
I ink the contour of the title that I stick with 3D foam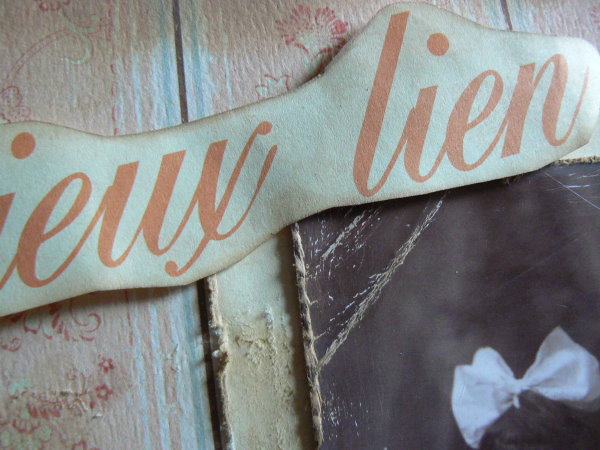 The embellishments
---
I add a bit of lace and a similar flower for the enhancement of the photo.
I finally created a pierced rectangular label for every name. I pass the ribbon through the holes and then I tie it to symbolize a bit more the link between the two girls:
I conclude by taking up the ink to age the 30x30 paper (edges and surface):
And now, the page is complete!

Favourite family memories...
Scrapbooking Your Family History
Creating Keepsakes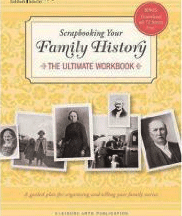 This guided workbook will help you get started, get organized, and preserve your favorite family memories in a way that's fun, easy, and meaningful.
It features 72 ready-to-use checklists, forms, page planners, and worksheets... The best !
Scrapbooking Family Heritage
Creating Keepsakes Editors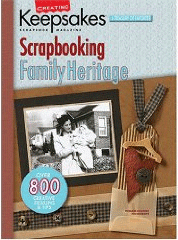 ... The incredible stories and layouts will inspire families to dig through their own pictures to create priceless, lasting heirlooms ... Excellent !
Vintage collage
for scrabooking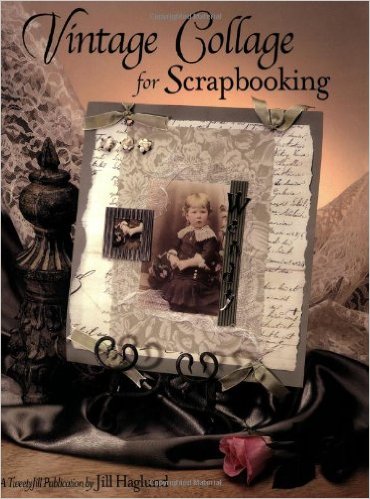 This book is not only "eye candy" --fun to look at, it is helpful and inspiring.