Bérengère HOME-DECO
Tutorial : your first artwork
The author
---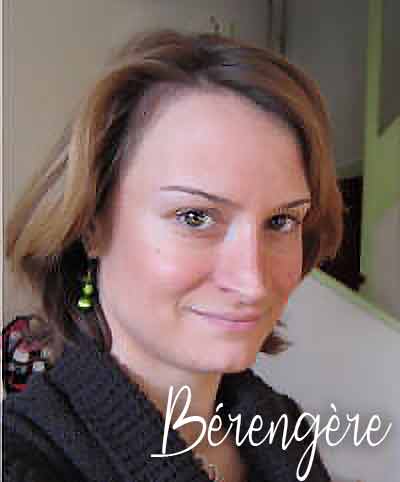 How long have you been practicing home-deco?
I have been practicing home deco since May 2008. I discovered while looking for a painting for my interior, my walls were all white because I had just moved and I couldn't find paintings in aniseed green and pink tones in the shops. So I searched the Internet and discovered people who were doing home decor. I thought, why not try it and I went for it. Since then, it has become a real passion!
The forum http://homedeco.forumactif.info/ (it is closed since then) has also helped me well (advice and tips).
What do you prefer to do in home deco? 
I love paintings on the theme of nature with flowers, leaves, butterflies... besides, I have many on this theme on my site!
What are your favourite colours? 
I love aniseed green but it is the most difficult color for me to create.
I make many blends before I am satisfied with my green.
Otherwise, I also like the turquoise and brown association very much.
What does home deco bring you?
It is a real moment of relaxation after work. It allows me to think of something else and let my imagination work because I love to create.
I often do "creative" evenings, I do a lot of drawings on paper until I find the sketch of my future painting.
Find Bérengère on her blog:


View Bérengère's album
Impressive!
All the paintings of Bérengère.... HERE
THE STEP BY STEP OF BERENGERE
---
Small painting of aniseed green and pink flowers
For your first steps in home decoration, I propose this small painting of flowers in the tones of aniseed green and fuschia pink.
Equipment used :
Canvas frame 24 x 30 cm
Pencil
Fuchsia pink paint
Anise green paint
Masking tape
Step 1 - Background of the canvas:
First, paint the background of the canvas in aniseed green.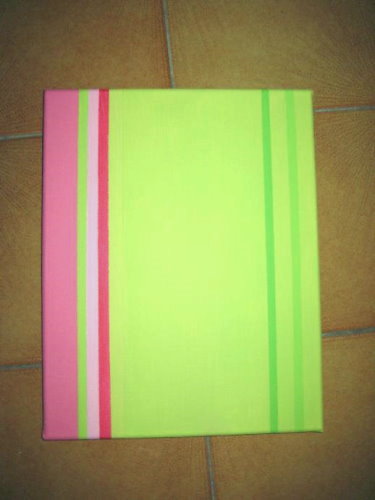 Once the paint dries, stick tape to delimit the colour bands and paint pink and green bands. For a lighter pink, add white paint.
Step 2 - Draw the flowers
When the paint is dry, draw the leaves and flowers with a wooden pencil or trace them or use a stencil to outline them.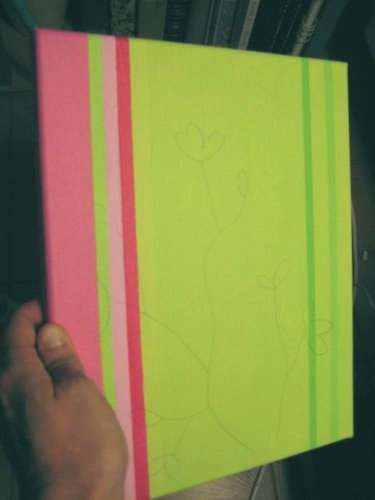 Step 3 - Paint the leaves
Paint the leaves in white color using a very fine brush special contour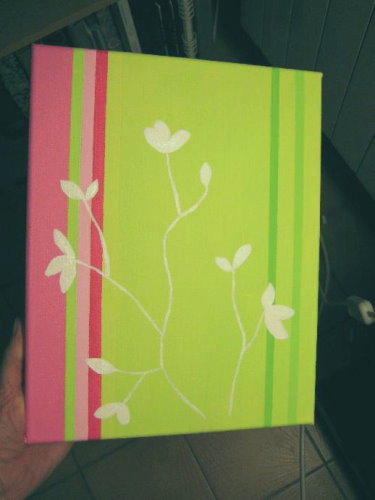 Step 4 - Paint the flowers
And finally, paint the flowers in a more intense green to bring them out.
There you go! There you go!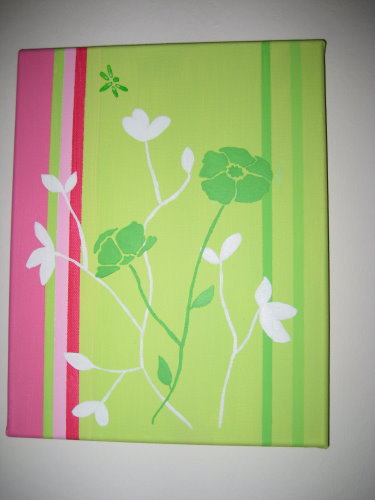 Et voilà !
Find the other creations of Bérengère
---
Discover Bérengère's models by going for a walk on her blog...
Shapes, colours, ideas... all plain!