A shelf for your frames and paintings?
Do not complicate your life !!!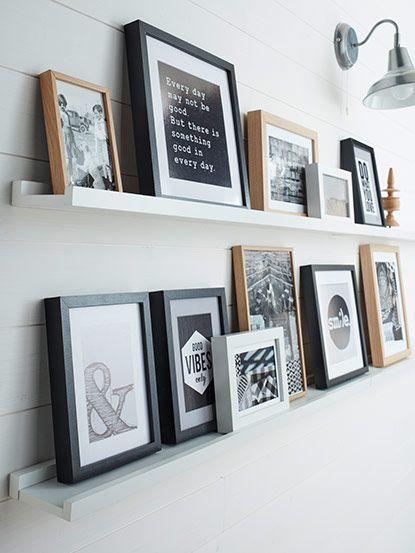 You often change the scenery and you're tired of constellating your walls with holes for your hooks ...
So you need  a picture shelf! (See our page : "DIY your picture ledge")
It's an excellent way to display your photos and small frames in an elegant way while allowing you to change their scheduling at any time.
Thus, your disposition will never be fixed, you will be able to add new frames at any time without the material concern to pierce your walls to fix them. They are continually accessible!
You can easily build your own pictureframe ledge ... look at this page
 Why use a frames shelf!
---
With a great flexibility of use, this system of shelves for paintings allows you to expose in the same way books, small objects ...
This will prove very useful especially to store the library of your little girl's room!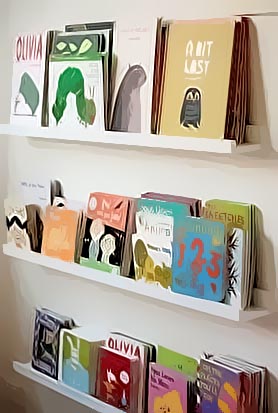 ou exposer les flacons de sable des plages du monde entier...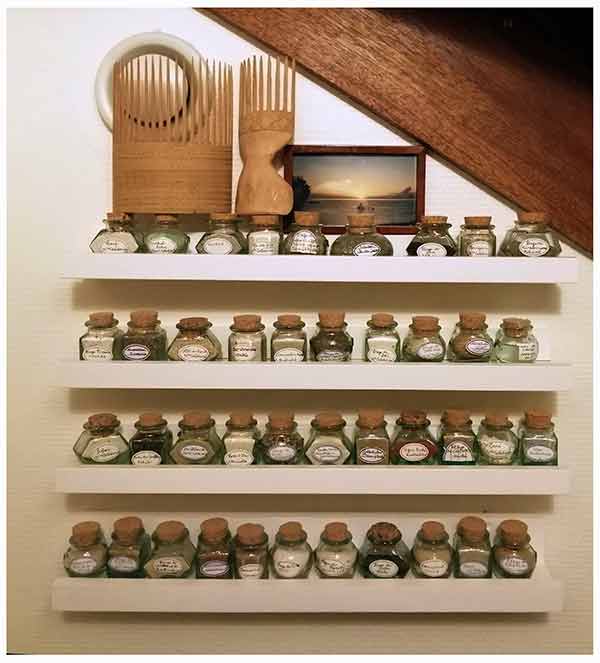 And these shelves for frames will find their place virtually throughout the house: living room, kitchen, hallway ...
And if you're never happy with the arrangement of frames on your walls ... put them on this type of shelf and re-organize your exhibition as often as you want ...
Added benefit: your frames will always be straight, no need to straighten them every time you pass!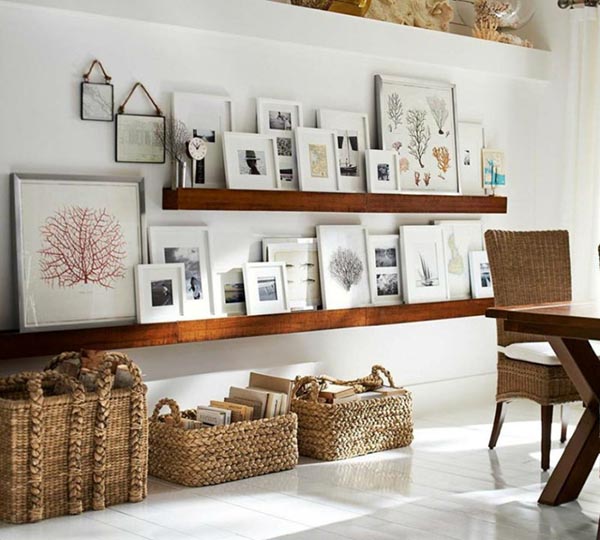 If you are a little handyman, you can easily build your own shelf ... You will not save much but you will have the satisfaction of thinking that it is you who made it. Look on this page where we detail the stages of manufacture.
Buy a ready made photo shelf ...
---
At the price where this type of shelf is sold, let's say immediately that it is not very profitable to DIY them yourself ...
Indeed, you can find at IKEA (see the model MOSSLANDA very low price: less than 6 € for the model of 55cm! And less than 10 € for the one of 115cm.It comes in white and black to match to most modern interiors! ... Hard to do better yourself!
See also Leroy-Merlin which also has an interesting offer ...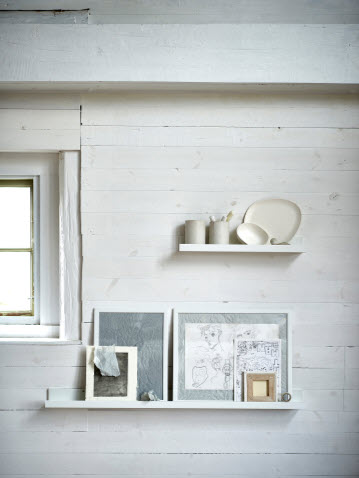 I let you do the search on Google with keyword  RIBBA ...
Very clever, this shelf has a longitudinal groove that can block the frames so they do not slip.
The fixing system is very simple: just two or three holes with the drill ... we put pegs and screw all on the wall ...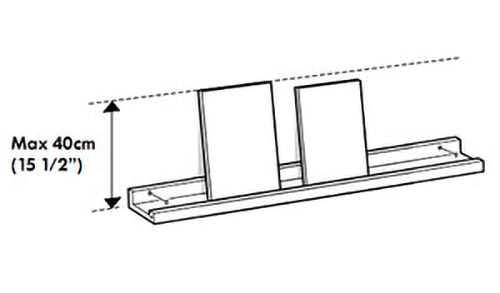 Amazon has an interesting offer for picture frame ledges... dozens and dozens of models that will fit your interior... You've got a choice!!!
Je vous signale an interesting shelf because it is a set of 2 of 35" each ... With many of these shelves, combining and intersecting, we can create a very modern decor.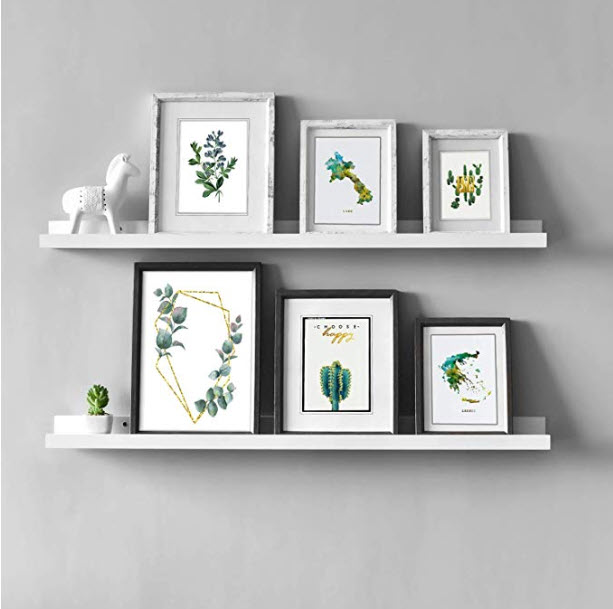 Repair the wall by plugging the holes
---
In France, landlords who rent out their apartments are very attentive to the state of the walls when the tenant leaves the apartment...
Do not be scared to break your wall ... Here's a simple way to get it back to normal if you move:
Disassemble your shelf by unscrewing the fixing screws and push back the...

Then plug the hole with some plaster (buy a polyfill bag or a tube of spackle paste) ...

Let it dry then give a little bit of fine sandpaper. At this stage, the repair is already almost invisible on a clear wall.

If you are a perfectionist, mix white and colored gouache tubes to find the shade of your wall to give just one point of paint on the coating ...
(some renters even close the holes with toothpaste ... but this is a method not to recommend, I'm giving it to you just for fun!)
Have several ledges with frames
---
Above a desk. This gives a little volume to the decor. Then place one or two frames on the desk, as if it were itself a shelf, for continuity.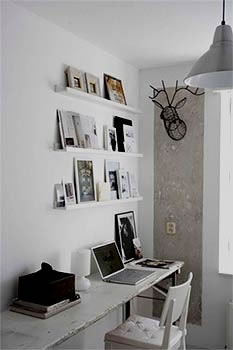 For the composition below, above a sofa, we used 2 shelves Ikea Ribba each 115cm long assembled and intersected with half a third to give a set of 180cm.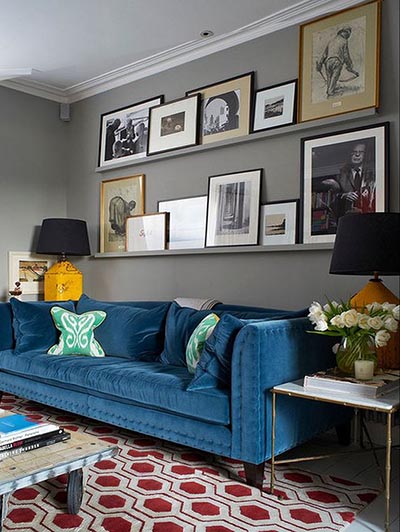 These ledges were also repainted in very light gray to better match the atmosphere of the living room where they were arranged. Note that the frames that are there are also RIBBA Ikea frames.
In another style, here is a trendy graphic mood.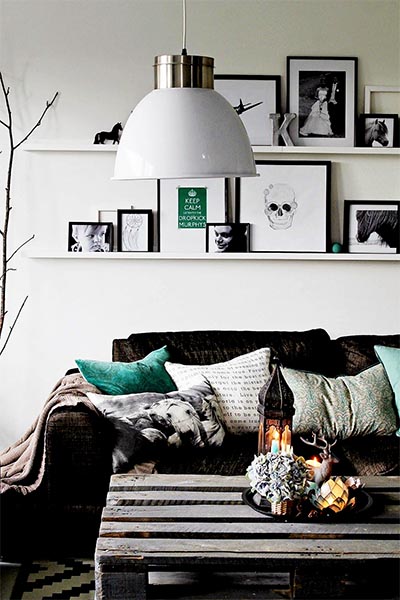 A more luxurious shelf ...
---
I found you a shelf with paintings in acrylic or plexiglass or polyethylene of the best kind: once filled, it is totally forgotten by totally blending into the decor ...
Various sites offer it but, except promotions, it seems cheaper on the Amazon site
Of course, it is a non-negligible expense (around $30 for a set of 3x15" depending on the models) but the decorative effect is certain.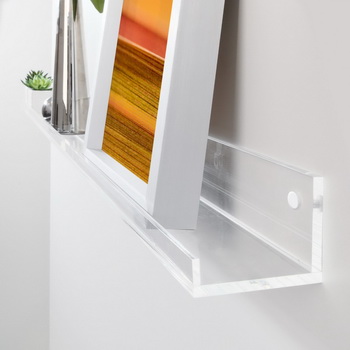 How to fix a shelf on the wall?
---
To fix it correctly, easily and especially horizontally ... on the wall follow these steps.
Present the shelf in place and mark with a pencil the location of the 1st hole ...

It's time to drill the first hole in the marked location ... Once the hole is created, place a dowell!

You can now fix the shelf with a single screw ... Now place a leveller on the edge of the shelf and rotate until perfectly horizontal.

You can now mark with the pencil the location of the other two screws ...

Rotate the shelf around the middle screw to reveal the two pencil marks.

Now drill the last two holes and place dowels

Put the shelf back in place by turning it again and screw it permanently with the last two screws ...

Shelf is perfectly horizontal!