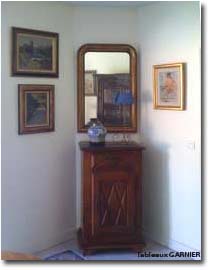 Want to give a personal touch to the decor of your home ... and you know how to layout frames on a blank wall is not always obvious.
Frames and arts can not be hanged "haphazardly"... the good idea is to find its place for each frame near the others.
There are some rules to be respected, but in practice, how to do to display them harmoniously together ?
This page is designed to give you some ideas by giving you some "classic" layouts.
One line layout
It is the almost universally layout, in all cases it's the most commonly used.
The vertical alignment.
 Nicely used for narrow walls (between two windows for example). It is possible to align the centers of the frames ... or align their edges, especially near a door or a window :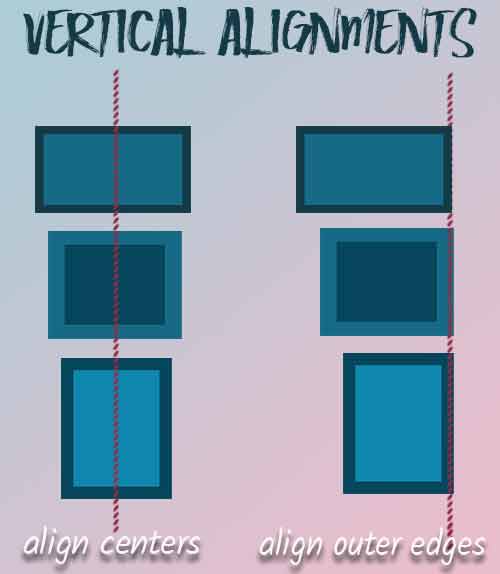 This type of alignment is particularly appropriate in lower rooms : visually it raises the ceiling.
The horizontal alignment.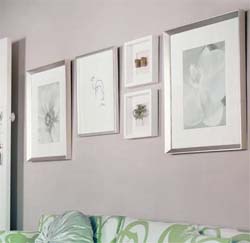 It is the classic alignment for museums and art galleries.
It is difficult to apply it for small frames.
In the house, you will use this alignment above a base cabinet, sofa or a bed... Visually, this alignment "extends" rooms lacking depth.
Again, the centers can be aligned (standard layout):


centered horizontal alignment
Or you can choose to align their top or bottom edges, which gives to your layout a very modern look :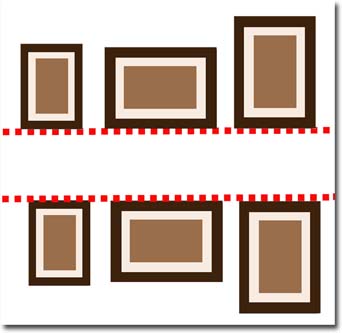 horizontal alignment on the lower edges or higher
2 rows layout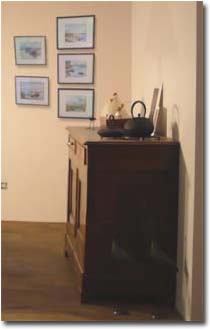 The arrangement in rows is partularly appropriate for frame with smaller size. You can group them together to play with their alignment.
It's a good arrangement to be adopted for the collections (postcards, butterflies, and other family photos).
Again, you will have the choice to align the rows : either you align the centers or you align the edges (if your frames have the same dimension as in the picture alignment cons ... is automatic!)
In the case of a vertical alignment, "do not play too much" with the height : remember that the right height to hang a picture is that its center is about 1.65 m above the floor ! No need to put them too high or too low!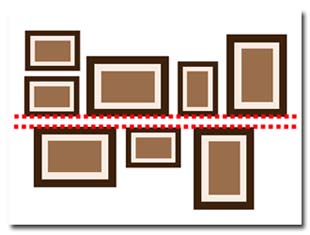 For horizontal alignment, allow only two rows ... where you'll mix different sizes of frames to avoid monotony. Then it seems preferable to align the edges of the frames rather than their centers.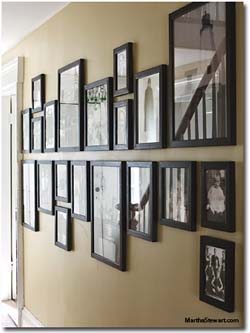 Symmetrical arrangement
It is a "reassuring" layout for many people who abhor the "disorder" and gives a sense of calm and wholeness ...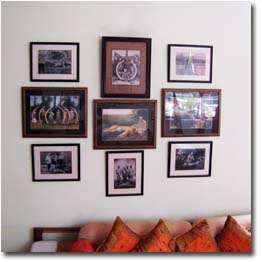 Have your frames on the ground prior to their hanging on the wall to judge the symmetry of it.
You can observe a strict symmetry : the same frames, same color, same shape ...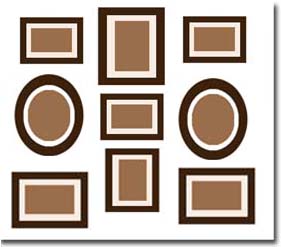 But this arrangement can appears stiff and rigid ! In fact, frames not need to be strictly identical in shape and color, no perfect the symmetry provided so long as the entire set is balanced.
The key is that the viewer's eye perceives this symmetry without necessarily being conscious of it.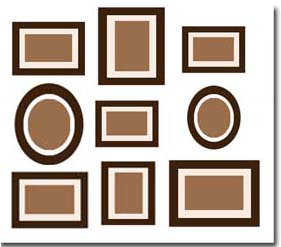 If you have your frames over a cabinet make sure that the group of frames is adapted to the width of your cabinet and does not overflow thereof.
With strictly identical pic frames, your exposure may be monotonous ... So vary shapes and colors ! Never forget to play with unity and diversity !
Geometrical arrangement.
In this case, all your frames are contained within a simple geometric shape which, again, will be unconsciously perceived by the viewer.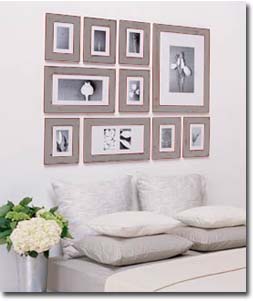 The most common forms are  the square and rectangle. You start putting the larger frames at the "strategic points" ... and then you fill with smaller ones.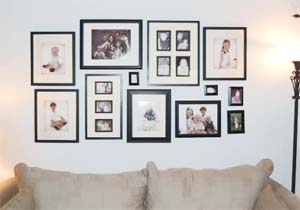 This type of arrangement leaves you plenty of freedom for both the placement of your frames as well as the choice of their shapes. You can mix ovals and rectular frames as you want.
It's the ideal arrangement to place above a sofa, a bed, a sideboard.
Do not limit yourself to a rectangular layout, you can also use an oval shape to better distribute your frames: this gives you a great flexibility and full scope in the placement of your frames. Do not be too harsh!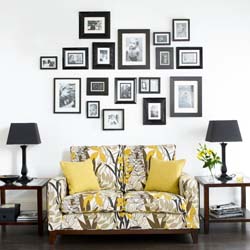 You can still have your frames following a triangular shape... To reserve for mathematic nostalgics !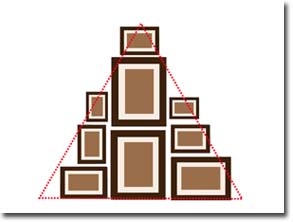 FREE arrangement !!!
You do not want to obey any rules ! You are a rebel ! You have your own design codes ... AND YOU'RE TOTALLY RIGHT!
The rules are meant to be broken! So do not deprive yourself and build the walls of pictures you want!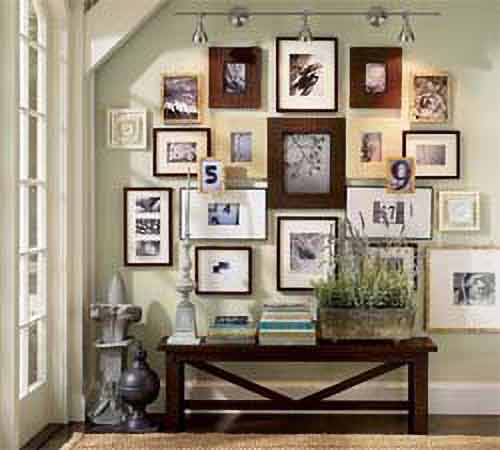 Unleash your imagination, mix styles and genres : it is then the overall effect that counts. The viewer will want to approach to detail an image or picture that you will subtly have highlighted.
Good design! PL