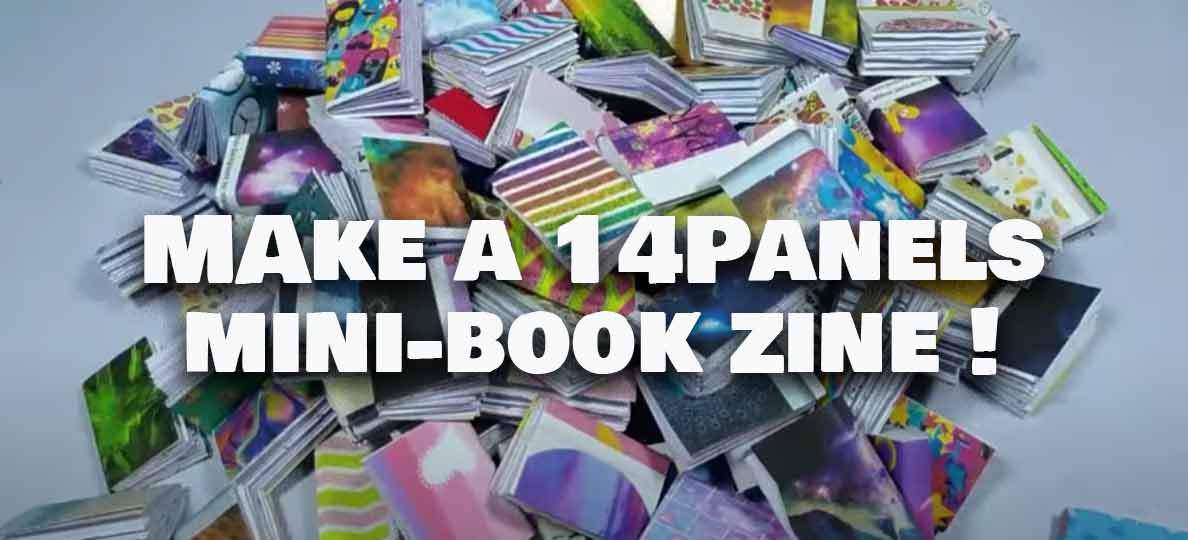 A miniBook of 14 pages
without double-sided pages
On this site, we have a page reserved for mini-books of 8 pages, others for mini-books of 16 pages... This new page is therefore reserved for another technique that will give us smaller pages but will not require printing the page on both sides...
The principle? To create a mini-book from a simple A4 page, printed on one side only, that you will have to fold in a certain way: in fact it is the only difficulty, to assimilate the folding and cutting technique...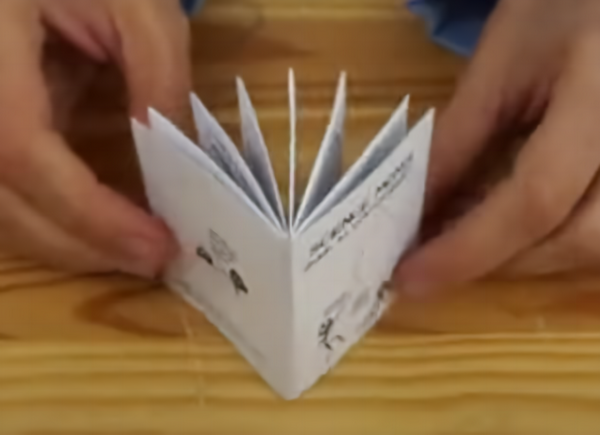 If you want to try it out, you can download this example of a page ready to be edited and print it to get a better idea... Just click on the picture to download the .pdf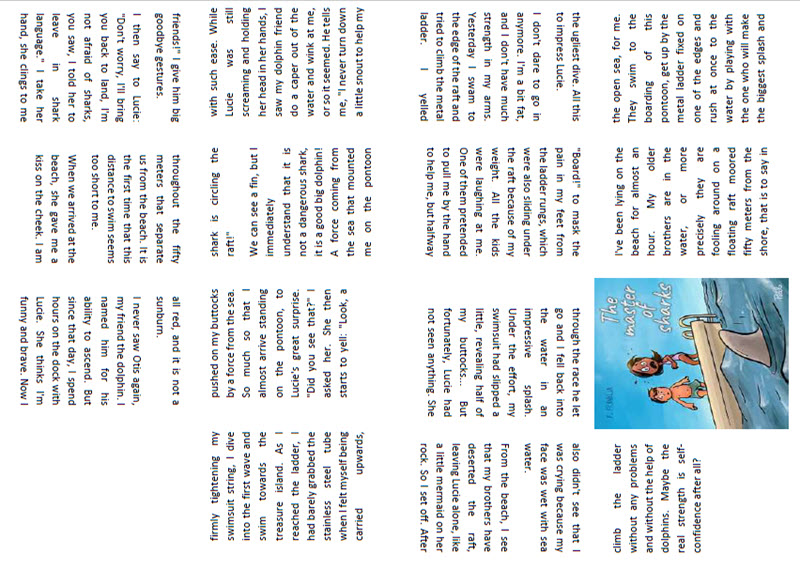 All you have to do is to print, fold this page and give it the 3 scissors strokes... to get a 14 pages mini-book...
Want to see the docx of "Master Of Sharks"... Click Here
Want to create your 14P mini-Book ? Download the template dotx Word ! Click here.
How to fold the A4 page
---
Better a concise drawing than a long speech, that's the reason of this sheet that I wish the most explicit possible!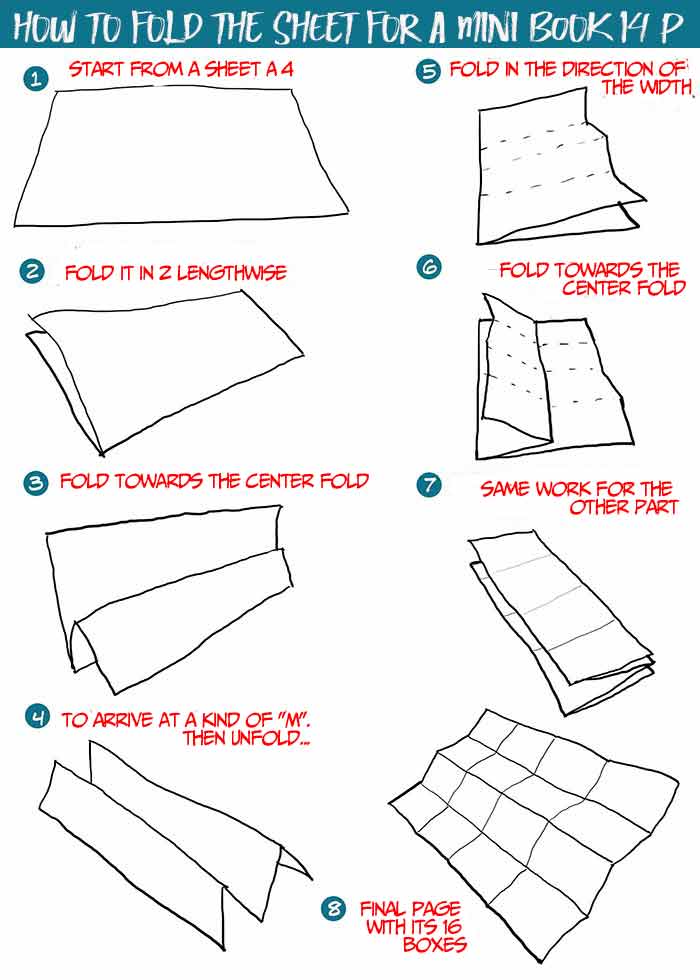 If this is not clear enough, here is a video in English that explains the maneuvers to perform...
The site "CushStyle" also provides an excellent explanation for folding... Click on the image to watch this video...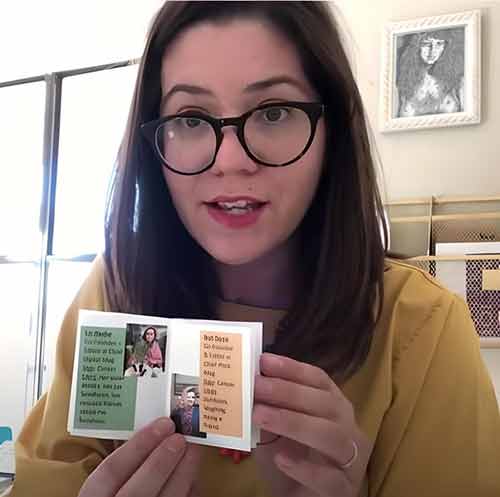 Where are the pages located?
---
Once the folding is finished, you will have to give 3 scissor strokes to open the pages...
Find the direction of the folds and start folding by referring to the video above... You will be able to note the position of the pages.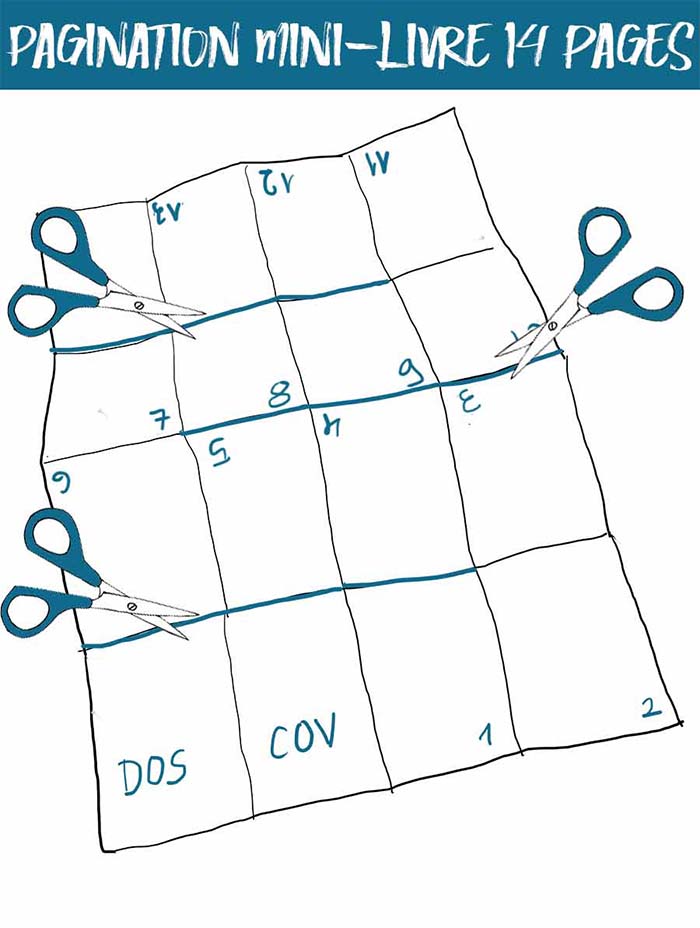 PFor more ease in setting up your pages, here is a template that you can use in Photoshop as well as in Microsoft WORD... Download it HERE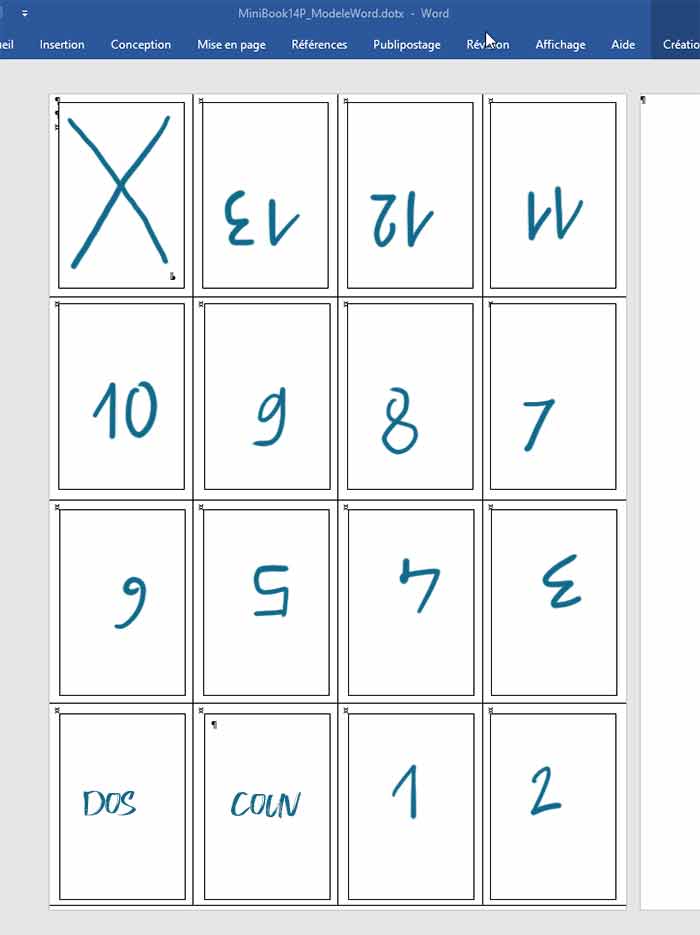 Set up the pages.
---
You have to process text and images simultaneously... There are two ways to create this mini-book: using Microsoft Word or using an image processing software like Photohop (or other equivalent). Here are the two methods in detail.
Using Microsoft Word
If you don't want to set up the page template for WORD yourself, here is a ready-made one that you can download HERE...
Open this document in WORD, and in the box COUV, you can pour your text. This one will flow regularly from box to box... You will then be able to add your images and eventually modify the font size and the line spacing of your text so that all the boxes are filled...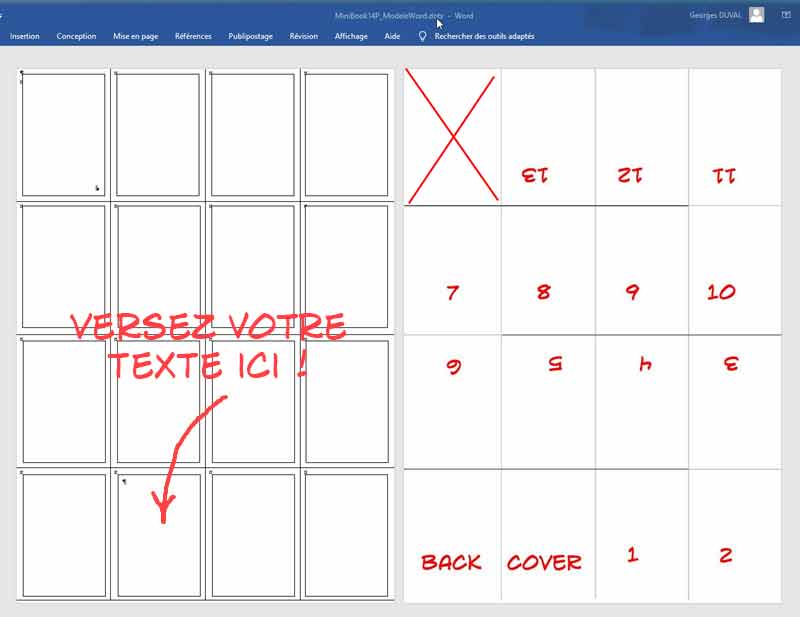 Otherwise, if you are interested in the technique, here is how to create your pages...
Launch Microsoft Word and create an A4 page in portrait format and set all margins to 0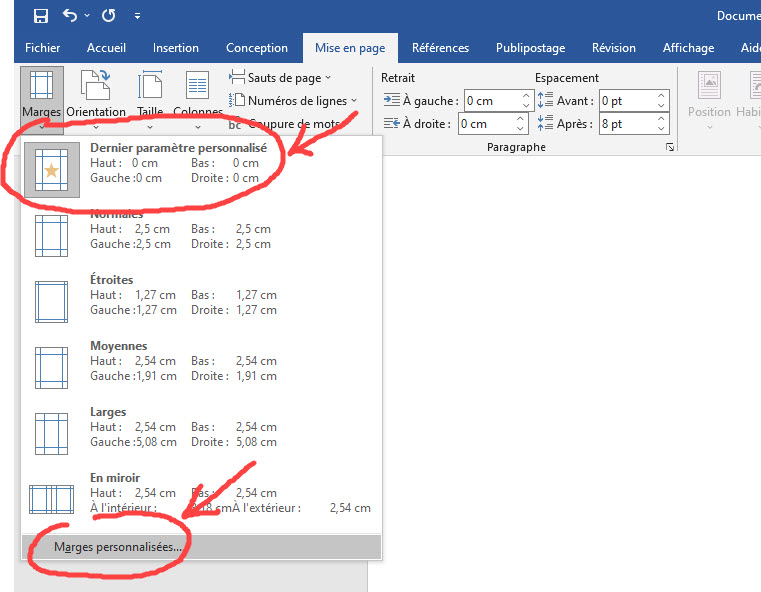 Create a 4 row 4 column table on this page...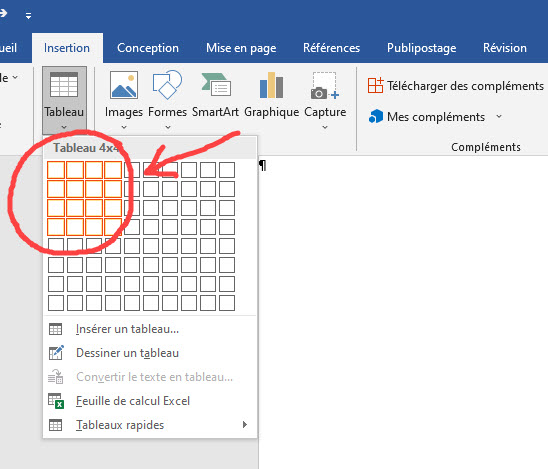 Then give the cells of the table the dimensions H=7,35 and l=5,25cm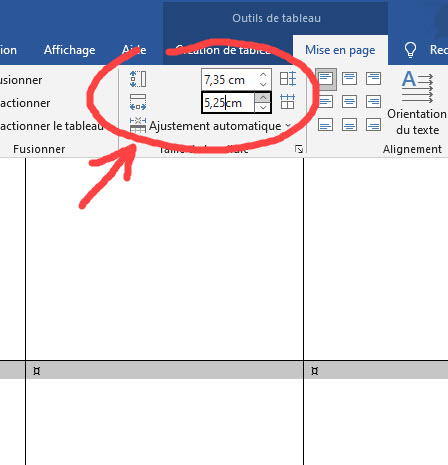 Your cells are now formed, it remains to install in each one a text zone and then to link them to each other to allow the flow of text to pass from one cell to another ...
To place these text zones, you will be guided by the cells of the table, leaving a margin of 5mm in all directions... which will leave a safety reserve for folding...
For explanations on the text zones, see this page. It describes how to make the template for 8 pages... it's exactly the same for mini-books with more pages...
If necessary, download here the WORD template for the 14-page miniBook
Utiliser Photoshop (ou autre)
This is a "manual" alternative that has the advantage of "working" each page of your mini-book separately.
In your image processing software, you will create as many images as there are pages: each one will measure 7cm by 5cm inside which you will write your story and put the possible illustrations...
It's more artisanal, slower... but so flexible as for the layout!
Start by creating your pages... Then download the 14P template.
Arrange your mini-pages loosely on the template... Be sure to put them in the right direction.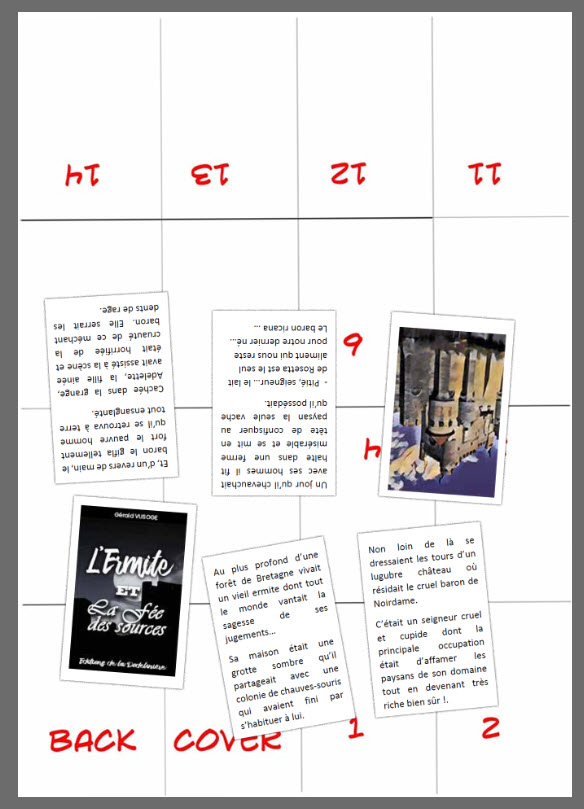 Disposez les mini-pages à leur emplacement définitif repéré sur le gabarit...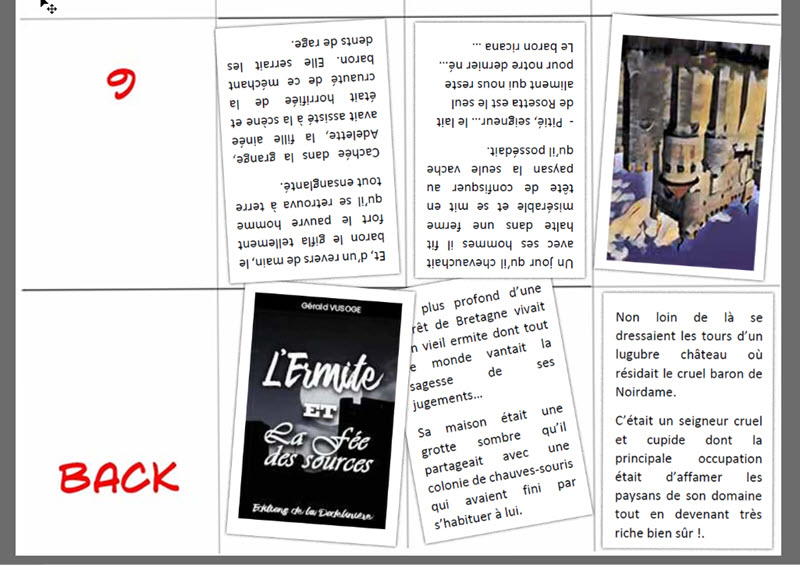 The pages you have hide the indications of the template... If your image processing software works by layers, you can hide the "template" layer before printing...
Here are two other 14-page mini-books that you can download and print to see the possibilities both in characters (by playing with the case you can adjust the pages) and in illustrations. Click on the images to download the pdf...
SANA the little eskimo...
.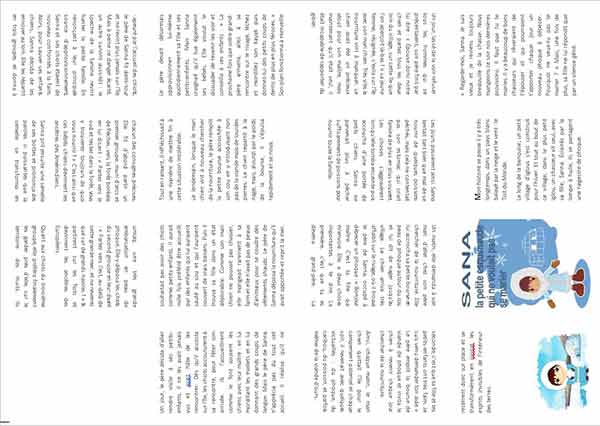 Martine ROLLAND high mountain guide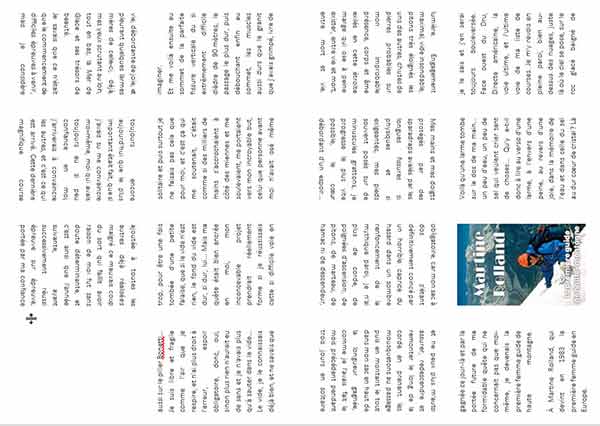 Bonne impression !