How to hang a picture frame
Setting a picture frame on the wall
Your canvas painting is framed, your art-work is mounted… You have now to hang it on the wall !
How? Once you have chosen the site, the problem depends primarily of the wall : You can't fix a hook on a plasterboard wall in the same way as on a concrete wall.
Is it necessary to drill a hole to fix a wall plug ? How not to leave traces on the wall in preparation for a removal ? How to layout the framed paintings on a wall ? As many questions which we will try to answer.
Avoid poor quality adhesive hooks…
---
Let us say immediately that the solutions containing adhesive hooks are to be banished definitively ! Unless having to suspend only a car ignition-key or a postal card!


Some adhesives fall apart brutally, without preventing, and generally in the middle of the night, in a great crash ! Others stick so well on the wall… which it is impossible to remove them without tearing off part of the coating or the wall paper, that is contrary with the expected result.
Same concerning the adhesive dots (patafix) which are not adapted to the fixing of heavy objects : reserve their use to fix without danger at the wall… a postcard or a poster, at the maximum !
An exception, however! The 3M brand markets an excellent product to hang frames in a sustainable and reversible way. This is the "COMMAND" system.
It's a kind of Velcro that attaches to the wall and supports your photo frames or paintings. Moreover, it removes itself without any damage to the wall. No more traces, no more fragments of plaster! This system is not expensive and re-usable : you can click the picture, there is a link to see their brand products.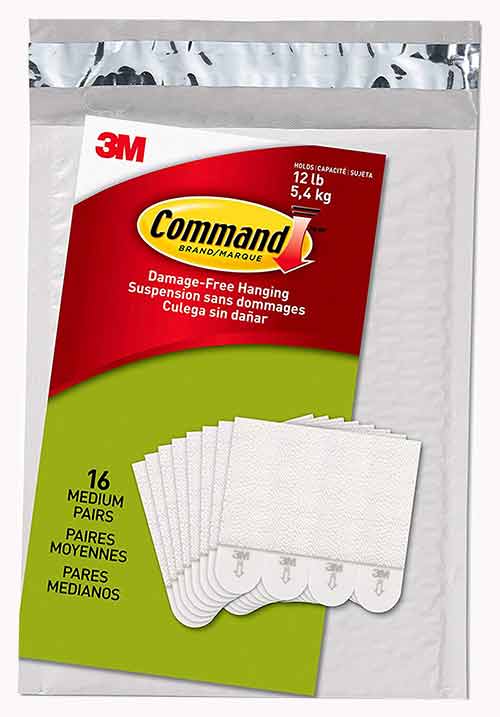 Drill the wall or not ?
---
Nobody likes to bore in the walls… especially the tenants who wish to recover their guarantee at the conclusion of their lease.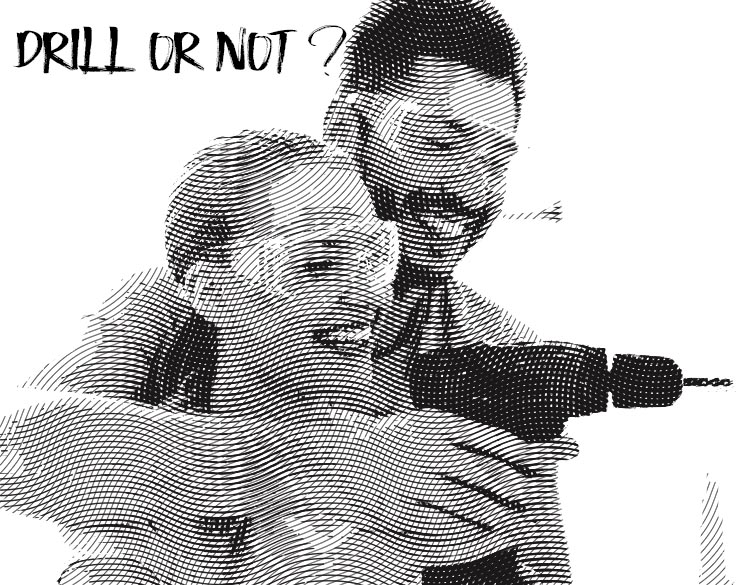 If your framed painting weighs, let us say less 15kg, you will not need to drill the wall to place a wall plug… Whatever the nature of the wall, there exists a simple solution to be implemented (small or double hooks "X" for example).

If your framed painting is heavier… then it will obligatorily be necessary "to wall plug" : with a drilling machine and a drill with carbide to bore a hole and pose there a wall plug. Screw a hook inside. There, the choice of wall plug will depend on material of the wall.
And when you will leave your apartment, you will stop the holes with a little of ready mixed plaster (Polyfilla), a light sanding and just a little bit of coat… and, if you were careful with drilling, you are able to well dissimulate them.
Traditional wall: bricks and plaster.
---
For a very light frame, try a dressmaker pin hammered in the wall : when you leave the flat... no visible hole on the wall (<1,5 kg)...

For a light frame, you can hammer in a small turned blue steel nail.



These nails have 4 cm length and 1,5mm thickness.

They are sold out of little packs in do-it-yourself stores under the name of " black concrete nails " or "blue steel nails"...

Tap slightly with the hammer until the nail crosses the brick under the plaster. There you can hang a frame whose weight does not exceed 3 kg!

For more weights, think of picture hangers in the range of all the hooks "X". Specialized in the fixing for more than 100 years, this "X" medium size firm (it's not a joke !) has marketed a great diversity of hooks.

According to the weight of your frame, you will have the choice between models with picture hangers with 1,2 or 3 steel nails. Resistances obtained are interesting since the range of the advised weights goes from 5 to 30 kg!



And if your frame is really heavy… You have to bore a hole with a drill, pose a wall plug and screw in it the support.

In this case, think of not damaging the wall, do not forget, before drilling, to cross incise the wallpaper and slightly lift up the 4 points before boring.

Thus, if you have to leave your apartment, you remove the screws, fold back the 4 points, a bit of glue, and practically nothing is seen any more.

With good pluggs, you can suspend in a healthy wall between 30 and 50 kg… Trust resistances which are given on the plugs packing : each manufacturer tested their models!

When necessary, you can put several plugs which are distributed a mass important to suspend.

If you can't find all models in your DIY store, have a look HERE for all wall plugs models.
Concrete wall
---
And it is increasingly frequent in the modern buildings, hook "X" proposes to you small brass or plastic hooks. provided with 3 small nails which will clutch the concrete with force. Their resistance is astonishing.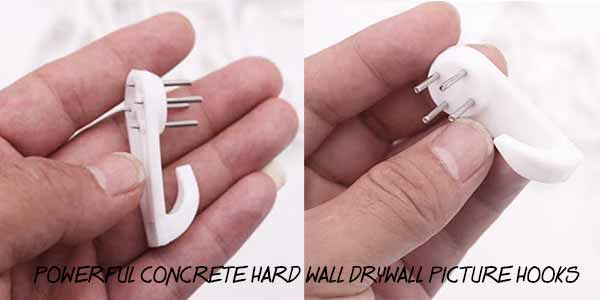 To pose them, you maintain them in place and with a hammer you drive simultaneously the 3 or 4 steel nails by tapping with small blows so that the tips sink into the concrete .
Those will create a sufficiently solid point of anchoring to support between 5 and 30 kg according to the models. Always read closely instructions !!!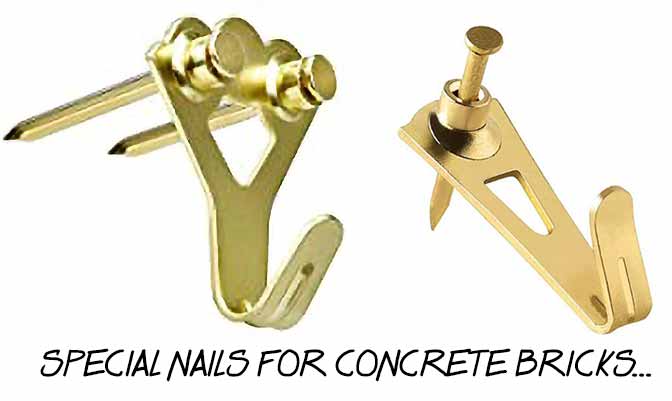 For the more important masses, it will be necessary to bore and to pose wall dovels: a hammer drill will be necessary with an excellent carbide drill bit… Hard, hard in some vibrated concretes but that holds wel !!!
A TRICK VERY USEFUL!

To drive a nail into concrete is not easy, even with special nails ... But there is one trick to know : using a cork !

Cut a piece of cork 1 cm shorter than the nail. Tap with the hammer with short twists while holding the cork. The nail will sink easily into the concrete and without splinters.
To try it is to adopt it! Very cheap and usefull !!!
Dry walls (plaster boards)
---
They are now widespread and tend to gradually replace the traditional brick + plaster partitions. The problem is that of the resistance of the partition itself! -

For masses less than 10kg and if your plasterboard is of good quality, you can again trust in the HOOKS X which offer a special fixation plasterboard ... They give it for 15kg ... it's a good maximum that I do not advise you! Their specially designed shape and the two "nails" to push in allow to distribute the effort on a larger surface.

Try the "Monkeys hooks" ! It's both very useful and awesome ! You have only to drill a tiny small hole in the pasterboard and insert in the monkey hook ! Fast and effective. For small picture frames !

The "traditional" dowels do not fit well in the BA13 (placo) ... solutions have been imagined. The company Placoplâtre has published a small notice in pdf which can give you some tracks to fix in their product. - up to 30kg ... There are special plasterboard plugs. For their resistance to shearing (for a table, do not work tearing!) You will trust what is indicated on the box of pegs:   vis_placo

 

Up to 50kg (some say 75 ...) you can use "umbrella" dowels. All DIY forums will tell you that you have to trust only one brand: MOLLY! I don't know if you can find this brand in USA... Look for similar !

You first drill a hole in the plaster to the size of your ankle and then, with a special pliers, you will fold the back of the ankle, "umbrella", behind the partition ...     You will then get good resistance, both in tearing and shearing.

Some advises

- The plasterboards are screwed on metal studs called "furs" ... maybe you can locate them by tapping on the wall and trusting the sound ... If you come across a "fur", you can drill and there, put an ordinary dowell: it will hold properly!

- By applying the principle of "distribution of efforts", several MOLLY dowels can support a much larger mass ... For example, you can attach a wooden plate on the wall held by 4 pegs umbrella: and on this wooden plate you can screw your fixation! Beyond, we go beyond the point of this page!

See also the special page: set in hollow materials.
An elegant way… clip rail mounting !
---
It is the solution chosen by all the galleries which expose framed paintings and which must often renew their exposure.
If you wish to gather several frames on the same wall, it will be for you a good alternative.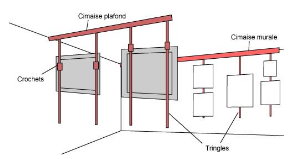 The clip rail mounting is composed of a small "rack" which comes to be screwed with or near the ceiling. On this rack you can hangs steel or perlon cords, sometimes steel rods which will be used as support for your frames via adjustable hooks throughout the cord or rod.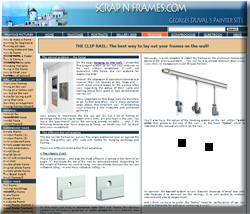 Look at Clip Rail Hanging page
It is, the better way to build a "wall" of paintings and frames without constellating the wall with unaesthetic perforations.
Just a small "trick" : how to rectify a frame...
---
The frames fixed on a wall are never right! Unceasingly, you should rectify their position because they are always tilted.
They will not move any more if you fix a whole small piece of double-coated tape (or a pearl of Bostic White Stick'n Fix) in the bottom of the frame to make it very slightly adhere to the wall !