Tout sur le scrapbooking digital
Digital or traditional ?
Traditional and virtual Scrapbooking proceed out of the same idea to choose some photos and to emphasize them by an elaborated and well-kept layout. Both require the same creativity and the same care.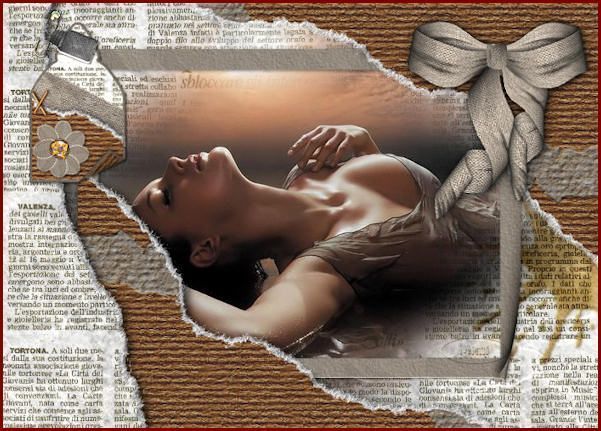 While in traditional scrapbooking, are used paper, glue, inks, stamps and scissors .... In virtual scrapbooking, it is the computer (with a tool of picture lay-out) that does the same job: it uses images of documents, pictures, embellishments, ribbons and other virtual charms to produce the picture lay-out.
This is known as digital scrapbooking or digiscrap. Using a computer can multiply the creative possibilities of "scrapbooking" by the insertion and photo editing, adding filters and cutting original shapes ...
No need of complicated equipment, no need for bulky stock supplies ... everything is stored in the memory of your PC ! When a page is complete, you can print it, send it by mail ...
The charm of the manual exercise is over, because after printing, you can add all kinds of collages and perforations to give relief and "scrap"effects desired !
Scrapbooking Software
---
To create a scrapbooking page with these different softwares, the process remains identical and respects the 4 steps mentioned below: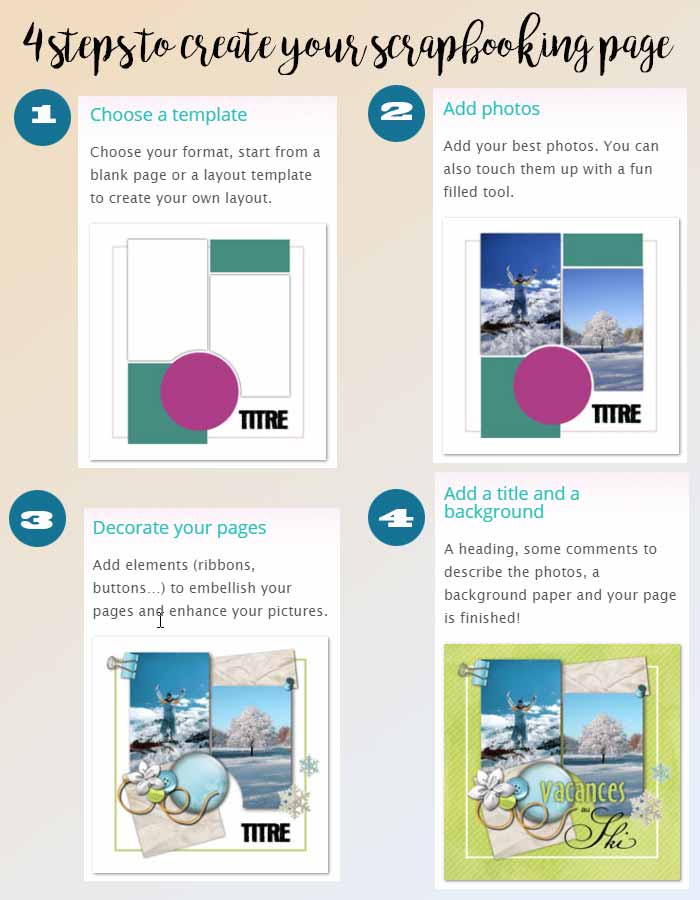 There are a dozen softwares strictly dedicated to scrapbooking: the greater part of them is in English language- thereby restraining their dissemination especially in France. To see for yourself, just have a look at this AMAZON page where the main available software are named...
Experienced scrapbooking enthusiasts does not work with these too specialized apps ... we shall see in another page that they use.
But they are perfect software to get started and to quickly produce a page without having to do too much research.
So here I'm just going to quote the main programs, the ones that are the most used in the digital scrapbooking movement.
STUDIO-SCRAP
The first software is free and functional assessment at this address. Ainsi, vous pouvez l'essayer tant que vous voulez... If you want to add features to it you will have to buy it for a reasonable amount.

With this software you can create documents of all styles compositions to show off your photos, jumble to frame family photos, personalized calendars, greeting cards, birthday, postcards or made by yourself annoucements of birth, marriage...
You can download a fully functional trial copy HERE to get an idea of its possibilities.
Memory Suite 9
This is one of the best selling digital scrapbooking software... It is not for nothing because it is one of the richest and most functional. You won't make a mistake by getting it.

This software very interesting for several reasons, not least by its price and performancebut for equipment that accompanies it.
The soft, is sold around $25, is presented in a special box that contains the CD Rom with his goodies.
This software is not only reserved for scrapbooking (which it treats very well all the same...) but it is able to perform all your photo collage operations...

Annuman Scrapbooking

Installation and use are very simple, this programhas many built-in tools of digi-scrapbooking like : Punchers, frames, strips, stamps and brads ...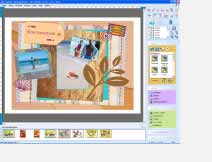 The "scrap" content is rich in thousands of page templates, album themes for ... birthdays, weddings, announcements of births, holidays, children, Feasts & occasions (Christmas, Easter, Halloween ...), family, sports & nature ..
Hundreds of original cut-outs for photos, hundreds of original fonts for your journaling, a multitude of images and documents to create. Itoffers also a direct import "scan" module for "remember" documents (movie tickets, theater program ...).
Last originality of the program: a built-in ink regulator to print with economy and reduce up to 75% the ink consumption.
In conclusion, this software is recommended : its value rates, rich content, its powerful features combined with its simplicity makes it an ideal program to start in digital scrapbooking.
SCRAPBOOKFLAIR
Ah! The following software in English ! This restricts

its distribution in France and it's a shame because the SCRAPBOOKFLAIR concept is very interesting in more ways because this is an international community dreaming about scrapbooking, scrapbooking thinking and living ! A group of enthusiastic foolish people ! No commercial recovery ... rare !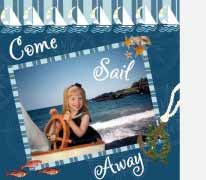 Let me say first that the software is FREE, all inclusive software (not a trial version) ! As everythingaround it.
You can download it HERE You can also dowload models of pages (design templates), assorted papers, background and embellishments.
If you want to save time to download the software and individual backgrounds, embellishements and templates, you can order a free CD with a large variety of graphics built into the software (150 MB).
For this you'll pay a very low postage fee (less than € 8 per CD in Europa, less than 5$ in USA).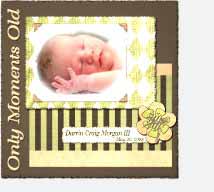 The members gallery and exhibition pages is impressive of creativity and variety : thousands of pages classified under different themes.
This gallery is a fabulous reserve of ideas for your own pages. You can also download "Sketches" ie page templates.
It's a good idea to join the fun and get your own Scrapbook Flair Home Page and Digital Scrapbook Software - it's all free! You can create and share your scrapbooks in public or private and comment / vote for your favorites.
You can even download the latest Designer Collections for free!
The papers collection is impressive, whatever your appetite, you will hardly come to the end ! Also have a look HERE to the collection of embellishments ... also classified by themes : Great!
Finally, the general assessment is very positive: simple and powerful software, rich content, totally free of soft and associated goodies.
The website address is http://www.scrapbookflair.com. Keep it in your favorites : You'll still need to download one of their kits or model !
Download freebies?
---


The Number 1 site in France: SCRAP-GRATUIT.FR where youfind each week, hundreds of paper background packs, embellishments, and other models needed for your lay-out.
Each day you are offered new freebies from all around the world, available on the internet with direct links to their creator's site.
Similarly, if you want to share your creations (kits, elements, embellishments, templates ...) for Digital scrapbooking , please register and expose them to Scrap-Gratuit.fr


At the risk of repetition, do not forget to visit the excellent site SCRAPBOOKFLAIR wedescribed above. Quality and quantity are at there !


And .. if, like me, you love to surf and visit scrap-websites , a must ... DIGITALSCRAP In factfact, a directory of sites and blogs digital scrapbooking freebies that distribute ... A gold mine for those who like navigate !
Good scrapbooking !