Artist Trading Cards
how I use my alcohol inks!
A step by step with THEALIE.


The author : THEALIE
---

How long have you been practicing TAC?

I have been practicing it for about 5 years, initially on a very small scale and then more and more intensely after the creation of the forum :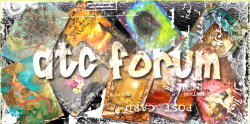 http://art-trading-card.superforum.fr/

which was the first forum on ATC finally in French language, this forum is a high quality support to start and progress.
What do you prefer to do in ATC?
What I prefer is to start from my white paper and to build a story little by little in matter and color, it is to think about how I will interpret my theme, what will I start with? What will be my starting point (a color that I want to use, an image that I like, what technique pleases me etc...) then to arrive somehow to tell a story or to make feel an emotion through the realization of this small painting.
I know that I spend a lot of time to realize a small project, I don't conceive that making a TAC is fast, thinking about it and conceiving it is quite a journey.
What are your favorite colors?
I don't have a favorite color, I find that life is an explosion of colors and you have to know how to appreciate them all, it's a gift of nature, a color is beautiful, it's pure.
What does ATC bring to you?
When I get down to my table to devote myself to the realization of an ATC, I lose all notion of time, I am immersed in this timeless space and I make a total empty space in my head because of my concentration, it's an unparalleled relaxation.
When I succeed in getting what I had imagined at the beginning, I am happy with myself and it just makes me feel good!
Tell us about the book you wrote.
When I was asked to do a presentation project to eventually co-write a book on ATC, I first had a stressful period, then going to present the project in Paris was easier than I thought, I was in my element, I knew what I was talking about, so I went with my cards made especially for the occasion and with a light heart, I knew I had mastered it and that no question would bother me, I had the answer.
The project was accepted and voilà, it was necessary to make a guide book with classical techniques and others less so, to research the origins and gather all the basic information while trying not to forget anything.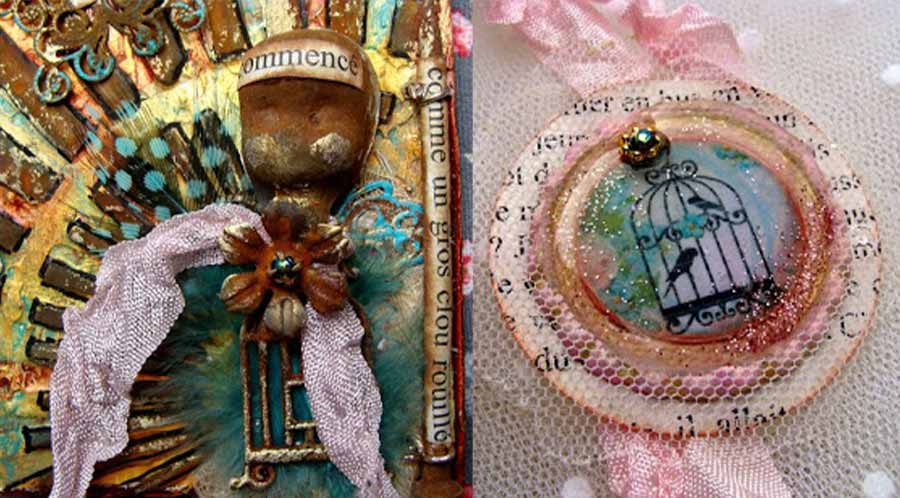 To conclude about this book, I would like to tell the readers that it is necessary to appropriate these techniques, not to be satisfied with following a step by step, to work on it by adding your personal touch, to focus your attention on the finishing touches, and most important of all, to enjoy creating these cards.
Find Thealie on her blog :


http://lemixdethealie.blogspot.com/
THEALIE's brand new book
Everything you need to know to make ATCs (Artist Trading Cards): these small artistic cards in a standard format that are meant to be exchanged and collected.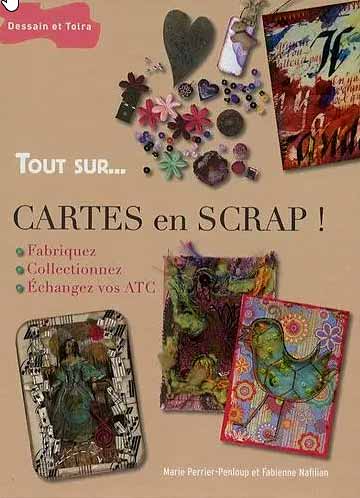 The complete inventory of all the processes to realize your backgrounds and embellishments, up to the most "crazy" finishes! Gluing, embossing, imprints, scraping, masking, transfers, metal or paper folding, "3D" effects and all kinds of effects will no longer hold any secrets for you.
A mine of ideas, tips and techniques, all illustrated, to deploy your artistic talents! Not to be missed!
USE ALCOHOL INKS
---
I'm going to explain you how I use alcohol inks in a way that is a little bit different from the traditional one, because I don't like the result on the glossy paper with the marks of the fallen drops and the marbling either, here's how I do it.
The material I use
So you need, a white rigid paper base, weight higher than the printer sheet ! or cardboard (wood pulp), gesso (excellent conductor for inks of any kind), a heat gun if you want bubbles or not, alcohol inks, no specific diluent, I use either a modified alcohol (the one with which you disinfect small sores, or an eau de cologne if I want to perfume my paper, beware the nostrils) and a spray to put the alcohol.

Preparation of the bottom
I spread the gesso on my base and I immediately heat it up to get relief (if you are not fast, the base will absorb the gesso and you will have trouble getting bubbles), that said, bubbles are not obligatory !! it's only if you like it.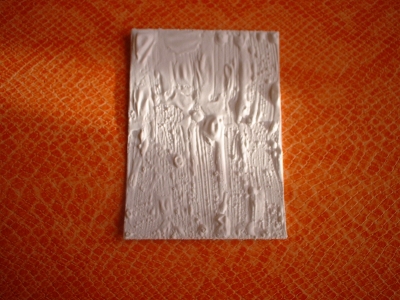 I lightly spray my surface with alcohol.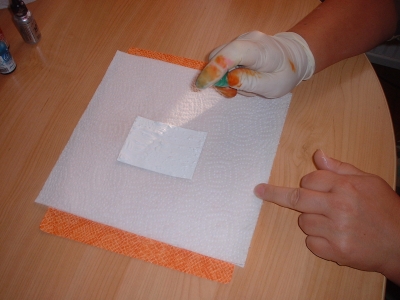 How I "pose" the inks
I take my bottle of ink and there, be careful, I don't let any drops fall, I bend it very gently to control it, and I position the tip of the bottle flush with my gesso, without touching it, at that moment, I move my surface as I wish and I change my bottles at will,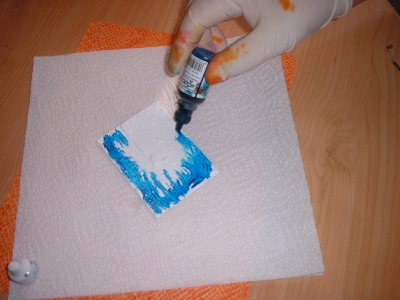 if I want to lighten an area I spray with the bottle of alcohol, and if I want denser colors, I reapply my ink and this when my background is wiped.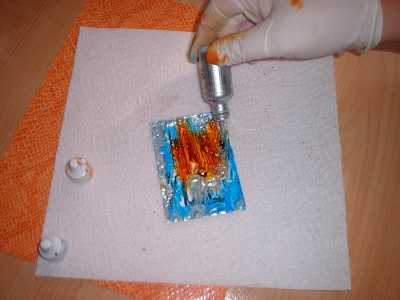 To obtain a maximum luminosity of the colors, you will have to apply some utée on the surface, either in one time as water droplets, (never underestimate a visual result of your background without having valorized it with a powder or a varnish x or y),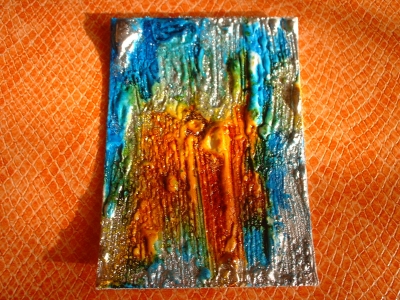 or in several times for a glaze, at this time, you can make various inlays (here micro beads):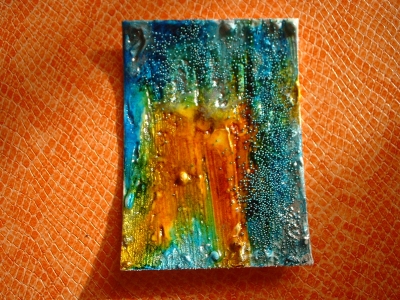 Finishes

That's it, you just have to finish your background, this is an ATC, of course!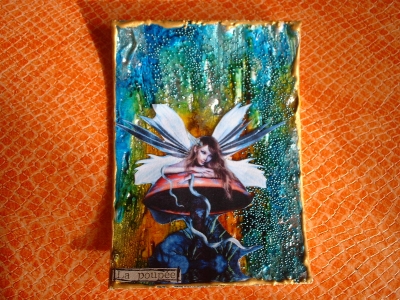 I hope you enjoyed it and learned something.