MAPED FRAMING CUTTING TOOLS ...
A CHALLENGER FOR LOGAN FRAMING TOOLS?
It is on the request of visitors of this site * beginners in framing that I write these lines ... What should we think about MAPED cutting rulers and cutters (which are virtually the only present framing tools on the French market, it's not easy to find them on the U.S. market.).
Of course, you can start with a very limited number of framing tools (see page cardboard material ) but if you want to improve a bit and work more comfortably, it is necessary to equip !
And especially since you are a beginner : as it is not too complicated for someone experienced to make "by hand" an approximately 45° bevel as for the beginner it looks like a perilous obstacle course!
Sooner or later, you will need tools ... as well do it early and acquire quality tools that will not disappoint you!
(* At this point, do not hesitate to contact me by mail for any questions or additional information)
MAPED trade mark
---
In terms of picture framing, the MAPED mark is unavoidable. In fact, I believe, this is the only French trade mark truly present on our territory that offers specialized tools for the picture framers ...
There are other U.S. marks, which also produce quality tools, but their distribution is confidential and only a few very localized importers distribute their products.
MAPED is present on three major areas : school, office and, for what we need, creative hobbies and framing.

It's a French trade mark - it may be important in these difficult times - which was founded 60 years ago and distributes its products in over 100 countries.
Where to find MAPED tools in USA ?
To my knowledge, there is 1 reseller MAPED in the USA ... Click on that link and look at the map to locate your country reseller...
You can find on Amazon.com some MAPED tools for framing paintings: PROFILA ruler and 45° cutter... take a look HERE
If not, a good way to get these tools is to buy them on AMAZON FRANCE which resells them ... In this page I leave you some links that lead you to their website ... Shipments to the USA are possible ! Note than for US shipments, the price is lower than indicated in €: French VAT must be removed !
The cutting ruler and cutting tools
---
The heavy and non-slip cutting ruler is an essential tool of the picture framer, as well as beginners or old hands.
It should not "move" during the cut. To cut a 3mm paperboard, it is necessary to move several times with the blade ... if the ruler does not stay securely in place there will be surprises on arrival!
The QUADRA MAPED cutting ruler has all the required qualities to satisfy the amateur framer : extruded aluminum, it has the necessary rigidity, non-slip pads that literally hang over the board during the cutting and a stainless steel cutting edge specially designed to facilitate freehand cuts.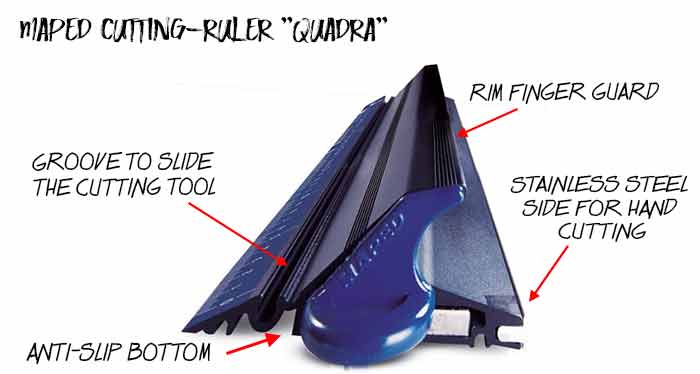 But it's not in this it differs decisively from other cutting rulers from other brands.
Its great advantage is that it presents, because of its manufacturing, on its entire length, a groove in which can be moved two cutting tools : the 90° tool (straight cuts and straight bevels) and the 45° tool (for English bevels ).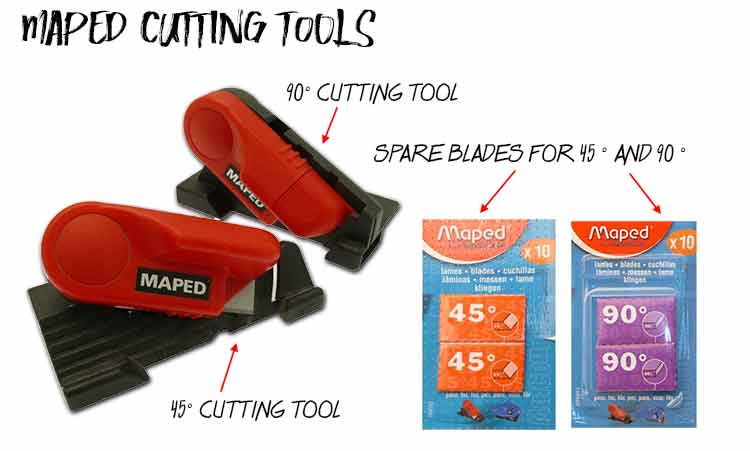 This is precisely what makes it inevitable ... Number of beginners in picture framing buy "to start" an ordinary heavy ruler (and there are excellent) ... but sooner or later they have to cut 45° bevel ... and buy the ruler with sliding tools. Both immediately buy the right tool !
An interesting alternative to this QUADRA ruler is the PROFILA Maped ruler, a little less elaborate but just as effective.
There, among professionals picture framers and photographers, another American brand that distributes cutting rulers for a 45° bevel ... It is the trade mark LOGAN ... their material is of excellent quality ... but the cost seems a bit exaggerated in France for amateur picture framers!
Using the MAPED cutting ruler...
---
To open a window in a mat, nothing is easier! Just have a look on that demo... That's important to work on the wrong side of the mat and always have the ruler "inside the opening".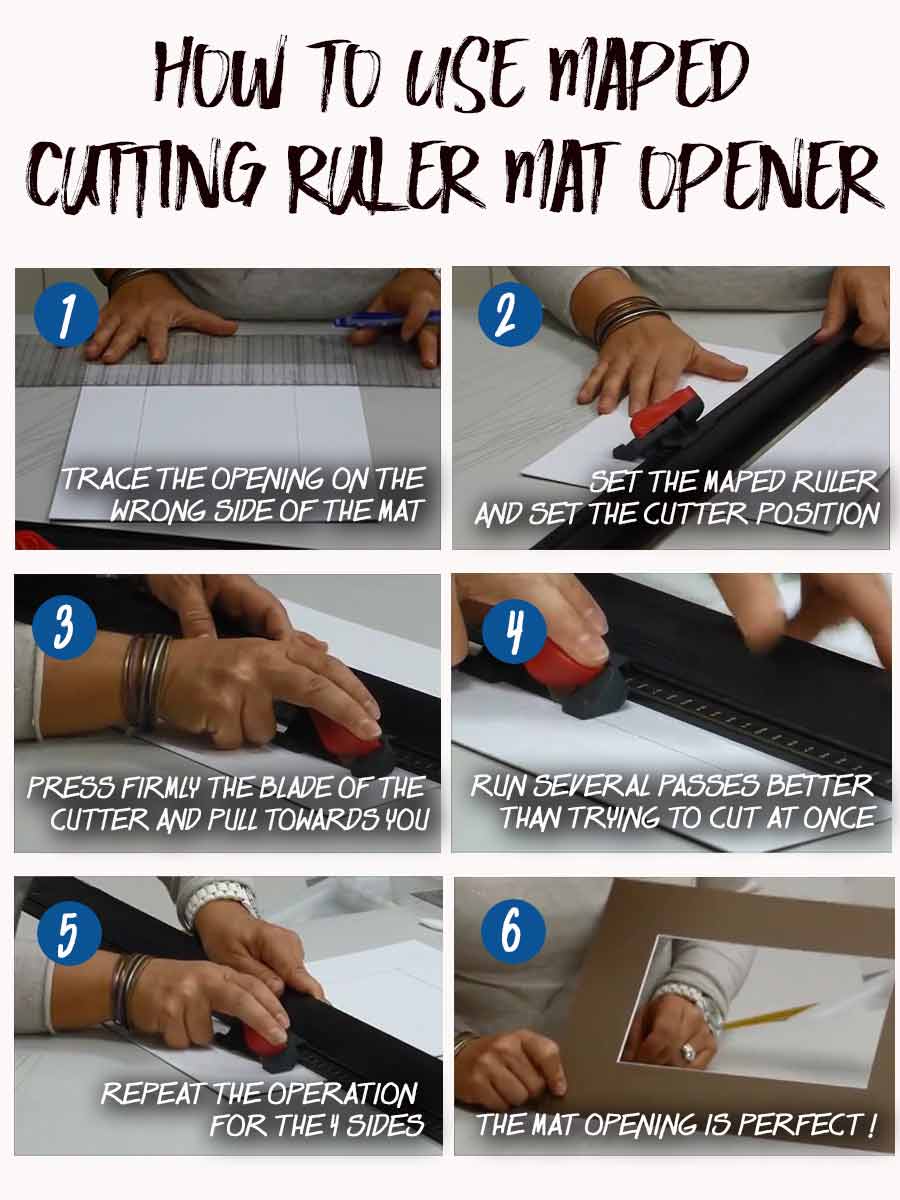 The 45° bevel cutter...
---
Note : there a special blades for 45° angle and 90° angle... those at 45 ° cut on only 2 corners while those at 90 ° cut on 4 corners...
The Maped cutter can cut up to 5mm thick, which the Logan matte cutter can not do... it's a big advantage!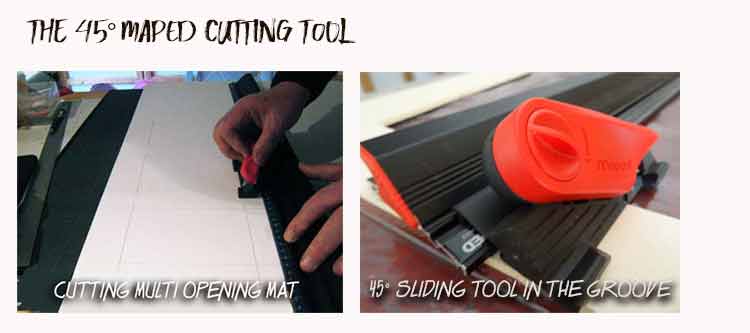 Slip the tool slide into the groove of the ruler and place it at about 2.5 cm from the cut line. Gently press the tool and make sure the blade is well positioned on the line you have drawn : Repeat this operation at each end of the mark. If necessary, adjust the position of the ruler.
For a better finish angles, go over 1cm around the corners of your window ... In any case, even if you cut too much, the bevel will be wrapped later and your extra cut will not be visible anymore.
Press gently and steadily : the sliding motion of the tool on the ruler is very sweet, the cut is clear and straightforward. It is better to pass 3 times in place to have a curved cut!
Your bevel 45 degrees is perfect!
When you open a 45 ° mat... Do not discard the center cut, it will serve you later to make a reverse bevel for example.
The bent cutter MAPED
---
Nothing looks more a bent cutter more than another bent cutter ! Yes... No... It depends!
All cutters cut! As well as each other! So why Maped cutter tool is it different?
I love this knife for several reasons. First, take your hands is very comfortable : its rounded, very soft shapes make it so pleasant to use. Then the handle contains a reserve of blades, handy! And the blade in use is protected by a blade guard (simple. .. but we still had to think about it!).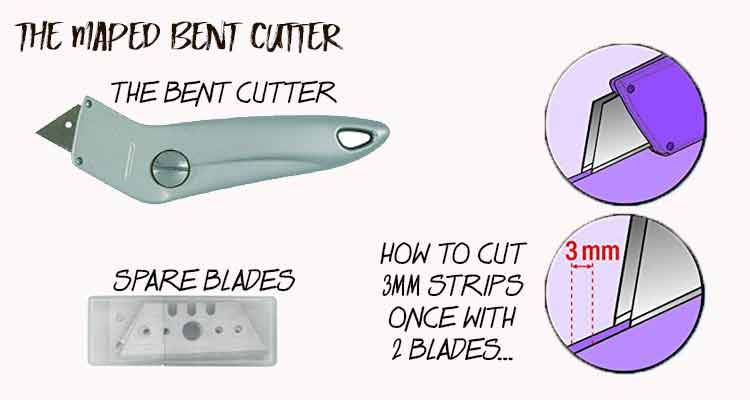 But its great advantage, which alone justifies its purchase : the Automatic cutting of the "nets" ... The "net" is a ornamental strip often used to emphasize or highlight the framed document .
It is a thin strip of paper, color-keyed to the document and pasted on the mat to 1 cm or 2 from the edges of the document. The cutting of these thin strips of 2 or 3mm request a lot of regularity : with this cutter, it's automatic!
Indeed, you can install a second cutter blade at exactly 3mm from the first : each time you cut, you obtain a perfect and calibrated "net". Only regret is that this spacing is not adjustable ...
Just a tip for nets : before cutting, I stick a double-sided tape on the back of my paper nets , then I cut the nets with the double-blade. It remains to remove the second protective adhesive and my net is ready to be glued on the mat! The use of double-sided adhesive keeps me glueing the net on a special plaque with the risk of staining it!
Well, again, the beginner does not start with the nets ... but there will inevitably come! Both therefore to be fully equipped !
A comprehensive video-demo
The Store "Eclat de Verre", well known for its shops dedicated to educational and manuals leisures ordered this small video that demonstrates the capabilities of the QUADRA ruler associated with 45° and 90° cutting tools .
Conclusion
Whenever I have a frame to achieve, I use the MAPED ruler and cutter. I can only congratulate myself -and yet I am able to hand open a 45° bevel.
Intelligent design, impeccable quality of materials, ease of use and simplicity are their great qualities!
If you're new in picture framing, feel free to equip MAPED because if there are great opportunities for you to do it later when you will became a seasoned framer.