CREATE YOUR AVATAR FROM A PHOTO
An avatar? What is it?
---
From the HINDI religion, the word AVATAR has become synonymous with misadventure, misfortune or damage....
It is also, in Computer Science, a character representing a user on the Internet and in video games.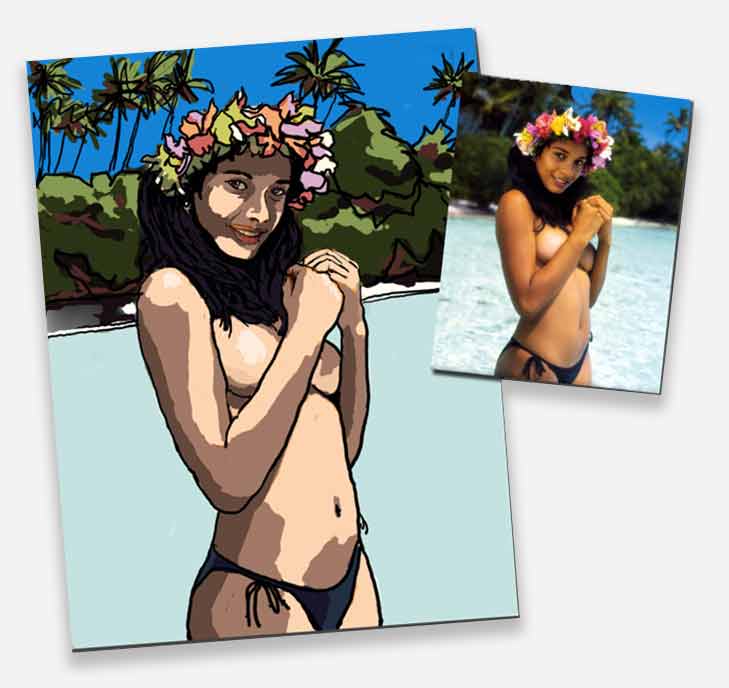 And it is especially this last information that we will develop on this page: How to make your own AVATAR and realize this old dream of becoming a comic book hero!
There are dozens of sites allowing you to make your own Avatar online.... BEFUNKY which deserves a little detour for the richness of its offer, or FACE YOUR MANGA.... You will find a list of these sites HERE....
But the results are not always up to expectations... and it often takes a lot of imagination to identify with the result. A special mention however for PHO.TO which can sometimes provide you with interesting results.
You can also use specific software : Photo to Cartoon, Into Cartoon Pro or Cartoon maker among others... I tried them without much success: you can't expect miracles from them!
Why use an avatar. A few examples.
---
An avatar represents you in virtual worlds ... but it can also save you from putting your real picture on FaceBook or Twitter ... and even MSN ! And it is said that a Twitter account with an avatar is more often visited than others.
On the first page of a photo book (weeding, birth, travel...)
Put your avatar as a background display on your cellular : it's YOUR phone !
You can also personalize your mail paper, email headings ... by including your avatar ! Your cards, birthday cards or invitations will be even more attractive.
This can also be an original and personalized gift ... For a very low cost and always appreciated ... you make to someone you want to surprise.
Cartoonizing a picture with Photoshop
---
On this site, you have a tutorial on a simple technique for "How to make your cartoon character from a photo" using your favorite image processing software ... Photoshop in this case !

It's better if you have a graphics tablet: with a little practice and taste, you will build your avatar quite easily.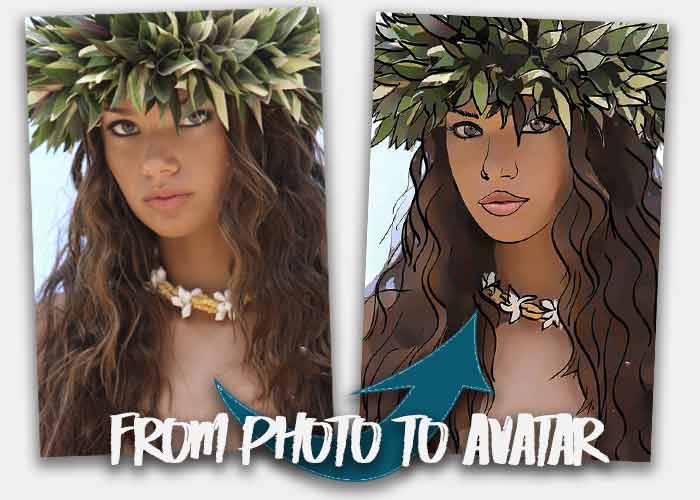 By using photoshop filters, you will automatically get a result... some are happy to get it without too much work... but most consider them insufficient. Here is an example with the PosterEdges filter... not very conclusive!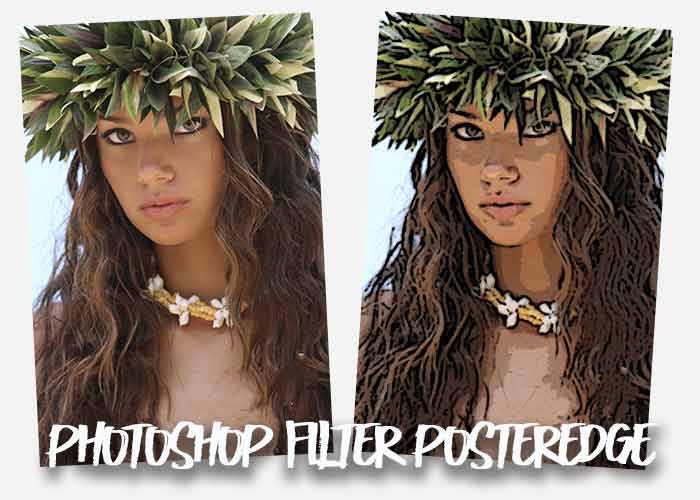 Here is the result if you go through sites specialized in photo processing, here it is BEFUNKY! Just a little problem... if you don't pay, you have to get the processed image back with a screenshot software and a bad tag is visible at the bottom!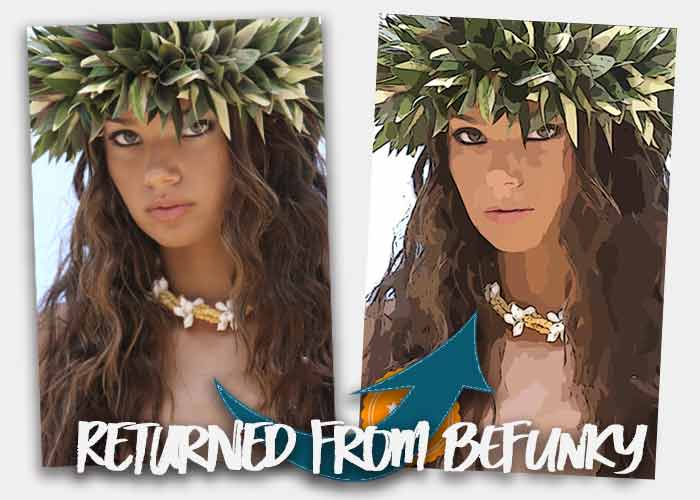 And, finally, the result obtained with PHOTO-TO-CARTOON a small free software...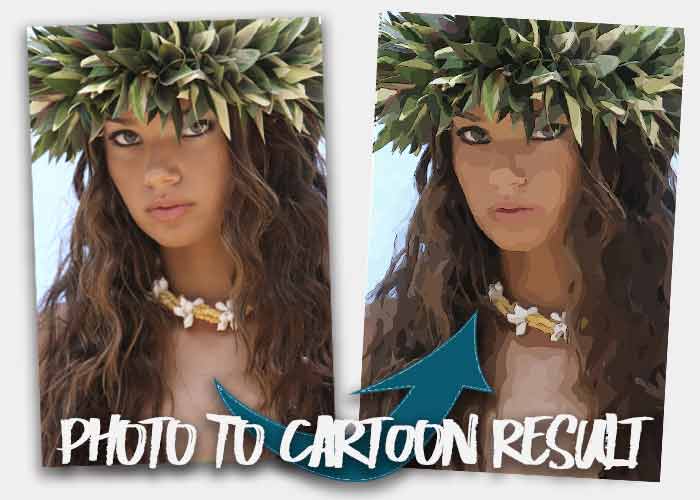 How to draw your AVATAR with a graphic tablet
---
You'll get a much more convincing result by drawing your own avatar using a graphics tablet (of course, you can also do it with the mouse, they say in France that it is a Benedictine monk's job!!!!!).
Starting with your photo in Photoshop and working on a first layer, you will gradually draw the main features of the character.
A second layer will be used for research and simplification of the coloring and highlights.
Then is added a third layer for the background ...
The combination of these layers gives you the final avatar.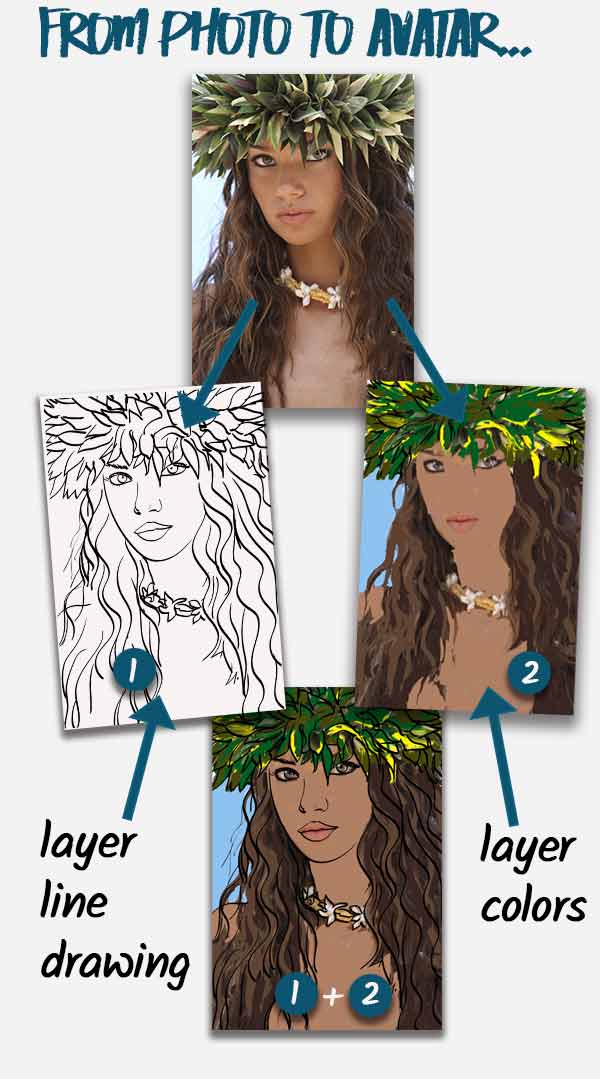 If you are interested by this process, mail me and I'll write a tutorial about making cartoon charcaters from photos...
Order your avatar
---
You don't have time to take care of it, you don't have a graphic tablet, you're not good at drawing and all your lines are shaking... So I can draw for you this avatar that you have in mind....
Send me a good picture of you... or the subject to cartoonize and I will draw your avatar that you will receive very soon by email...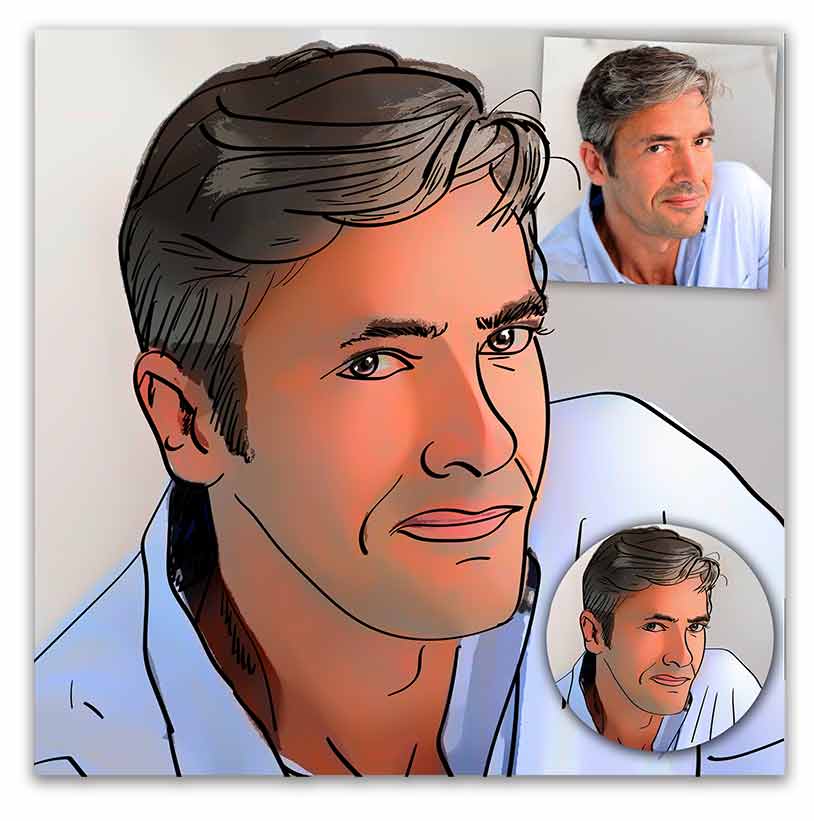 Choose a photo with a good definition (1200x1600 px for example ... or more), click on the link below to open your email plateform and send it to me as an attached file...
 Email me the photo you want "to Cartoonize" and for only $15 , I send you back your avatar by mail to the format and size you want (JPEG, GIF, PSD ...) ready to use. 
Free of sending charges
!   And it's fast ... within two days !