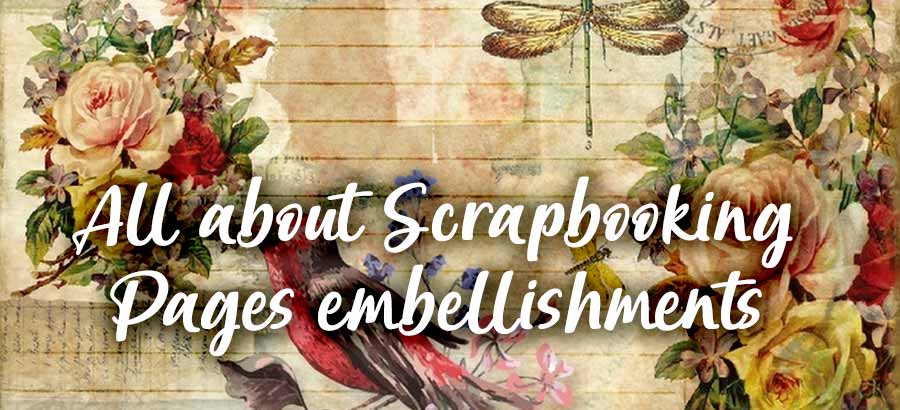 SCRAPBOOKING
THE EMBELLISHMENTS
Why embellishments?
---
The real pleasure in scrapbooking is obviously to create original pages with the incessant search for that little "extra", for details that will catch the eye and hold the attention. This detail is called embellishment .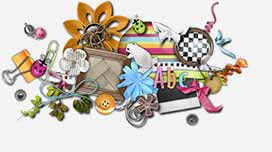 These are therefore small decorations in metal, wood, paste, embroidery, flowers, etc., which combine to create personal and unique layouts. As creativity is always the order of the day, you can use all the decorative accessories you can imagine, even the most unexpected!
There are, on the market, a multitude of ornamental objects for your pages, they are sometimes very practical when there is a lack of resources: this page tries to classify them, without the list it describes being exhaustive because each brand releases new embellishments every month!
What embellishments?
---
Small metallic objects.

brads or Parisian ties .
They will be used to fix an element on your sheet (flower, photo, ticket ...) or quite simply used alone as decoration.


To place them, you must first make a hole with an awl or a small cookie cutter, thread the brad into the hole and fold the two parts from the back.
They are extremely varied in shape and color.

the eyelets or carnations .
These are small metal objects which are placed in a hole made in the sheet using a special pliers (punch) and which are crimped from the rear with a small tool called a "setter".
As for the brads, the colors and sizes are very varied: each brand offers a dozen models: we find some in the shape of a heart, a flower ...

Eyelets exist in different diameters and in many colors: they can serve as a simple decoration or can be used to bind several elements or even to serve as a passage for a thread or a ribbon ...

 Safety pins or safety pins .
Normal or small in size, gold, silver or painted, they will be useful for fixing a charm or even quite simply to decorate.


 clippies, staples and paper clips
These are all staples, paper clips and drawing clips of all sizes which are again used as they are for decoration or to fix certain elements of the decoration between them in a reversible manner. There is a considerable variety: you will be spoiled for choice!

These fasteners can be presented raw or altered. Some show originality with a lot of decorative power ...


 bookplates or label holders .
They are most commonly painted metal and are used as an embellishment. It is very useful for highlighting a name, event, word or date.

You can make them yourself from templates and, by painting them, give them a metallic appearance.
They are fixed by gluing them or with small brads.

 And other miscellaneous
- Charms (medals or charms) that can be hung with mini safety pins.
- The buckles (buckles) to associate with the ribbons and which will be used to close albums.
- The hinges (hinges) of all sizes, the safety pins ( safety pins) which are sold in all sizes and in all colors.
- The wire (metal wire) used as is or twisted or even used to write a name ... or to draw a simple shape ...

 
A site where you can find tons of charms of all kinds ... it can always give you ideas! SEE HERE or on the well-known Chinese site WISH which is full of cheap charms and other metal items. ACTION stores also have a well-developed embellishments department ...
Small objects in cardboard, plastic, paper ...

the flowers .
They are very nice ways of decoration. They are available in a multitude of formats, materials, colors and styles in all scrapbooking shops.
You can also use any natural dried flowers that you have collected during your walks.

To fix them, use a Parisian tie or sew them or fix them to the support with double sided ...
Many brands distribute "scrapbooking" flowers, among the most famous are: Artemio, Prima, Rayher ...

 anchors or flippies or even photo turn .
Small plastic or aluminum spinners which are fixed with a brad. In general, we buy them with the matching brads although this is not an obligation! Originally, we found these flips behind a frame to fix the photo that was placed there. Its use has been diverted to now appear on the spot of bookscrapping pages.


 the buttons or buttons. They find pride of place especially on scrapbooking pages. Very practical, they allow you to easily embellish and create original effects.

For example, you can create your own letters by pasting your buttons next to each other, or even create a frieze around your photos. The buttons can also appear on objects: the wheels of a pram, Christmas balls, etc.
You can fix the buttons by sewing or gluing them, with glue-dots (not always easy to use without getting your fingers full) or with double-sided.
While digging around in your home, or better yet, in your grandmother's attic, you will likely find old boxes full of buttons and other haberdashery that you can use for your scrapbooking pages. Do not hesitate to use them and if some buttons have a ring that you find annoying, cut it with the wire cutters!

 die-cuts or cuts .
They are small shapes, cut from cardboard or very light wood or plastic. Most of the time, they are sold in boards illustrating a specific theme: gardening, sea, genealogy, flowers, hearts ...

To give an account of the extreme diversity of the die-cut, I leave you HERE a link which gives you a small idea. There are so many brands that have developed die-cut sections!

 tags or labels .
Large luggage tags have long been diverted by scrapbookers to embellish their pages.
From the basic label to the most varied shapes, they can be found at all scrap art dealers.
the tags will serve as decoration or journaling for your pages. You will attach them to the sheet with a brad, a ribbon or a fiber ... you will sometimes hide them behind a photo or in a library-pocket from where you will have to extract them to read them!

You can also make them yourself ... Some sites offer free models to print, cut and glue on cardboard. For a first address, click HERE . Remember to perforate the label and glue paper or fabric eyelets before attaching them.

 The slides which are painted and decorated slide frames and which serve as a frame for a text, a piece, a title ...

Stamps or stamps, real or fake, add a touch of fantasy to your page. To make your false stamps , there are "toothed" scissors that imitate the perforations of the real ones. There are also stamps that imprint a stamp shape on your sheets. Some fonts (see HERE) imitate cancellations and are very practical.

Small objects in fabric, fiber, thread ...

Ribbons or ribbons. You will find them in haberdashery of all widths, textures and colors. Real personalized embellishments, ribbons give relief, color and cheerfulness to all your scrapbooking work.

To attach them to your sheet, you can sew them with large stitches, use eyelets, glue them ... or even staple them: anything is possible.
There are self-adhesive tapes ready to apply: the magic mesh , a sort of starched grosgrain.
We often use ribbons to make knots, pretty rosettes! But do you know how to make a pretty rosette? Come see HERE a technique that always works!
We also use ribbons to hang a tag, a charm.

Twines and fibers
(and other rafias, wools and twistart) ... These materials can be used in many ways: with a big string glued to the sheet, you can make a frame around a photo.
You can also hang letters on a string to form a title ...

There is no shortage of ideas for use. Come HERE to see how you can even write with string. Also remember to use these fibers when you bind your mini-albums. And finally, with eyelets, you can make a kind of lacing with a very decorative effect.

 Laces or lace
The prettiest are those that you will find in the forgotten boxes of your grandmothers ... and will be the most beautiful effect in your vintage pages (heritage).
You can also get old lace inexpensively in flea markets or even in garage sales! Otherwise all scrapbooking resellers have them.

Use them without moderation as a frame for your photos or even directly pasted on your page. They bring an old, obsolete, charming side ... a little "out of time".
The price of embellishments
---
Free Embellishments
Many sites offer you free embellishments, especially usable in digital scrapbooking. Launch a search with Google or Yahoo on the word "freebies" ... You can use some of them in classic scrapbook by printing them and the stickers on cardboard before cutting them.
Let us quote, without trying to classify them
- http://www.scrap-gratuit.fr/ A real mine for the virtual scrapbooker. Papers, embellishments, sketches ... everything is there! Well referenced and with more than sufficient content, this site is one of the references in the field!
- http://www.freedigitalscrapbooking.com/ It is an English site well known to scrapbookers addicted to digital. Take a stroll through its menus to discover their very wide choice of embellishments ...
- http://www.digiscrapbook.net/ In French. It is also a commercial site but its Freebies section is particularly interesting.
- http://missviviscrap.canalblog.com/ One of the many blogs that distribute freebies. There you can download complete kits including paper and embellishments.
Pay less for your embellishments
When you let yourself be tempted, the note can go up very quickly! So take a look on ebay ... and run a search on any of the keywords written in bold on this page ...
It is said that in ACTION stores there is a well-stocked "embellishments" section at very low prices ... This is most often the end of stocks, often excellent, but sold in limited numbers. Watch for arrivals and go for it!

On the Chinese site WISH, well known to scrapbookers, you can find an extraordinary variety of embellishment elements: charms, brads, cutouts ... Their only problem is the deadlines ... Better not to be in too much of a hurry: 3 weeks of waiting is a minimum unless you agree to pay the shipping costs "by air", always a little high !!!

For example, a search on tags provides 340 results, of which a good half for scrapbooking! The word charms gives 950 results. The request "Scrapbooking " gives so much that we need to specify more!
Have a good scrap!