MAKE ROBUST FRAMES
Use V-Nails : pro-like !
When the edges of a frame are debited, it remains only to stick the edges and to join these edges before tightening them with a band clamp... The modern wood glues are very resistant and this collage is enough the most of the time, especially since frames hung on the wall do not undergo mechanical constraints !!!
V-Nails or staples for frames
---
Most of the time, frame studs glued with a good wood glue and kept tight during the drying process will give you a solid frame without the need for staples .
But if you want to be sure of the look of your frames, you have to secure them with metal clips called V-NAILS. Their shape is "V" and they firmly join the sides of the frame...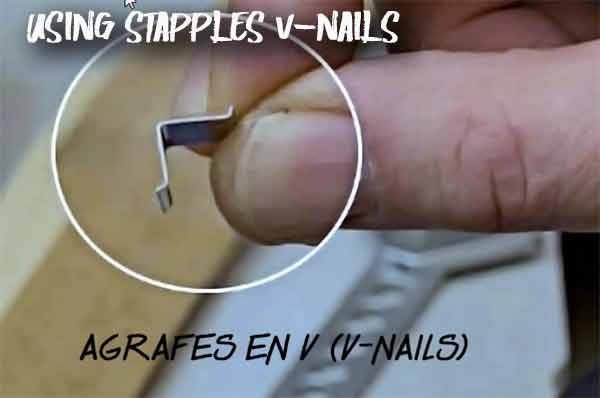 They are fixed by the back of the frame and join by tightening the two angles at 45 ° of the moldings ... In the photo, there is only one V-Nails of posed ... one generally places 2 ...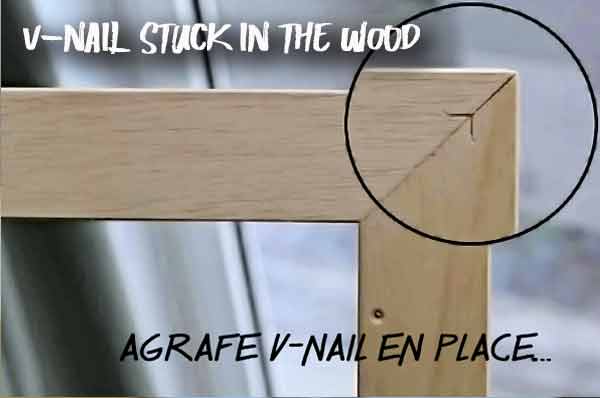 If you have never posed a V-Nails, take a look at this page or a demo in pictures awaits you ...
How to push the V-Nails ... the material
---
Simply to try
You can use V-Nails to join yours frames without having any tool... just V-Nails and a hammer !
It's not a great idea but and can assist you in the event of problems...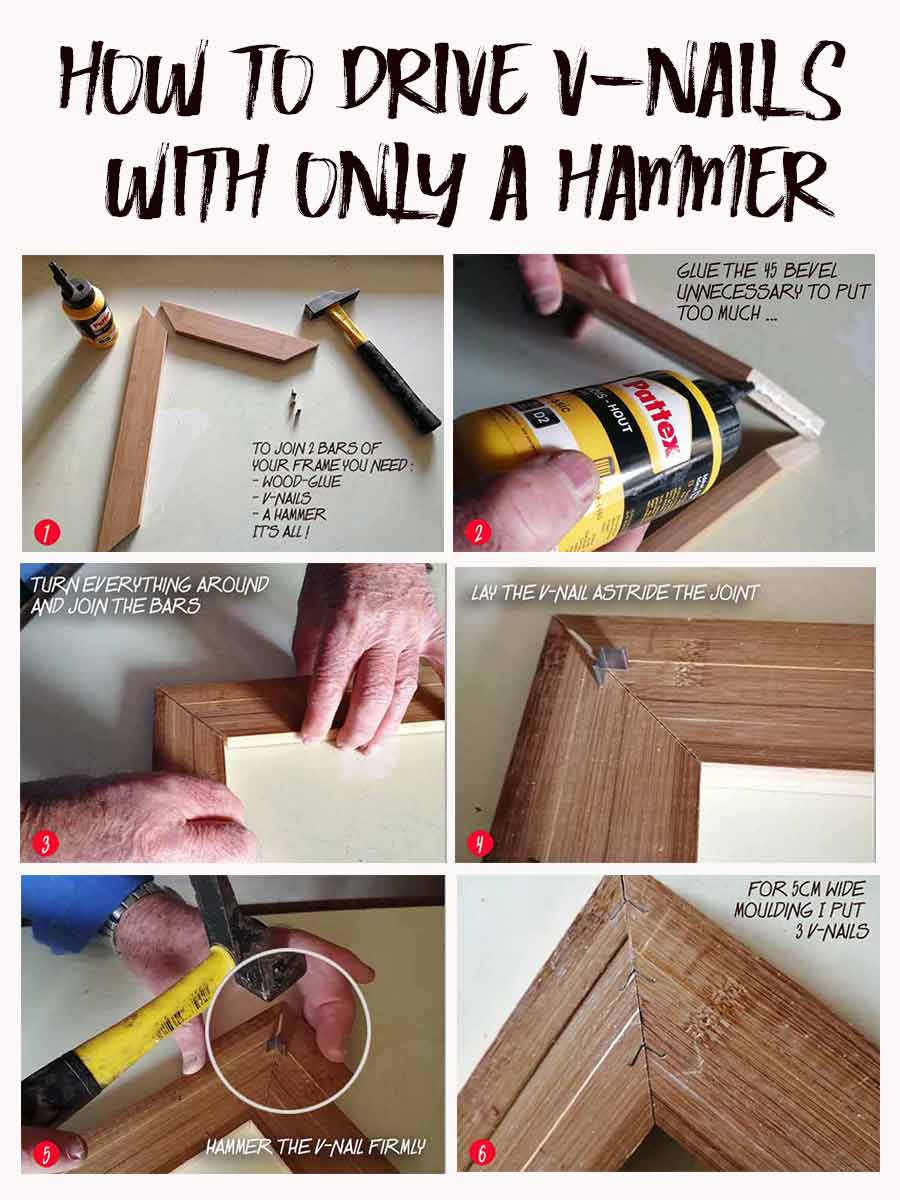 The installation of V-Nails assumes a tool that holds the stapple in place while it is inserted into the wood ... And this tool can be cheap or downright expensive depending on the use you want to make:
For an occasional user, a manual "push-VNails" is particularly indicated. 

I found you some of them:

ROCKLER V-nail installation tool  for example under the reference "V-Nails installation tool" ... for less than $40 you have a device that magnetically keeps your V staples : you push on the handle to push the staple ... The magnetic part slides and then enters the handle: the clip enters the wood...

This model Rockler is particularly practical : you can use it to push manually the v-vail ou you can hit with a hammer...

See this special page: tutorial to assemble a frame ... for a picture demo of the use of V-nails.

  FORTUNE  offers you a complete kit that I found very practical ... This dual purpose driver installs V-nails by hammer force or by removing the plastic handle, chucks in a drill press for pressing with the drill press handle.

It consists of a tool to drive V-NAILS staples, with a small stock of staples and especially a vice at 90 ° to keep the uprights together during the installation of V-NAILS.

The V-NAILS tool is rudimentary but effective, it is used exclusively with the hammer while the moldings are well maintained in the vise delivered with.


AMAZON Pushmaster To complete this list of manual V-Nails drivers, here is the most elaborate, the best designed. PushMaster is very easy tu use, manually or with a hammer. It is more expensive than the others but offers a great comfort of use and accuracy ...

Note this lot of V-nails at great prices !

 

If you have a lot of frames to build...

For a photo exhibition, club framing, semi-pro work ... I recommend a mechanical assembler, more expensive of course, but more efficient and much more convenient to use ...

  AMAZON : The F300-1 is offered to $140 including shipping ... Of course, it is flawless, its price has dropped a lot but I find it a little too expensive. It is true that the guarantee offered by this site is precious and that one in the other is found there ...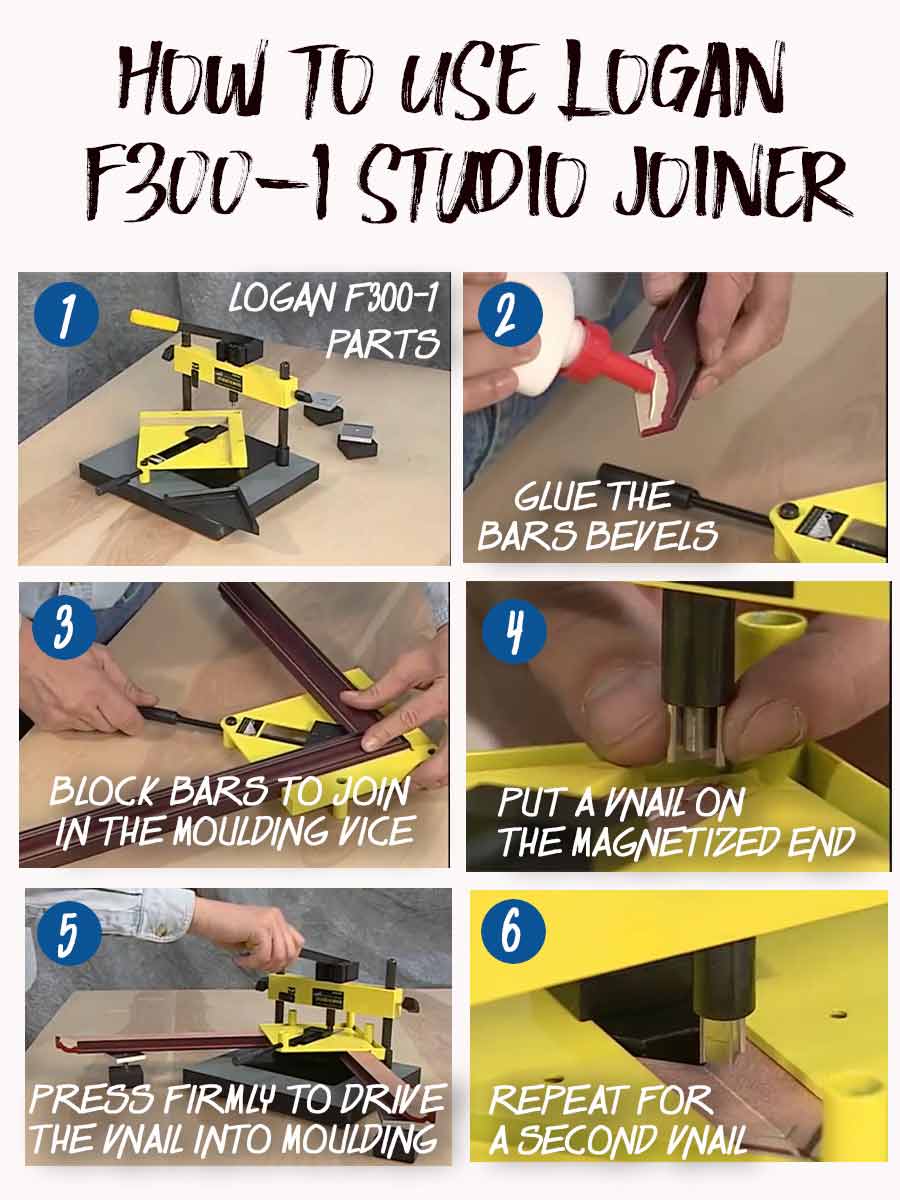 For a perfect use : first glue the ends of the frame-bars and clamp them. Wait for complete drying. Second : keep the band clamp in place and put now the V Nails (V-nails are only to prevent the frame breaks after a fall...)

And if you are a pro...

If you often have frames to build... Then you have to be efficient and equip yourself properly! Why not a "Pneumatic Picture Framing Nailer". It's a good investment in terms of value for money and you won't regret it!

Several models are available: I recommend this one which has already proven itself and whose price is reasonable: you have a small place for it in your workshop !!!

It is a robust and powerful tool. You will be able to safely drive many V-Nails without any problem. The work is clean and easy (look at the picture board below) .

The only problem is that a source of compressed air is required to operate it. I looked for an electric and autonomous V-Nail gun but I didn't find one.

Bonne fabrication!

G.