A COMIC BOOK USING THE PRISMA APPLICATION!
Create a comic book with ComicLife and Prisma!
This page does not develop all the techniques used: if you want a complete tutorial on how to create comics from your photos, look on this other page.
PRISMA is a free ingenious image processing application that really goes off the beaten and beaten track and softs that mistreat images more than they treat them! It will allow you to transform your photos into "comic boxes" to which only the dialogues will have to be added!

PRISMA is a new breath, a bold project and surprising results!
This application is available free of charge on ANDROID platforms (so tablets and phones) as well as on IOS (ipad and iphones...). You can install it on your terminals and use it at will because it is a free application: it is possible to upgrade to an even more elaborate version and access the HQ by paying a small user fee....

Download the PRISMA application!
---
Perhaps start by taking a 30-second tour of the prisma site... to see the richness and variety of treatments available... And then, if you want to install it on your tablet or phone....
Then go to Google-PlayStore or the App-store of your IOS device and load the PRISMA application.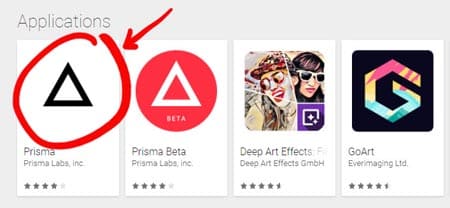 Installation is trouble-free and the application is immediately ready to work...
Process your first image with PRISMA
---
You will work with a photo from your database or even a photo that you will take directly from Prisma...
For this page, I took a picture of "Chloé a painter artist" to explore various filters offered by PRISMA.
In other words, the results have nothing to do with the pixilated soup we are served so often!
This is how the phone screen looks like: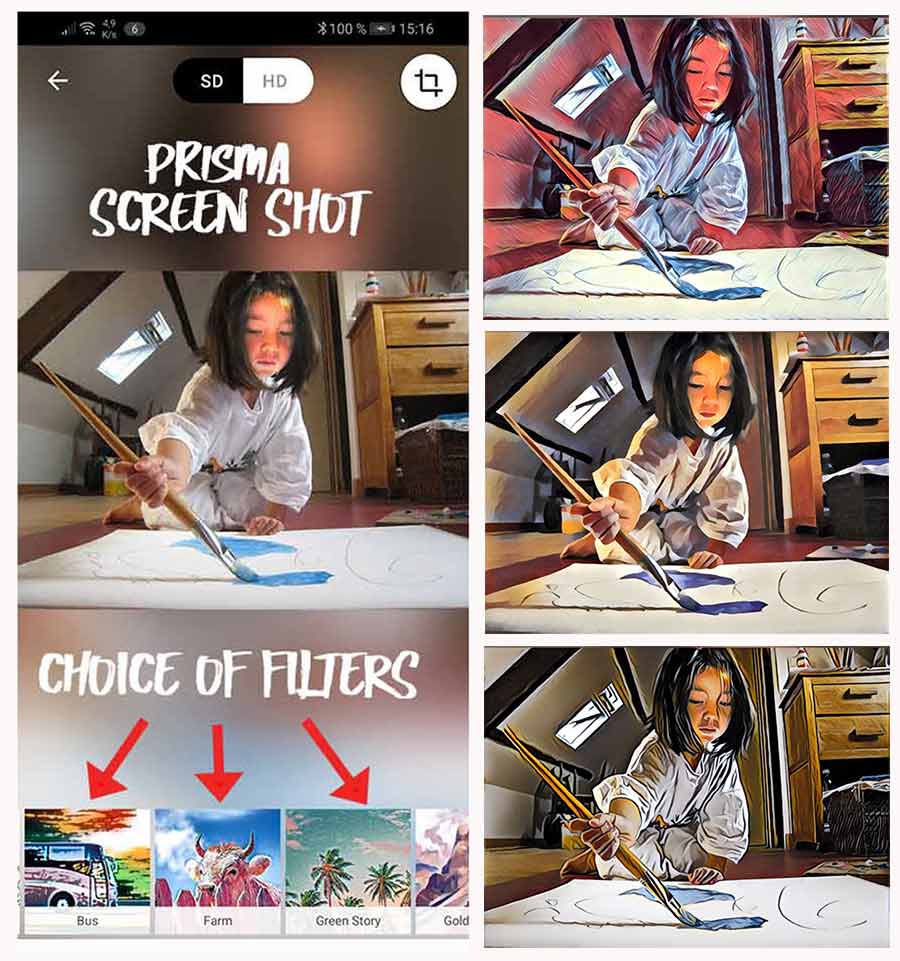 I really like the image of the middle right... I got it with the GOTHIC filter !
You can scroll through the filters with a simple movement: all you have to do is touch one of the filters offered to you: "Green Story" for example (which will give you a simplified green and pink drawing...
It is both very rich and very easy to use... Enough filters are free!
How to work on your comic book?
---
But the most interesting thing is to directly process a complete page of your comic book (see this page). Get a jpeg of the page and send it directly to PRISMA... You have a good way to create a comic book without knowing how to draw, only with photos!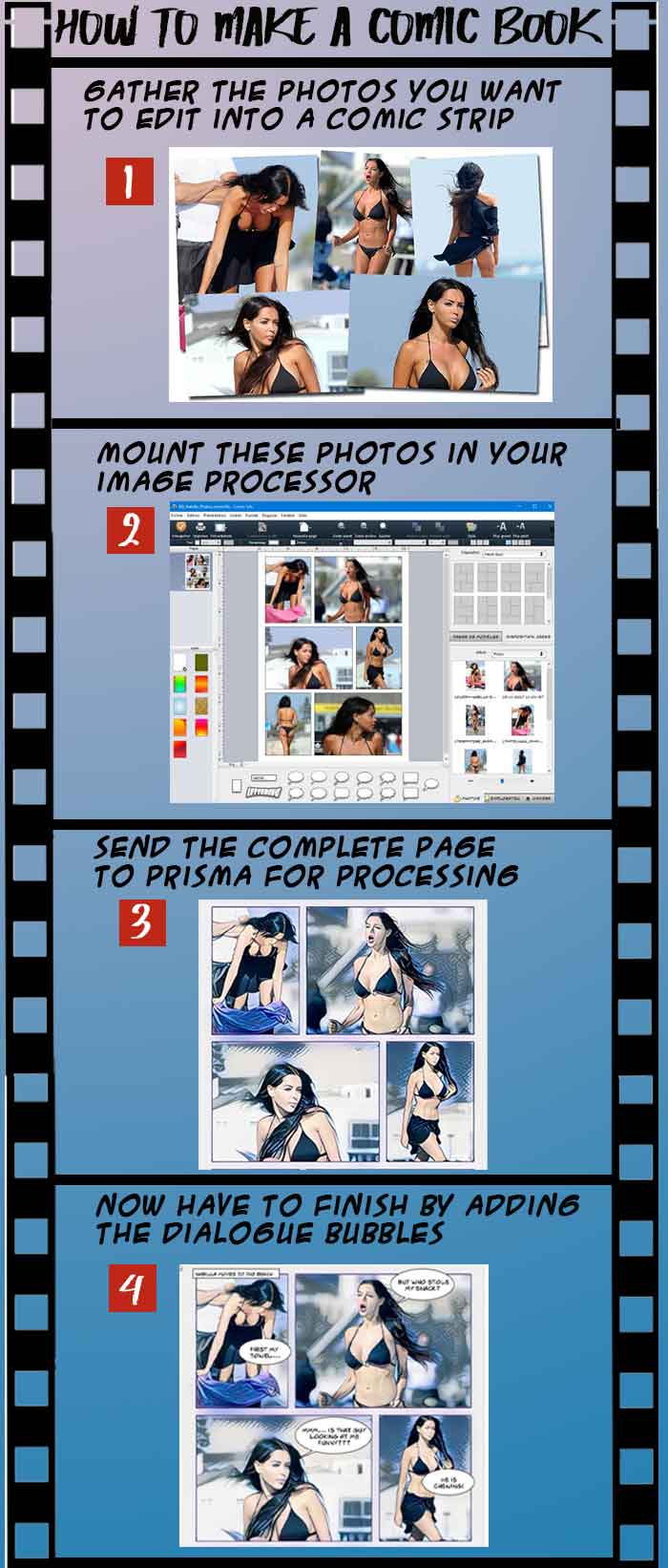 To create this comic book page, you have several options: use a software specialized in comics : ComicLife or go through your image processor Photoshop or another one. You will be able to download a trial version of ComicLife valid for 15 days... So you will have time to test it.
USING COMIC LIFE

With the ComicLife software... start to build the "Nabilla" page by choosing the style of the page (position of the boxes) then adding the desired photos....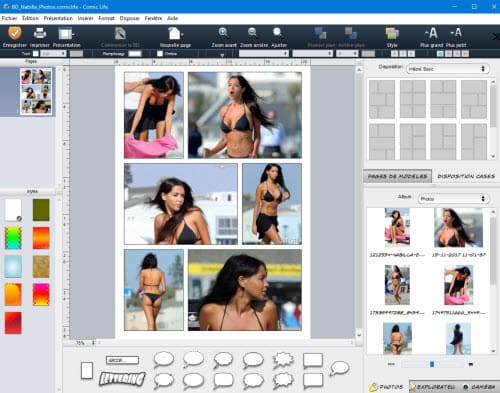 When this setup is complete, export your page in jpeg format in COMIC LIFE: File>Export>Export to image format.
Now process this entire jpeg with the PRISMA application: it requires a little gymnastics and you have to go back to the phone or the tablet (PRISMA does not have a PC application!).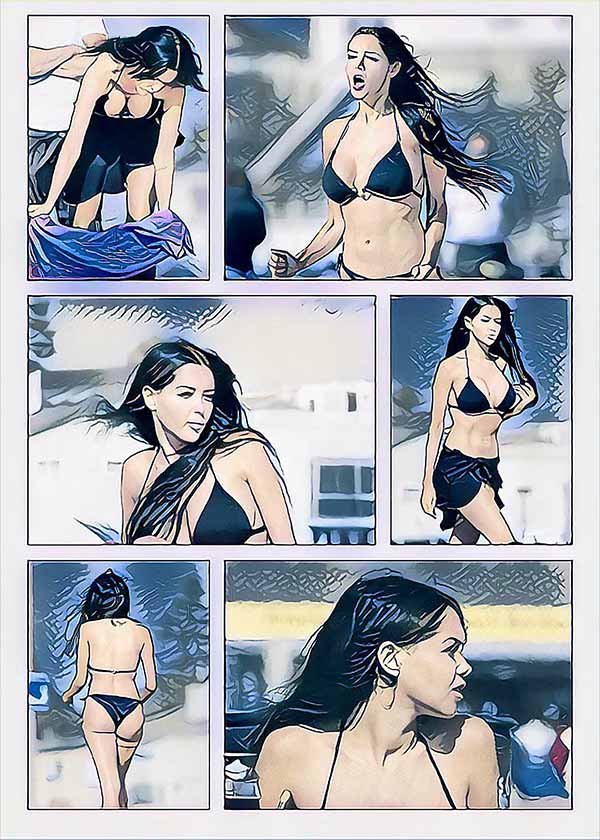 Open a new COMIC LIFE page that is blank and unstyled. Suddenly place your image that you will stretch so that it fills the page!
All that remains is to place the bubbles and text boxes.... And your page will be finished!
USING IMAGE PROCESSOR (Photoshop)
If you think the explanations are too short, have a look at this very complete tutorial page.
You can easily do without ComicLife or another software specialized in comic page editing.... You can perfectly manage with image processing software: PhotoShop, CorelDraw, or other...
In this case, the work is the same: you start by creating a blank page on which you will place your photos, resizing them one by one.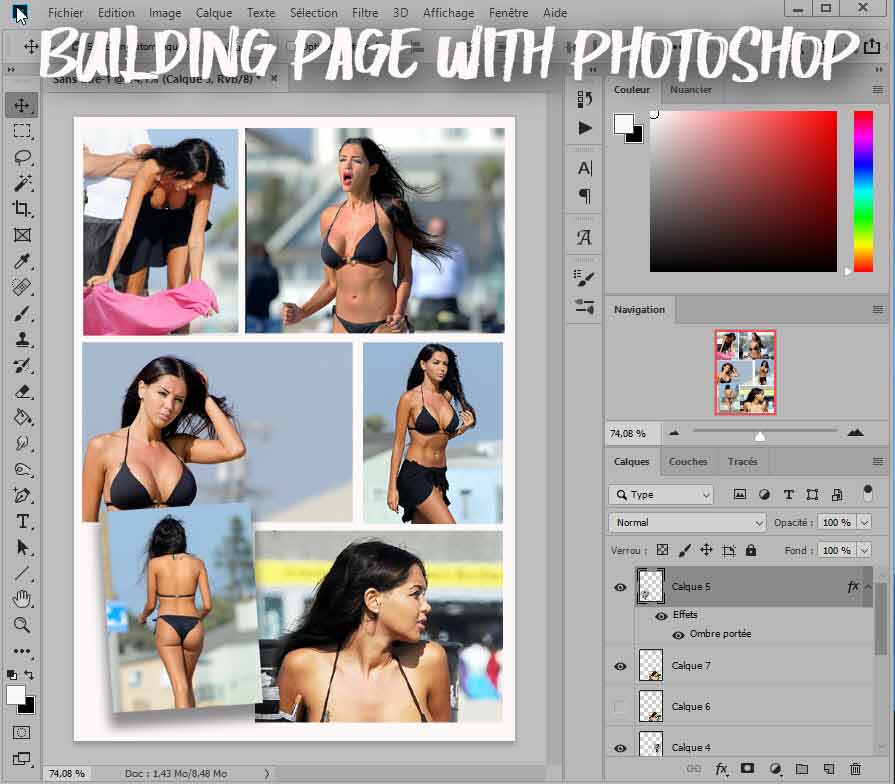 When all the photos are in place, save the page in .jpg format before sending it to Prisma for processing Photo to Comic.
Then return to your image processing program to add the bubbles and texts on the page you cartoonized !
Process a complete page of COMIC LIFE....
---
Everyone has the right to make mistakes! The most important thing is to learn from them and not to commit them again!!!
Start by processing the entire image of the page in PRISMA, you will add the dialog bubbles afterwards .. Here is what you will receive in return from PRISMA.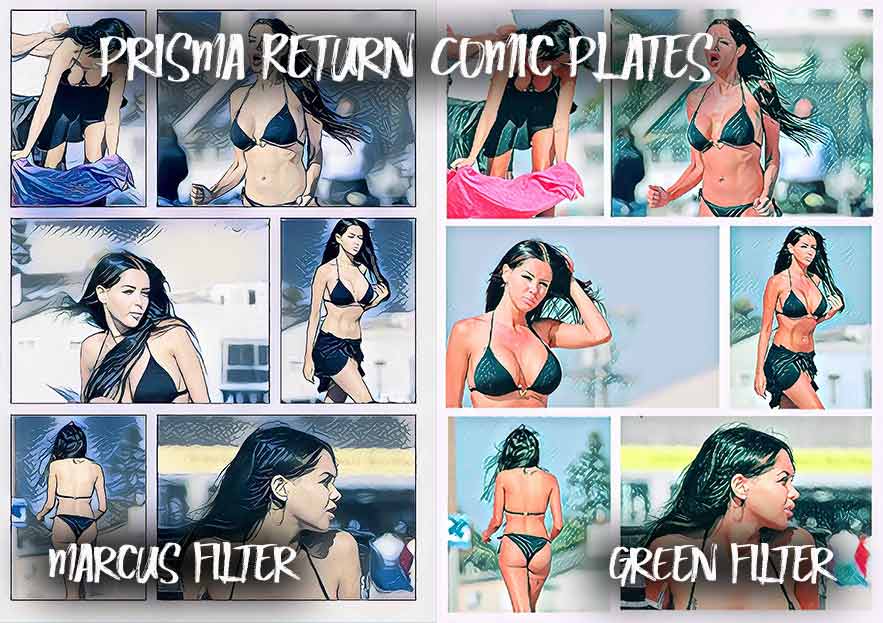 All you have to do now is add the speech bubbles... You can draw them manually in photohop... or else, that's the way I've taken, using a comic book software, mine is COMIC LIFE...
.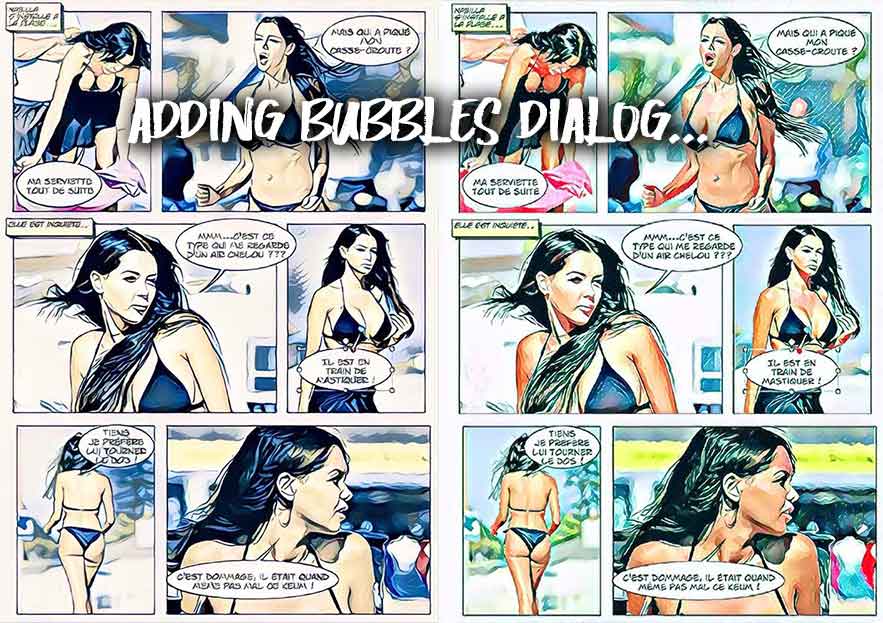 The page above on the right has been worked with the "Green Story" filter while the one on the left has been filtered with the "Marcus D" filter... I really like this effect which gives a bluish atmosphere to the page.
The text bubbles have been processed with the COMIC LIFE software . But you can do them with your image processor easily !
And what to do with your comic strips?
---
Print them of course... and share them with your family and friends! It is a very original gift to offer a comic strip in which the recipient will find himself cartoonized !
To increase the surprise effect... what if you had your comic page printed on a poster... that you could also offer or simply keep at home, on your wall! There are frames for posters under glasses or even to hang between two supports
Sometimes, when you have created several pages (it is long... very long to do), it is a good idea to print in a small book this personal comic strip: it tells a story, comical or tragic, it is simply life! Il existe des tas de sites qui vous réaliseront votre album pour une somme raisonnable...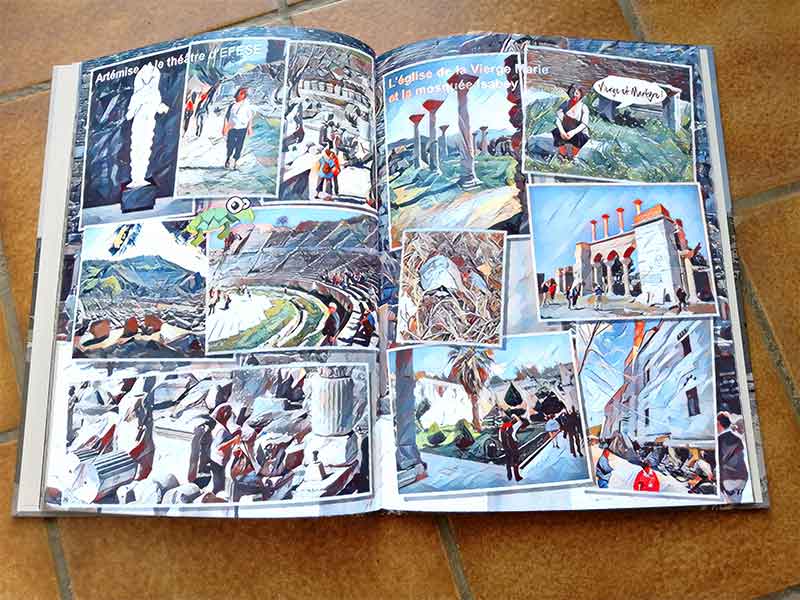 It's up to you!