How to choose your graphic tablet
Mistakes not to be made!
Using a graphics tablet.
---
A graphics tablet? What can it be used for?

It is a complementary device to the PC which allows, with the idea of a pen, to draw or paint on the screen through a drawing software. This is one of the most effective ways to learn about design: tutorials are numerous on the net and particularly well done.
It also allows fine photo retouching and replaces, with great precision, the traditional mouse.
You can write on the screen, highlight passages in a texte... Windows even has an application that allows you to switch from handwritten to typed text...

The drawing above was made from a photo with a Wacom Bamboo graphics tablet and Photoshop software (see HERE)... the one below with the ClipStudioPaint software....


Note, both at Apple and Samsung, the tendency to write finely on a screen (IPAD Pro and Galaxy Note). This is a trend that should be confirmed in the coming years.
To discover other uses of a graphic tablet, please refer to this page of the site which will give you more precise indications...
The different graphic tablets
---

There are 2 kinds of tablets: those with a standalone screen (that's the best... but they are very expensive, they are reserved for pros) and the others... It is with the latter that we will start!
Some are connected to the PC by Bluetooth or WiFi, others have a USB connection cable... We must prefer WiFi connections, more practical and functional.

The STYLET
---
The stylus is an important element!
Pay attention to the stylus: there are 2 kinds of stylus, those that are electrically powered, by battery or battery, and those that work without battery, called passive, much lighter.
It is better to choose a passive, batteryless pen, which is more ergonomic and often more precise.



The tip of the stylus is sensitive to pressure... This makes it possible to vary the thickness of the line.
An accident quickly happens, and if the stylus falls on its tip, the pointing device may be irreparably damaged: the stylus must then be replaced! It's up to you to see which models are the best value for money. Count from 15$.
The ACTIVE SURFACE of the tablet
---
When buying, you have to pay attention to the useful surface of the tablet (this is usually quite badly explained!) and choose a medium size M.
The S's, like small, are really too small and not very convenient for drawing. They can be used for signature purposes... An exception is the Huion 420 shown at the bottom of this page.

As for the large sizes, they are expensive and to be reserved for the pros (who don't need to read these lines !!!)
You won't go wrong by choosing a 10 "x6" (about 25x15cm). You'll be comfortable to draw on and the shelf won't clutter up your work surface too much!


All the graphic tablets also have very useful programmable buttons that you will discover with pleasure.
How and where to buy a graphics tablet
---

You're just starting out... you don't really know what you want yet... No need to ruin yourself with prestigious brands rather reserved for professional graphic designers... You will find your happiness in all the E-shops of the net.
I will give you the links for Amazon, first for their great after-sales service (a boredom and the guarantee applies immediately without the need to palaver for weeks) and also for the diversity of their offer!
Entry-level selection
3 or 4 brands share the market : HUION, GAOMON, UGEE.. These are excellent models to start... and even more!


XP-Pen Deco1
It's a cheap shelf (about 60$) but the quality is not sacrificed for all that.
An active surface of good dimensions: 10 "x6" (about 25cmx16cm), which is more than enough. A good quality passive stylus.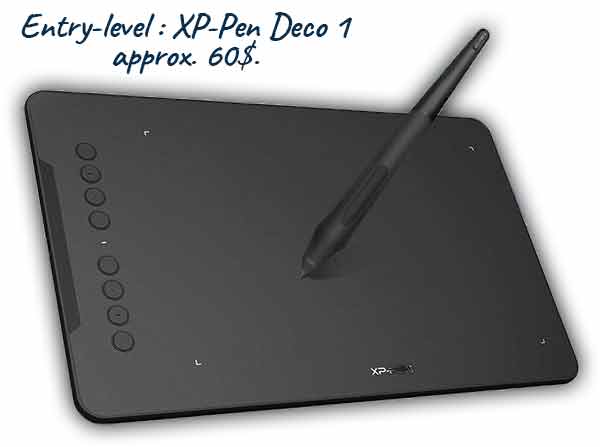 One of the models has no wire or cable, it works in bluetooth, the cheapest has its traditional USB cable...
At the bottom of this page, you can read the reviews of many users.
Note that the spare stylus costs 15$... which is not too expensive.

Huion H610 Pro V2
It is an excellent game entry tablet, with tapered edges which makes it easy to draw on its 10x6 surface.
The stylus is of course battery-free and has the usual pressure functions...

It has 8 shortcut buttons that make it easy to use and it can be used with all image processing and graphics software: PhotoShop, Gimp, PaintShopPro, ClipStudioPaint...
Note that this excellent tablet can also work in Windows, IOS or Android environment...

VEIKK A15 10x6 
C'est encore un autre excellente tablette graphique qui nous provient du constructeur VEIKK...

The 10x6 work surface is simple, without screen printing, 6 control buttons and a scroll wheel (you can choose the color: it's not very useful!).
It is a thin (only 9 mm) and very light shelf so you can carry it around in your workspace.
USB plug type C: can be easily plugged and unplugged. Find it HERE!

GAOMON M10K
Probably one of the best entry-level graphic tablets ... and available for about 65€!
An impressive active surface of 26cmx16cm is perfectly adapted to 16:9 screens and has a very accurate passive pen (without batteries) and many buttons to program ...

On Amazon, two possibilities: the GAOMON M10K 2018 at 65€ and the GAOMON M10K 2018-2 which comes with two pens... An "intelligent" stylus storage, on the side as on the WACOM.

Wacom CTL472K1A 
When it comes to graphic tablets, Wacom is "THE" reference... For some time now and in the face of aggressive competition from Asian manufacturers, Wacom has launched a few entry-level models, including this one.

A slightly smaller work surface than its competitors, fewer shortened buttons: for equivalent operation, the competition does better and cheaper. We mention the brand only because it is one of the leaders in tablet mode ...
You can find it HERE on Amazon
The reputation of the Wacom brand is well established. It is the undisputed leader in the graphics tablet market.
Of course, this notoriety comes at a price: it will take 70€ to get it!

It's excellent hardware to start digital art...
Graphic tablets with built-in screen
These screen tablets are the best in computer drawing! Instead of staring at the screen and drawing on the tablet without looking at your hands, you draw directly on the screen of your tablet just like on a sheet of drawing paper.
Of course, prices skyrocketed as a result and the first models were around $200 and more!
To see all graphic tablets screen built-in...
I have selected 2 models that are relatively inexpensive and that work perfectly.

XP Pen Artist 12
It is the least expensive of the tablets with a built-in screen... And it works perfectly! You just have to get used to the power and USB cables needed for its operation...

A well-designed stylus, pencil at one end and eraser at the other, very easy to use!
8 buttons for shortcuts: standard!
This small entry-level shelf has many qualities!

HUION Camvas

This tablet features an adjustable multi-angle portable tablet stand, really useful for those who like to draw on an inclined stand...
Watch the full description, with explanatory videos on this page...
There are many other tablets with built-in screen... I've passed the excellent CINTIQ from Wacom, which are so advanced: they are reserved for digital drawing professionals and are therefore irrelevant here...
In conclusion...
---
Writing and drawing directly on the screen is a dream now accessible to most people. If you like drawing, don't hesitate any more and discover the joys of the graphic tablet: there is necessarily a model that corresponds to your expectations!
A last piece of advice, if you have decided to buy a tablet, make sure that the after-sales service is up to scratch, especially regarding the elements that sometimes need to be changed: the pencil tips (nibs)... and the pencils themselves sometimes if you drop them!!
Good drawing !
Colonne2