Frames, paintings, photographs are the culmination of a successful design. It is a true reflection of your personality.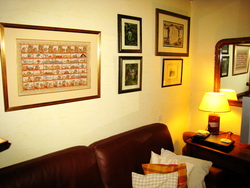 Finding a place for a painting on a wall is very easy... finding ITS place is more tricky!
An humorist says that the easiest thing about hanging a painting is doing it wrong !
So how to do when it comes to group multiple frames next to each other ? How to arrange them to have a harmonious layout?
Reply to this last question immediately wakes up the quarrel of "old" and "modern" : the supporters of classical style immediately oppose to modernism and diversity fans.
Do not go back into the argument. There are no magic formulas when it comes to picture hanging. You've only to trust your eyes !
However there are some basic rules that will help to lay out your picture frames... and as for all the rules, don't hesitate to break them if your ideas seems correct for your room.
Group your pictures!
Create groups of frames : by subject, by color, or material ... This will give a certain unity to your exposure :
. The topic ... landscapes, portraits, heirlooms, pencil drawings, pictures of flowers or birds ...
. The color of the frames is as important as the dominant color of the subject. This color must be in harmony with the place (the color of the wall...) where they're hanged ...
. The kind of art ... same type of frames (wood, metal, plastic), the same shape (rounded frame b.e.), the same type of media (oil, acrylic, watercolor, photography ...).
There are some advises in this video from Expert-Village...
Where to place frames and how enlightening.
Usually it is better for obvious reasons of conservation to avoid locations illuminated by direct light: some pigments (including pastels) did not resist. Therefore proscribe locations south or facing a window.
If you want to illuminate your art-works, avoid destructive UV-rich lighting (eg halogens). Incandescent lamps or energy saving lamps are still what is best (don't forget L.E.D. bulbs !)
Avoid placing a small frame alone on a large wall ... Find it rather a place between two windows, between two pieces of furniture ... and center always this element isolated from its surroundings. On the contrary, a large frame can perfectly be in place on a small wall ... everything is a matter of feeling.
Pay attention not hanging too high your frames ... the proper height is that which puts the center of the picture at eye level ... So approximately 1.60 m above the ground! (5 feet high from the floor to the center of the picture being hung).
It is an excellent manner to arrange your lay-out than put all the frame centers on a line at eye level.
Before hanging, arrange them flat on the ground to judge the effect.
Available online
Available in horizontal line, the classic is to focus the frame centers on the same horizontal line. This provision is most commonly used. It provides sets relatively well balanced: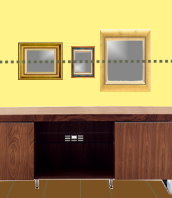 But you might choose an alignment of the outer edges up or down! This lay-out will give a very modern if you not abused it !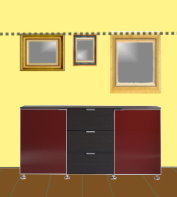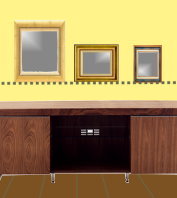 Similarly, you can lay out the frames centers on a vertical line ... initially focused on this line or to attract attention, lined up by their outer edges (likely!)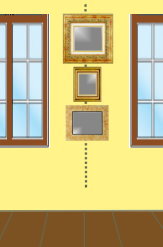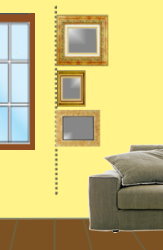 Horizontal alignments "lengthen" visually the room where they are while with a vertical line the ceilings appear higher.
Regular arrangement
If you have several frames of identical or similar dimensions, bring them closer and adopt a composition which will create unity ... The repetition of identical forms will create a ryhtme who drive the wall where they are.
Reduce the distance between your frames while spacing them regularly. Draw a line (3 frames) a square (4 frames) a rectangle (6 frames) ...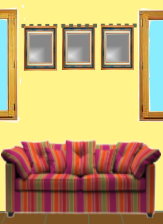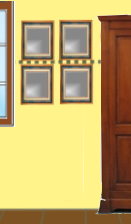 It's a good idea for an eye-catching effect.
Symmetrical arrangement
It is suited for series of small frames of the same dimensions as well as for frames of various sizes. You can provide frames symmetrically to a straight vertical or horizontal.
It is the ideal arrangement above a lower cabinet, a sofa ...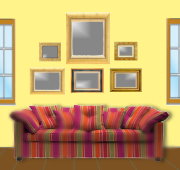 The symmetry can be vertical ... or horizontal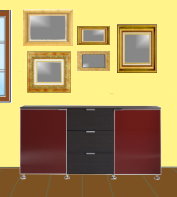 or both.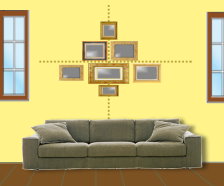 Geometrical arrangement
The intention is to combine the picture frames within a virtual geometric shape that anybody can guess watching all.
You can search for groupings such as square, rectangular, oval, triangle ...
Here square ...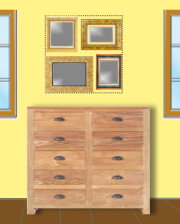 and oval ...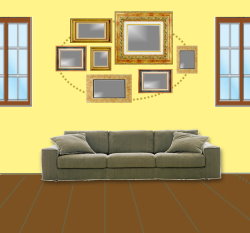 Remember to give to the most important piece a central position, just at the eye level... Then, separate 2 frames with same size by a smaller one. This give to your lay-out rythm and energy.
Just a little tip
It's a good idea to lay out the frames on the ground before hanging them on the wall...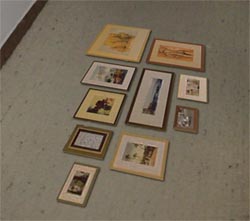 Thus, you can move and arrange them until finding an arrangement you like.
Arrangement over a piece of furniture
In general, if a frame is placed above a lower piece of furniture (low sideboard, dresser, sofa ...) then you have to center it from this furniture.
But in the case of drawers on which there are already put objects, it is better to adopt a staggered manner to restore balance to the whole.
Avoid this: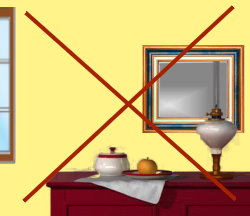 and instead prefer :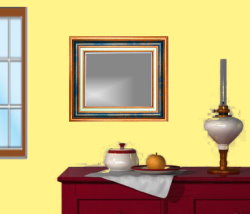 And then ...
And then everyone does as he pleases ... therefore you must sometimes deviate from the "conventional rules" to further customize the interior.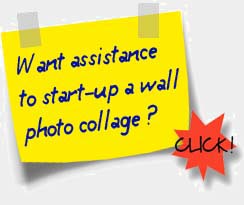 Placing his paintings pell-mell, without order or restraint, relying solely on his instinctive feeling gives sometimes excellent results : it is sufficient only to dare!
Some ideas for your decor
To be continued...