EQUIPMENTS FOR SCRAPBOOKING BEGINNERS
BY SYLVIE
How long have you scrap?
I discovered scrapbooking in 2005, during a TV newscast, but I'm actually launched during spring 2006.
What do you do scrapbooking?
30X30 pages and mini albums.
But as I still have much to learn, I also enjoy trying all sorts of techniques.
What are your favorite colors?
I often use soft, pastel or old and worn colors.
For photos, I love the Sepia.
What brings you scrap?
Relaxation, a way of thinking about nothing else.
But also the pleasure of creating, trying to match colors, space ...

Create something beautiful, and derive a certain pride... although I'm not always happy with the result!
There's also this whole community around the scrap on Internet forums, blogs, contests, challenges, exchanges that allow us to continually grow, learn and share.
Sylvie's good addresses
---
Download labels:
lescreationsdannecath, Swirlscrap, Edwood

Find sketches and templates
scrapmap, Sketches by Ingrid, Queen geek


See Videos
découvrir le scrapbooking, Online Courses

Create a mini album

Print free newspapers:
The little echo of scrap, scrape


Download all kinds of fonts:
2 peas in a bucket, Dafont, Scrap Village
Sylvie's advice
---
Buy as and when you need them.
Do not launch immediately into a buying spree. You could find on arrival that the articles are not adapted to your projects.
The equipment to start in scrapbooking
---
Paper
Scissors, pencils, eraser, metal ruler
Glue and adhesive
Cutter Precision
Eyelets
Fasteners
Ink
Ribbons
Buttons
Cutting Mat
Massicot A4 Personal Paper Trimmer
Printed Papers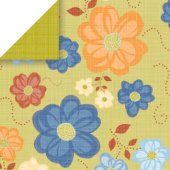 There are various papers: printed, plain, textured, transparent ....
A huge choice for all tastes and all desires. Their dimensions are 30X30 cm, an American standard. Mostly Sold "acid free" they can preserve photos over time. In this way, they will not yellow.
Small tools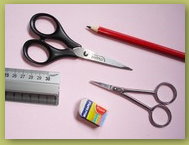 The pencil to draw lines, shapes, and then cut.
The eraser to erase pencil marks.
A metal ruler far better than a plastic one to avoid being damaged by the blade of the cutter.
Conventional scissors and shears for finest small precision cuts .
Adhesives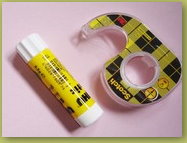 There is a very wide range of glues and adhesives in scrapbooking stores:
Simple glue stick, glue tube with fine tip for small objects, double-sided adhesive pads, 3D pads to give depth, fabric glue ...
Better is worth to use simplest to begin and buy later according to its needs.
The ideal cutter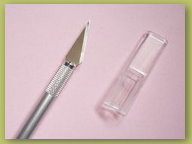 The accurate cutter will allow clear cutting of all papers, cardboard and pictures.
This is a truly indispensable tool.
Eyelets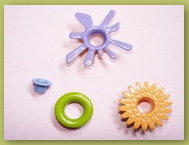 The Eyelet has a small metal round hole in the center that was originally to take a ribbon, lace, cord. The eyelets on shoes are used to get the noose.
In scrapbooking, Eyelets are often among the first purchases. They can serve as the source, to put ribbons or fibers.
They can also be used as simple decorations on a page, but also to establish several papers. Theey exist a wide choice: different shapes, colors and sizes
The fasteners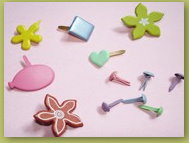 The fasteners, also called "brads" in English, are also a part of the panoply of the perfect debutante.
They come in different shapes : round, square, like flowers shaped ,leaves, teddy bears, butterflies, fruits ...
Their size can vary from a few millimeters to 2-3 cm.
Ribbons and buttons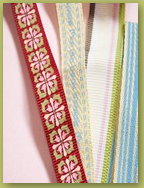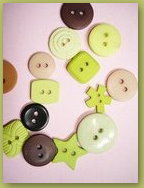 The ribbons and buttons allow to beautifully decorate a page for a relatively low cost. Feel free to rummage through the discount stores and cheap shops.
You can also find a wide choice at the time of Christmas and New years.
Inks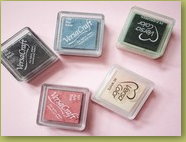 The trade marks have developed a large range of ink. There are those who are quick-drying, others are slower drying, which enables precise inking, fine, those who set chalk-like, which are watercolor ...
They allow to age, color, give relief, gloss ... The slow drying allow to work embossing.
You will find a selection on multiple stamp pads, bottles, sprays, for all purposes and all the medias : the paper through the cardboard, wood, fabric, plastic surfaces, glass etc.....
The cutting mat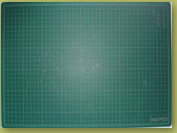 The cutting mat is also known as "self-healing" carpet because the cutter blade does not abyss it. There is no need to start scrapbooking, but it becomes very quickly. It saves your work surface when you use your cutter.
On the front, most of the time is a very convenient grid which aligns the sheets to make a cut right. It is also anti-slip.
The cutter (paper trimmer)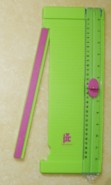 The cutter is to be bought later, in a 2nd time. It can cut paper and photographs easily and quickly .
In this model a rule unfolds and allows to measure simultaneously the width and height of the paper.
The blades are interchangeable. Some may serve to mark folds.