SCRAPBOOKING WITH LOLAZEZE
ADOPT THE CACTUS ATTITUDE !
The author
How long do you scrap?
I discovered scrapbooking in the summer 2006, just by chance, going to repair a windshield, I had to wait 30 minutes, time for me to go in the creative leisure store across the street, which proposed a course of Scrapbooking discovery in a day and that's how I fell in ! Since I have not stopped!

What do you prefer to Scrap?
What I love about scrapbooking is cutting, inking, sloshing, sloshing oh yes, we say "patouiller*", I love it, using the distress inks or others is a real treat for me! Aging papers in order to put a patina on my page is something I love !
I love to scrap my family, children, pets, but I have more difficulty getting scrap myself! for what reason? For me scrapbooking helps me relax after a day's work!

What are your favorite colors?
My favorite colors? it's hard to say because I like all colors, and depending on the selected photos I'll choose a coordinated assortment of color. It can be more difficult for me to scrap some colors like green, yellow, but it's hard to say.


What brings you scrap?
Scrapbooking helps me relax and I "empty" my head after my workday. Because I have duties that require me some responsibilities (managing executive nurse) and at night I need to relax, it's for me a true "Psychotherapy" , it helps me to overcome many challenges! No kidding!
I also scrap my travels as here in Mexico, it allows me to create albums pleasing to see and putting me back in a special atmosphere when I consulted them after !
* patouiller : to play doll's tea party with water and mud or having fun with water...
The subject
---
A photo taken in Mexico ... a superb cactus shot from unique angles. Nothing like starting a scrapbooking page hot!!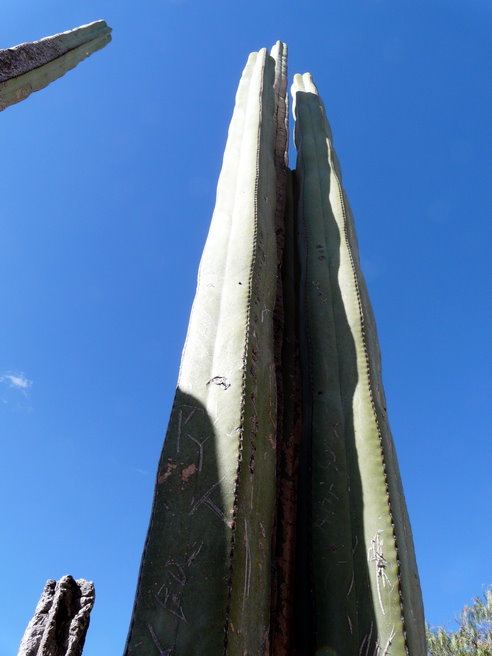 Achieving
---
Choose papers coordinated the selected photo.Here the papers are PinkPaislee, and red Bazzil, I found that over the photo, the matching color would be harmonious with a little red touch to meet all)

 

Choose also coordinated embellishments, here is a sheet of embellishments from PinkPaislee range directly coordinated with the papers of the series.

Cut bazzil which will serve as a mattage to the photo and stamp the paper with the blank Bird stamp (Archival ink gloss) to find the chosen colors of the embellishments

Ink and tear the papers to give an aged look to the whole as if the achievement had gone through the years to come to us!

Sand the edges of the photo to give depth and to delineate the situation! For this use sandpaper with a grain more or less fine according to the desired effect, do not hesitate to experiment on photo off-cuts

For the title, paint the Chipboard (cardboard letters) with acrylic paint, stamp and ink to give a worn look

 The completed page
---
Once all the papers, title and embellishments are chosen, put them on the background paper and does not hesitate to move or to add some embellishments or papers before pasting everything. Finish by adding various embellishments matching with the page (flowers, birds, ribbon, brads)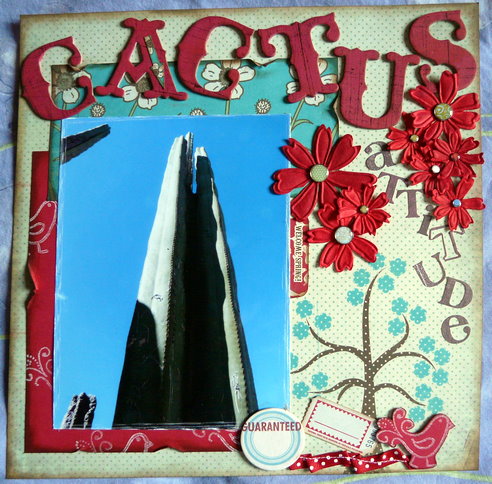 Encyclopedia of Scrapbooking
Creating Keepsakes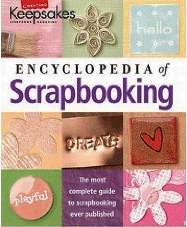 (click to enlarge)
If you have only one book of scrapbooking to buy...

mini album
Jessica ACS
Mini albums have become a popular medium for scrapbookers - they are small enough to complete in a timely manner but big enough to tell a story.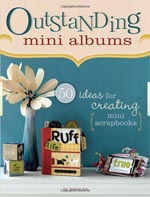 (click to enlarge)
Features 50 albums with step-by-step instructions for over 30 projects - perfect for scrapbookers of all levels.
my opinion : if you love mini album... it's the right book !
Make It in Minutes :
Mini-Books.
Roxi PHILLIPS
So many styles, so many reasons to make them !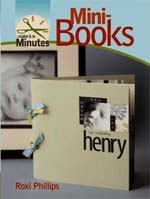 Every one of the 45 projects is charming and quick to craft and is perfect for celebrating everything from holiday memories to childhood events...
My opinion : All the basic techniques are covered, along with plenty of tip boxes and many advices on choosing paper and other materials.