A FLOWERED MONOGRAM
with IVY LOVY
The author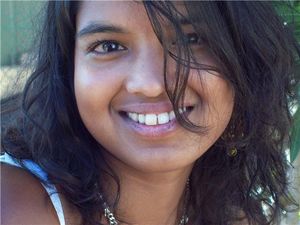 >Since how long do you scrap ?
I scrap since February 2008. Before, I practiced creative leisures similar to the scrapbooking without knowing the term nor the techniques.
>What do you prefer to do out of Scrap?
I do not have preferably. What I like is to start from nothing and to discover a realization at the end, sometimes without really knowing how I was able to produce that… laughs…
It is to discover new matters, textures to be assembled, colors, techniques or of the products tendency.
>What are your preferred colors?
I like all the colors, even if I work much it pink and the chestnut. It is true that the various orders which I receive make it possible to work of other color ranges.
>What brings scrap to you?
The scrapbooking a need. A need for scrapping to feel me myself, to feel me fully alive. I forget that I am handicapped. I fight so that, which I cannot do with my legs, I compensate for it and does it with my hands.
It is a real passion and I need to share it and imagine that others will be perhaps also filled with wonder to discover all the possibilities and the richnesses which the scrapbooking offers.
It is a manner of giving live to my sensitivity of another manner that by the writing, the song, or the dance. And thereafter, I would wish to make my full trade of it.
VISIT the BLOG Of IVY LOVY: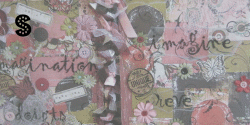 Supplies
---
2 monograms "P"
1 brush,
acrylic painting matched with your paper colors,
fabric flowers,
buttons,
cork of 3 mm,
ribbons,
wire (matched with the colors),
switches, stamps, lace, brads,
Versacolorblack ink .
Bibliography
Ivy Lovy more particularly recommends the works of the collection scrapattitude to you which constitute for it references for the techniques than it develops.
STEP BY STEP TUTORIAL
---
Paint your monograms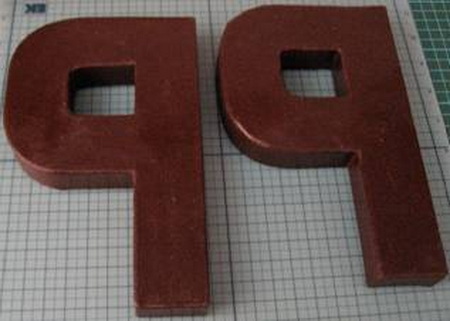 In this first part, you will have topaint the 2 monograms "P" with selected acrylic painting matched to your paper colors. Then you lets dry by choosing your paper range precisely.


Outlines of "P" letter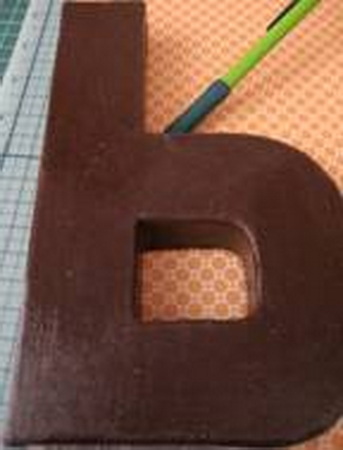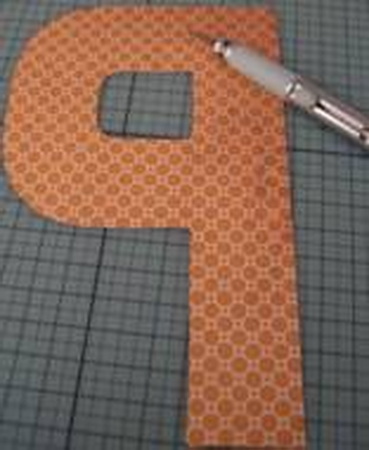 With a paper pencil, draw the contour of your P. Then, once cut out with the cutter, remove 5 mm more on each side in order to leave the painted edges of your monograms visible .
Age your paper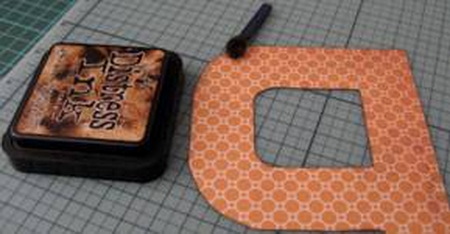 You now will age contours of your paper by using "walnut stain" Distress ink .
Stamp your monogram





To give relief to your letter, stamp your monogram with a writing-stamp or other.
Page layout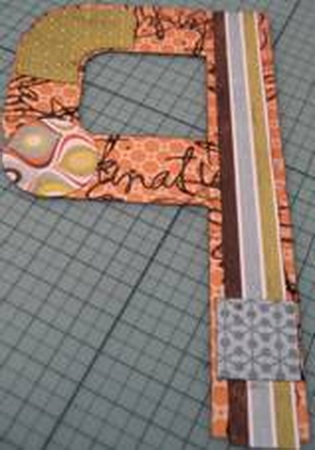 Made your total page layout by choosing your papers. Don't forget before to age the edges. Respect also the balance of your page. Thus do not put too many papers because there will be after other embellishments.

Prepare the embellishments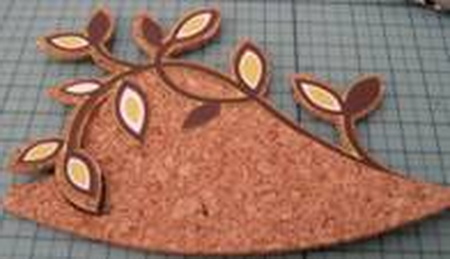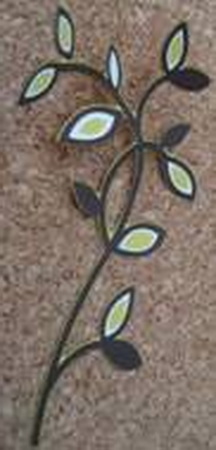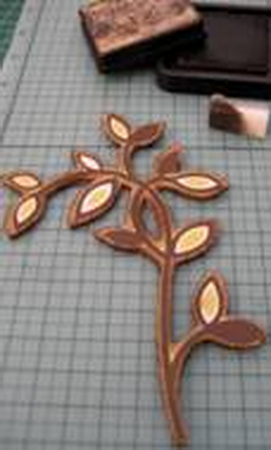 Choose an embellishment, age the edges with distress ink and stick it on a cork plate of 3 mm thickness.
Then cut out the edges of cork with the cutter by leaving a few millimeters on the edges. Lastly, age your edges with a foam finger.


Sew your embellishment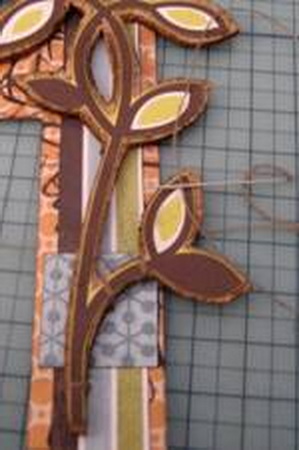 To guarantee the maintenance of your embellishment, you will sew it on your bottom monogram (paper).
Additional embellishments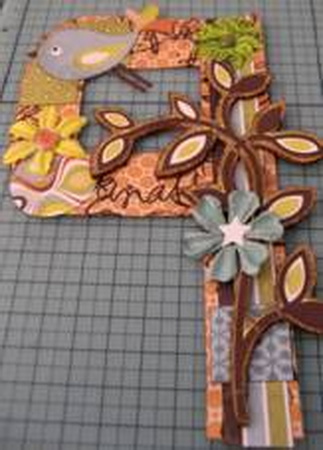 Add the embellishments which you wish while avoiding overloading. You can put flowers, buttons, etc
Finish your embellishments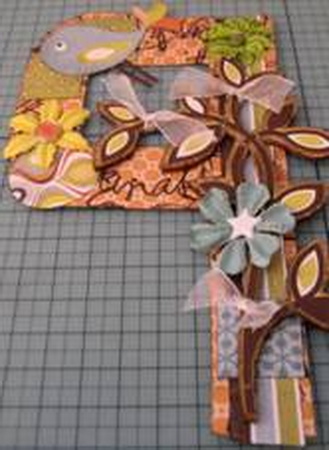 You can finish by adding ribbons here and there in agreement with your color range.
Final joining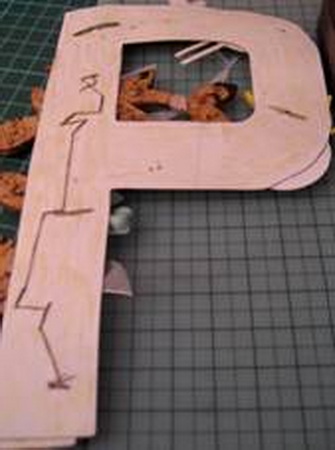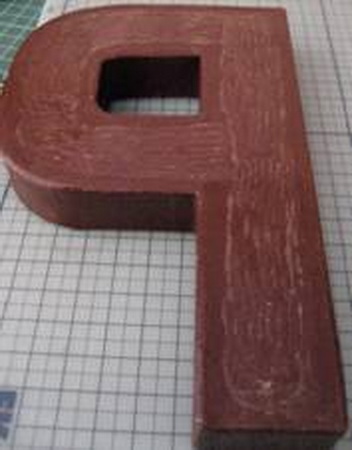 Paste your two surfaces, let pose a few minutes and stick to them one against the other.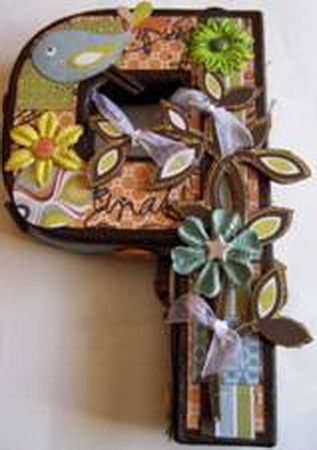 Work contours of "P" (1)



For contours, you have whole freedom. In this creation, I included the basic color like bottom, I added small tags, then I stamped the word "scrap". You can write a first name for an example. Then same manner that for stage 11, you will stick it on your basic support.
Work contours of "P" (2)


To make the roundness of "P", I chose to take a paper strip like bottom, then a ribbon of 1 cm of width and I bent some buttons to make it hold. Then I stuck the whole.
Here is, your monogram is finished if you wish to work only one side.
Example of creation for the back of "P"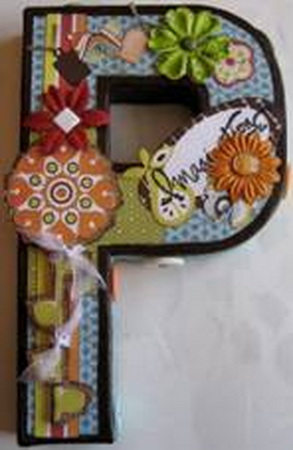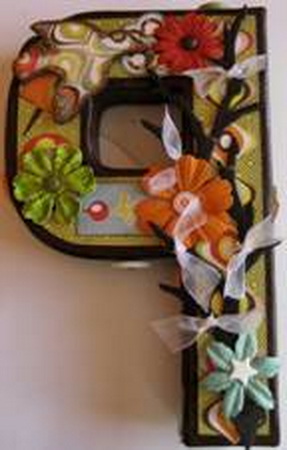 The techniques used are exactly the same ones for the back of the letter.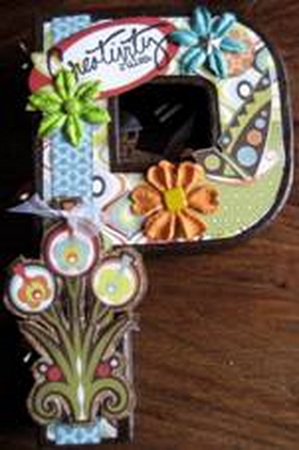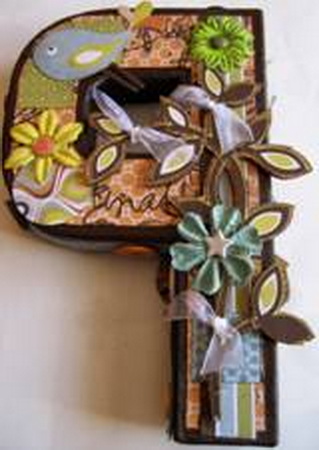 IVY LOVY (2009)