Making a vintage tag by Guylaine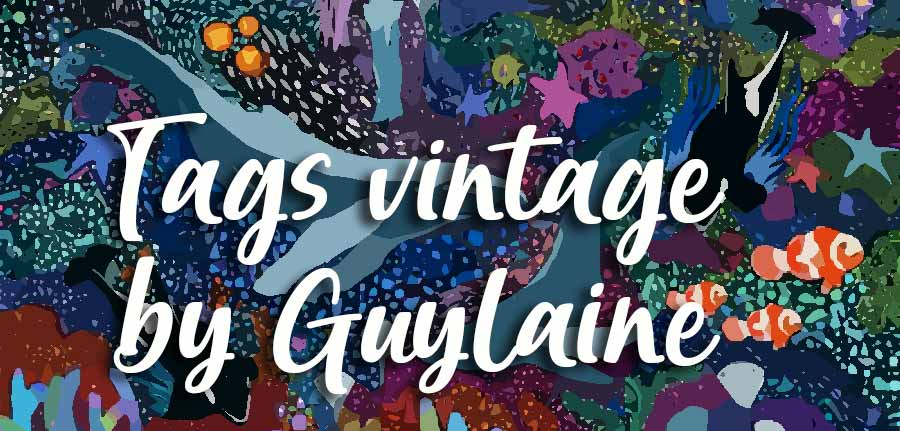 How to make a vintage tag
by guylaine
How long have you practise Scrapbooking ? 
I scrap since September 2008, as I return home from vacation, I wanted to higlight my photos and not just to put them in a plastic cover album : so I looked on the net because I had vaguely heard of without knowing what was Scrapbooking  and I soon found ideas!
What do you like to do with scrapbooking?   
I always compare a bit of a designer who tries to find the papers most suitable to the picture (a page) and add the right embellishments, so that everything is smooth... I love making cards that I send to my Copinettes or to my family. The cards are quickly made and are always fun, a page takes more time and thought.

What are your favorite colors? 
I am very "girly" and I like the old roses tones in powder pink fuchsia and purple / violet but in fact all the colors are beautiful in scrap if they are harmoniously combined.  

What brings scrap to you ?
A large appreciation of the work and the satisfaction of achieving something with my 10 fingers! I never do not consider myself as a "manual" or "artist in the soul" girl because I've never been good at drawing, thanks to the scrap I found my "artistic" way and I have a hobby ! 
VISIT THE GUYLAINE's BLOG :

Step by step: make a vintage tag !
First, choose your Vintage image (you can find it on the Net. Look at HERE or THERE ou launch a search about "victorian romance"...), and prepare one or two Bazzill matching papers, slightly larger and use the Edge distresser blade or scissors to "damage" the edges.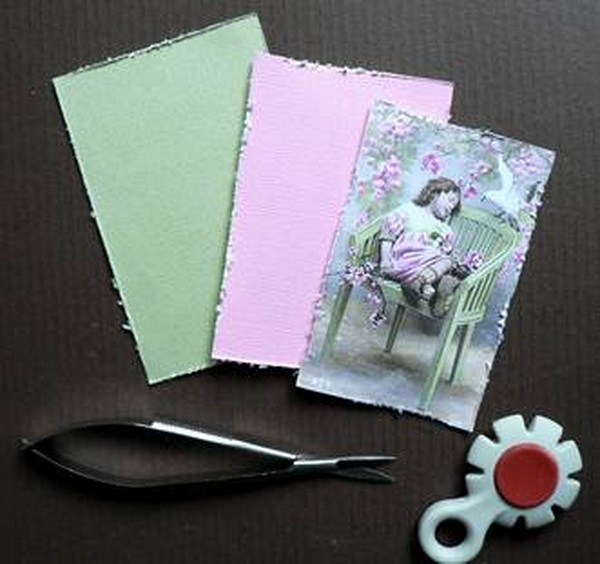 Ink paper and image edges with Distress Ink and a piece of Cut'N dry. Mat your image (mounting papers below the image)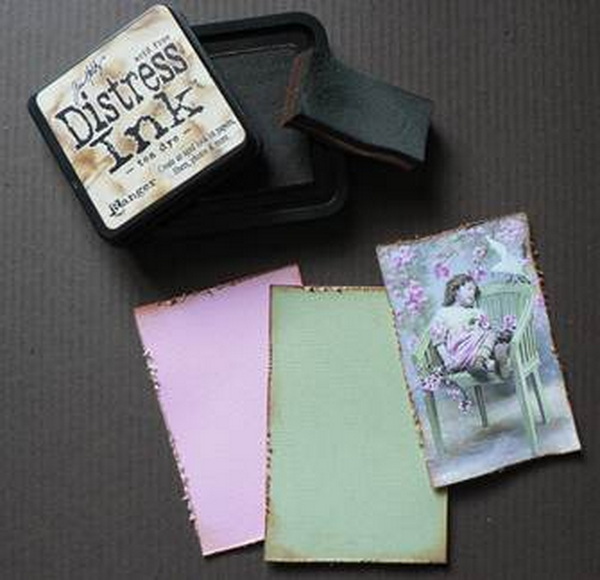 Prepare your papers and the Bazzill to use as a background for your tag, cut corners and make a hole in the top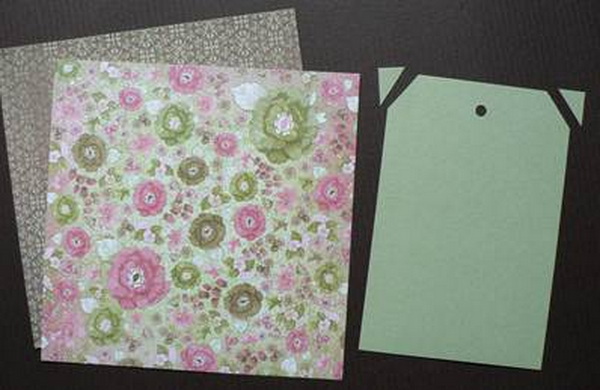 I chose "Chanteuse collection" Kaiserkraft papers...
Punch the butterflies in paper you choiced and ink selected papers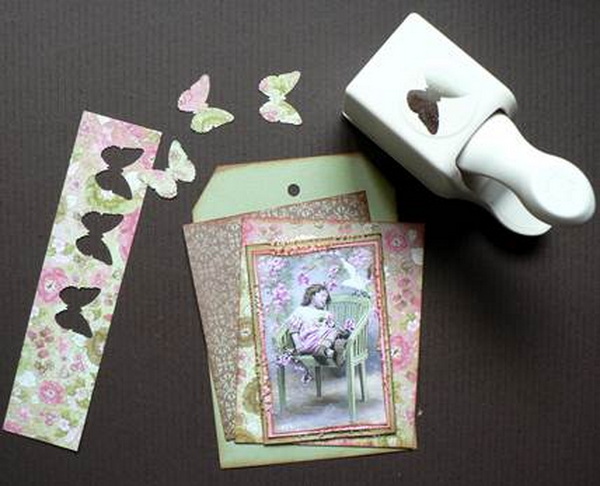 Glue the paper and make one eyelet as follows: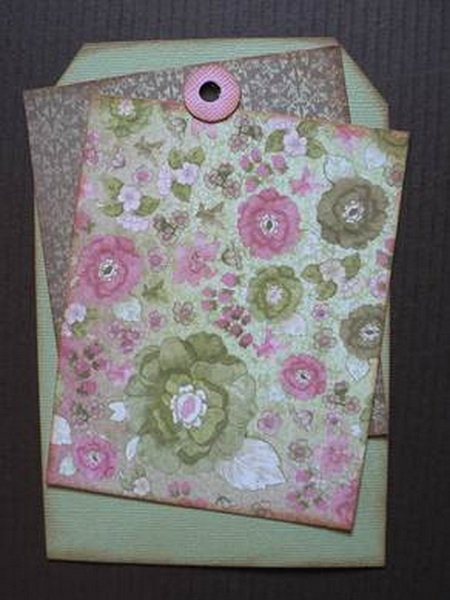 With a puncher, make a small round you punch again (smaller puncher) and ink the edges...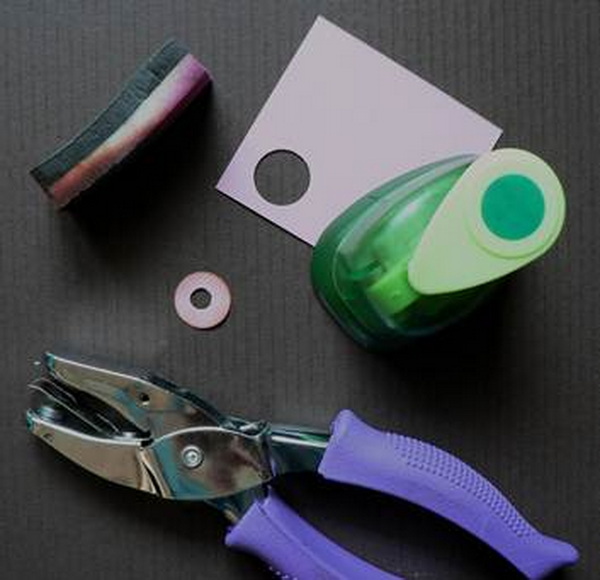 Prepare and place your embellishments as you like (Try-test before gluing)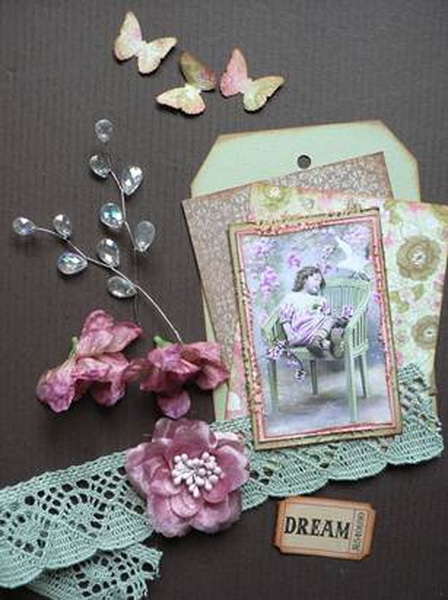 Stick all your embellishments and your tag is finished!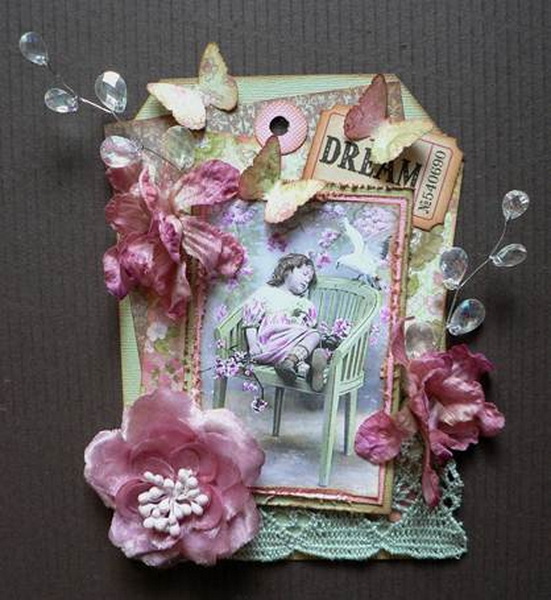 Scrapbooking
Family Heritage
Creating Keepsakes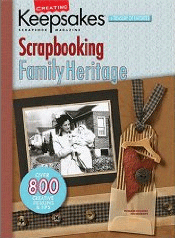 Devoted to weddings and births, childhood and grandparenting, there are more than 575 creative page designs and practical tips to guide first-time or longtime scrappers alike...
A must !
Creating your family
heritage scrapbook
Maria Neius and Bill Gardner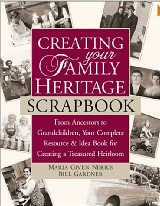 What makes this book so special is that for the first time, family genealogy research and family heritage scrapbooking have been combined to give you the best resource for documenting your family history. Easy to read, easy to follow and easy to apply, so you can (yes!) spend your time creating your family heritage scrapbook.
Vintage Collage
for Scrapbooking
Jill Haglung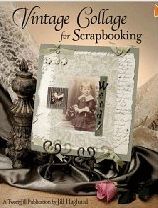 This is a wonderful book giving ideas to use vintage photographs in scrapbook page layouts. There are step-by- step photos and a detailed instructions/materials list for many projects- such as for coffee-dying paper and fabrics...