Tutorial: like ROY LICHTENSTEIN
Imitate the great masters!!!!!
A genius of pop-art imaging
---
Roy Fox Lichtenstein, is one of the most important artists of the American pop art movement. His works are strongly inspired by advertising, popular imagery of his time, as well as comics.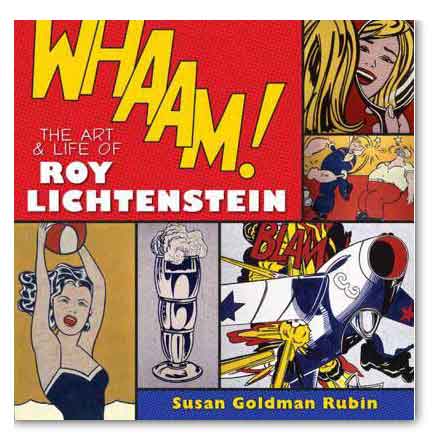 The pop-art paintings by Lichtenstein that interest us seem to have come straight from a comic strip... They are characterized by the density of the line which perfectly delimits the surfaces, the deliberate choice of contrasting colours managed in flat areas, the almost permanent presence of bubbles and onomatopoeias and the use of ben-day dots, particularly to create the dotted "roses" of the faces....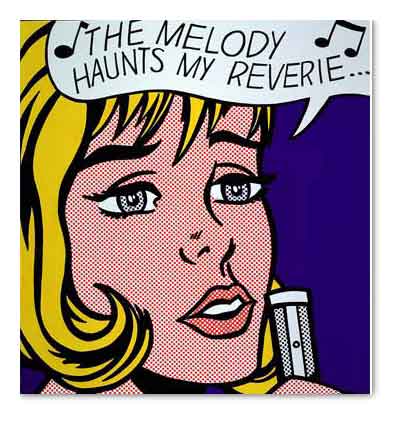 This page is therefore an attempt to imitate the great master, an attempt to paint "in the manner of" Roy Lichtenstein.
Working with the graphic Tablet
---
Roy Lichtenstein probably did not have the equipment we have today.... In particular the ease offered by a good graphic tablet... and the technicality of the PHOTOSHOP soft!!!!!
A graphic tablet... essential to approach this technique. If you don't have one, it's almost an opportunity to get one... and there are several options available to you... (take a look at this advice page to see models and prices from $40 to $1000)
 If you are a beginner... no need for too elaborate equipment: we also have a lot of fun with entry-level tablets that will not cost you more than a mouse!

Buy it in a serious e-commerce both in terms of choice and after-sales service... it would be a shame to have to replace all the equipment when, inadvertently, the pen has fallen to the ground and no longer works properly!

Avoid battery-powered pens as much as possible, as they are heavy and sometimes bulky. Choose a passive, non-powered stylus that only the major brands WACOM, HUION or XP-Pen can offer.

For these "entry-level" models, you will have only the embarrassment of choice: all e-shops sell them... Compare prices well!

Here is an excellent model from XP-PEN that will suit all beginners and even more!

If you have already practiced... a brand is essential: WACOM which is the great specialist in the graphic tablet. Choose an intermediate model... neither too small (you have to be comfortable!) nor too big (only for professionals!).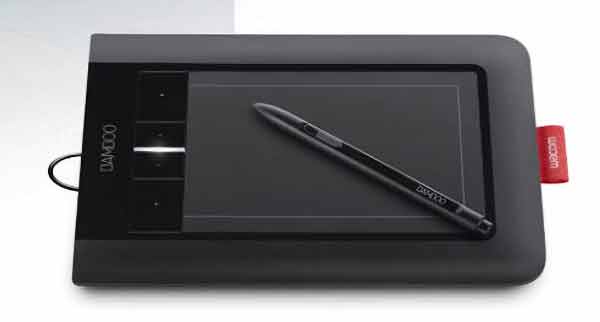 Choose a work surface of about 20cmx15cm.... this is more than enough for amateur work... The A6 format is too small.... A work surface in A5 format is perfect.

If the price of the WACOM tablet is necessarily a little high, there are Chinese or Korean brands that work perfectly... To see the models, it's HERE. Let yourself be guided by the best sales, it's an excellent indicator!

If you hesitate about the price of the graphic tablet, know that "Chinese" tablets like HUION or XP PEN are as performant as the Wacom, for a price divided by 2.

I am thinking of this excellent HUION tablet whose price is less than 40$ and which has the advantage of having a pen without batteries... This is an entry level tablet!

Of course, the use of this tablet will not be limited to the imitation of Lichtenstein! It will be used very often if you retouch your digital photos... and when you are used to your graphic tablet, you will no longer use your mouse!

An image processing software....

The most famous: Photoshop whose learning is not always easy.... Paint shop Pro, The gimp (free) or PhotoFiltre (free) are good alternatives... Photoshop Elements is quite easy to find and often comes with the tablet!

In this tutorial, we use PHOTOSHOP... and simple functions that you will find in your favorite processor image.

And if you don't have a graphic tablet....

You can still produce your drawing by drawing it on a sheet of white canson, then scanning your work and then retrieving it in your graphics software... If you don't have a scan... your mobile phone can support a "scanner application"... you will have a lot to choose from as there are Android or IOS applications...
Tutorial: LICHSTENTEIN portrait
---
For this tutorial, I chose a female face: the crying woman. If you want to work with the same image, you can download it here.
Step 1: Line drawing.

Launch Photoshop and open the model image. Select the brush tool and press F5 to open the shape menu. Check the Form Dynamics option.

 

Thus the thickness of your brush stroke becomes sensitive to pressure.... This way, your drawing will be more realistic. Also select a brush with sharp edges (if necessary set the hardness to 100%).

At first, with the graphics tablet, the most difficult is to draw by looking at the screen, not at the hand... It's quite disorienting, but you get used to it quickly!

Create a new image (File>New...). Give it a white background and create a transparent background layer on top of it on which you draw your model.... Name this layer "LineDrawing".

Feel free to simplify the drawing by keeping only the essential features.... Make exaggerated shadows appear in large black lines. Don't forget the tears, a characteristic detail of Lichtenstein!

If you don't have a graphic tablet, or if you don't want to draw directly on screen, you can also draw the lines your "sad woman" on paper... and then scan your drawing to color it in Photoshop... All mobile phones, all tablets have their own scanning application: CamScanner for example...

Step 2: Colouring

. Now you must colorize your image. The colouring technique used here has nothing to do with professional colouring techniques! It's all about keeping it simple but effective!

Select the filling tool (bucket)... and in its options, check adjacent pixels and all layers.

 

Create a new "Colors" layer that you place under the "LineDrawing" layer (you can put it in product mode).

In the color tablet, choose a yellow hue and color the hair by pouring the color. If the color extends over the entire figure, check that the above options are checked and that the facial contour line is closed...

 

Step 3 Colour screening

It is time to give our image these raster colors so characteristic of Roy Lichtenstein's work...

With the magic wand, select all the "flesh" color of the face, copy the selection and paste it in a new layer above the colors.

 

Now select Filters>Pixelization>Half-Tones Color. It is this filter that will replace the color flat tints with these "ben-day dots"... You will have to feel a little bit for the adjustment: the points must not be too close or too far away!

 

 

For the example, the choice of a radius of 10 seems appropriate as shown in the result:

 

 

Step 4: Bubbles and Onomatopoeias

 

All that remains is to finalize the image... by adding a solid background, a bubble and an onomatopoeia (a constant for R Lichtenstein).

You can draw the bubbles directly with the Free Pen tool in the toolbar: the curves are automatically smoothed... It is then enough to transform the plot into a selection (right click and choice in the menu) and to fill this selection with white... then to give a rather thick black inner outline.

I chose the Dealspinner TBS font for the bubble text and onomatopoeia... It is one of the closest to the one designed by LICHSTENSTEIN. You can find it on DAFONT.com as a free download.

As for the onomatopoeia "TAKTAK" I distorted it after pixelating the text and, in order to make it stand out better on the background, I added a black inner outline of 2 pixels...

 
And if you can't do it alone????
---
You have an idea... For a birthday present... a wedding present or for yourself...

And you don't know how to use PHOTOSHOP!!!!! 

Order me your personalized LICHSTENSTEIN !!!! For a modest participation, you will get the "Faux-Lichtenstein" of your dreams ($25 for a 30x40 drawing).

Here is one specially made, from a photo of the stove, to decorate a kitchen... That's why they talk about onions and the problems she has with this vegetable!

Send me the comic book image you want to use, with its caption or a drawing idea I will make for you!

You can even appear on this fake lichstenstein.... Send me your picture, I'll tell you what you can do...

You can print it yourself or use your favorite photo site! Look at this very special realization, printed on canvas 30x40 for less than $10 !

Message TEL +33 6 62 66 78 42