Turn your photo into a cartoon
With an ANDROID "photo to cartoon" application
It is the dream of all those who do not know how to draw: to transform a photo into a cartoon case, into a comic strip image...
This page is the third part of the study of the possibilities that are available to you: the android applications that allow this kind of work are numerous... too many and it is easy to get lost in all those applications that promise to transform an image into a drawing...
You can find the previous pages by clicking on the links: Online Cartoonization and PC Cartoonization Software....
Then go to PlayStore to get the best of cartoonization applications!
The play-store....
---
A host of applications to transform an image into a cartoon abound on the playstore..... With very uneven results......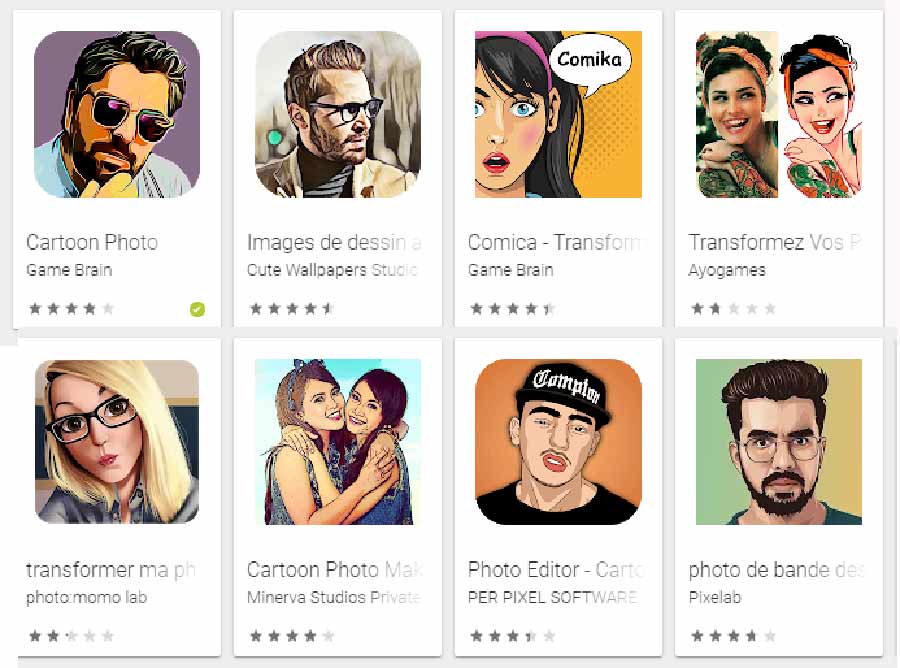 It's a market, an entry point into your phone and your private life: it's no wonder some people are scrambling to get your approval!
We will try to sort through all these applications to retain only the most discreet and efficient....
The test conditions
---
Comme dans les pages précédentes, nous avons utilisé la même photo de départ et avons testé, pour chaque application, le mode dessin au trait et le mode cartoon...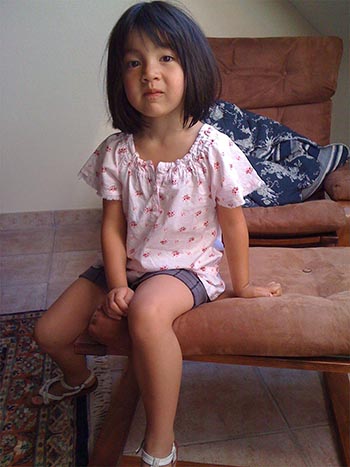 Puis nous avons chargé sur le PlayStore les applications qui nous paraissaient les meilleures... Nous vous en donnons les résultats en toute franchise : la photo de travail n'est pas spécialement facile à cartooniser, on le sait... mais c'est bien l'occasion de pousser les applications à fond pour mieux les apprécier...
The results.
---
CARTOON PHOTO EDITOR
This is the first application that appears on PlayStore and its window is attractive.... Here are some nice pictures! In fact, we'll see that it's the best!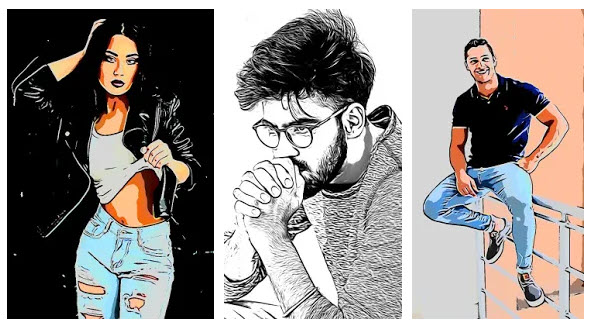 A lot of effects are available in the free version.... I chose STAMP for the B&W drawing and RINGO for the coloured drawing.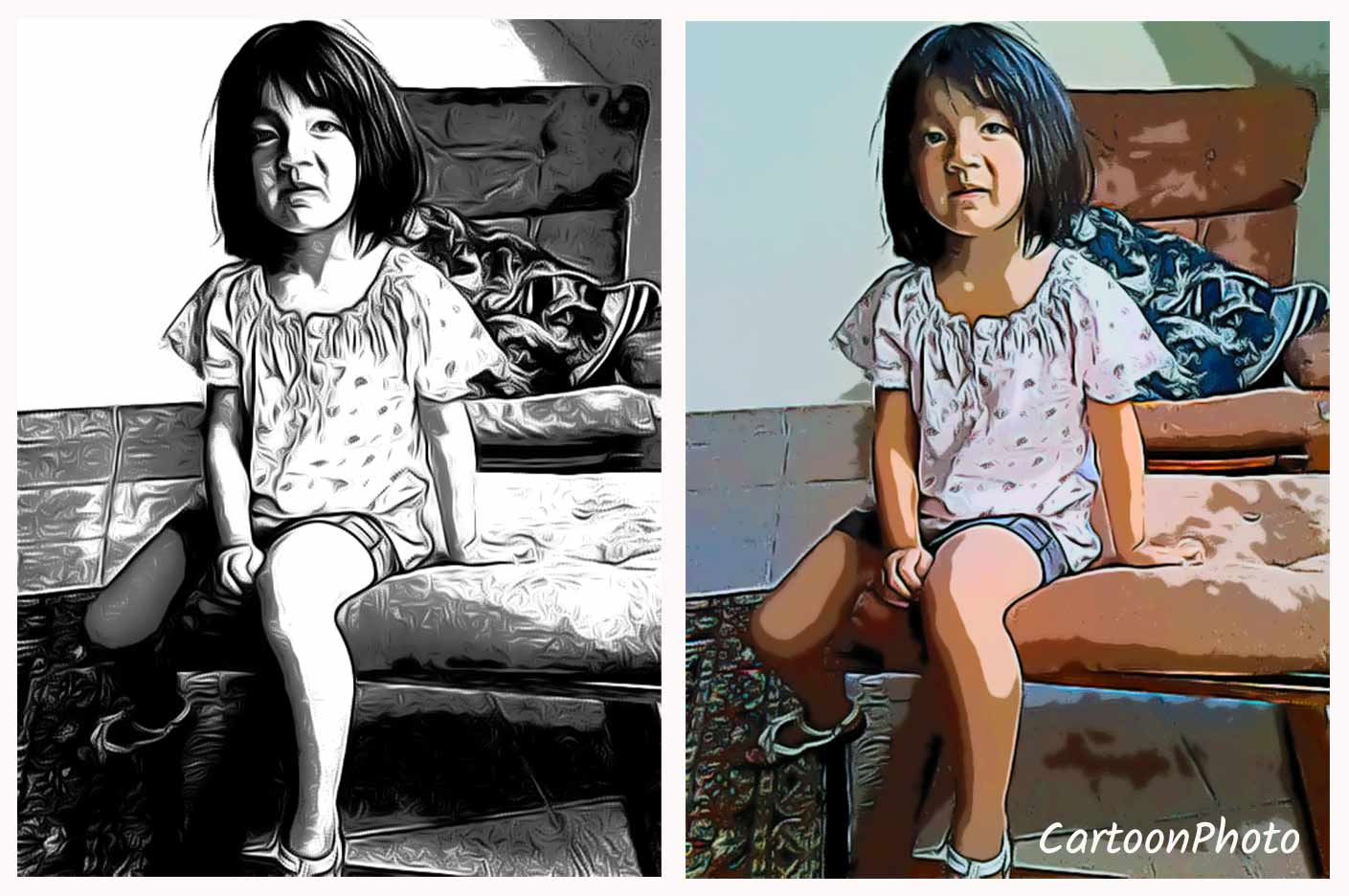 Well, the results are quite good: the line drawing caricatured the faces a little bit and the coloured sketch is good, with a very special interpretation of colours (some colours do not exist in the original document...). Processing times are very short!
A good point to this application!
SKETCH CAMERA (Pixelab)
Between the English titles and the titles translated on the play store, it's not always easy to find yourself... It is actually called "Photos of comic strips" from Pixelab....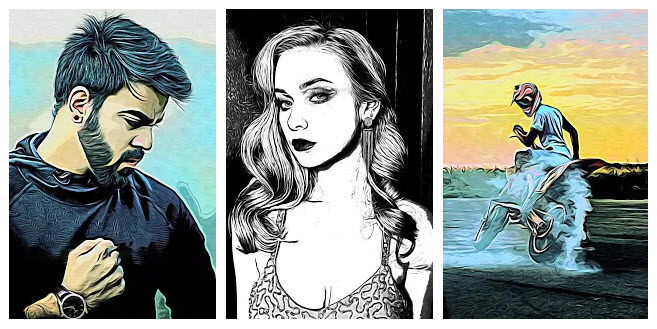 The presentation images are attractive... a little too much... and the results, acceptable for some filters, are not up to the task... The line drawing is really average... as for the color image it's not exactly what you would have expected...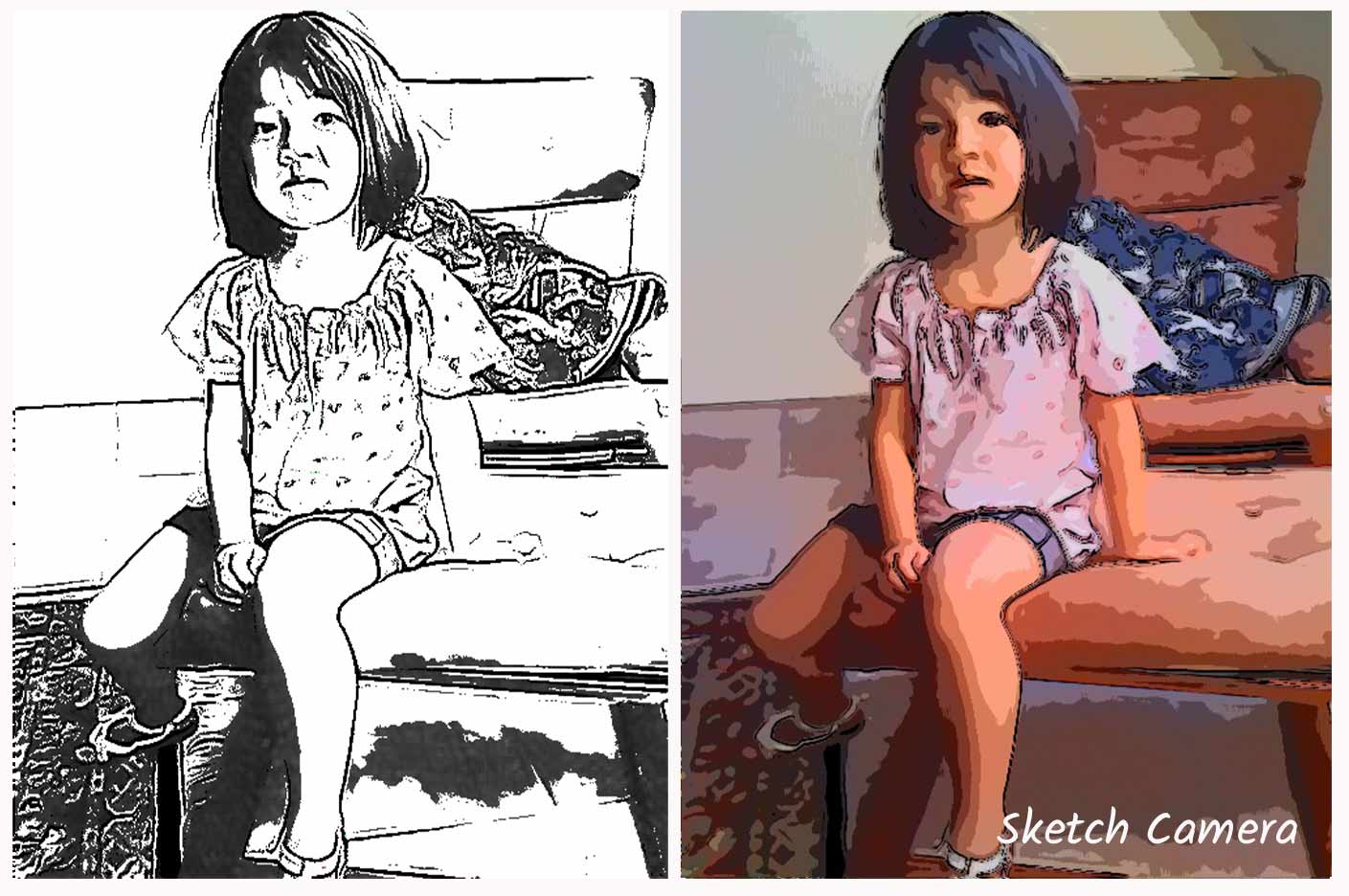 Je ne conserverai pas cette application dans mon portable...
COMICA
This good little software has unique qualities and should be included in your application pool....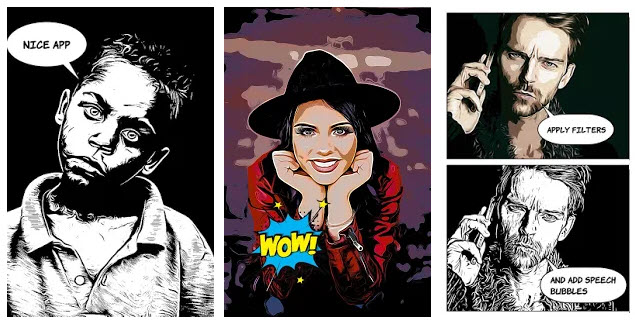 The results are quite good, of the same quality as their showcase.... So the whole thing is perfectly acceptable! The colours are respected but lack a little brightness: you have to push a little on the adjustment sliders...!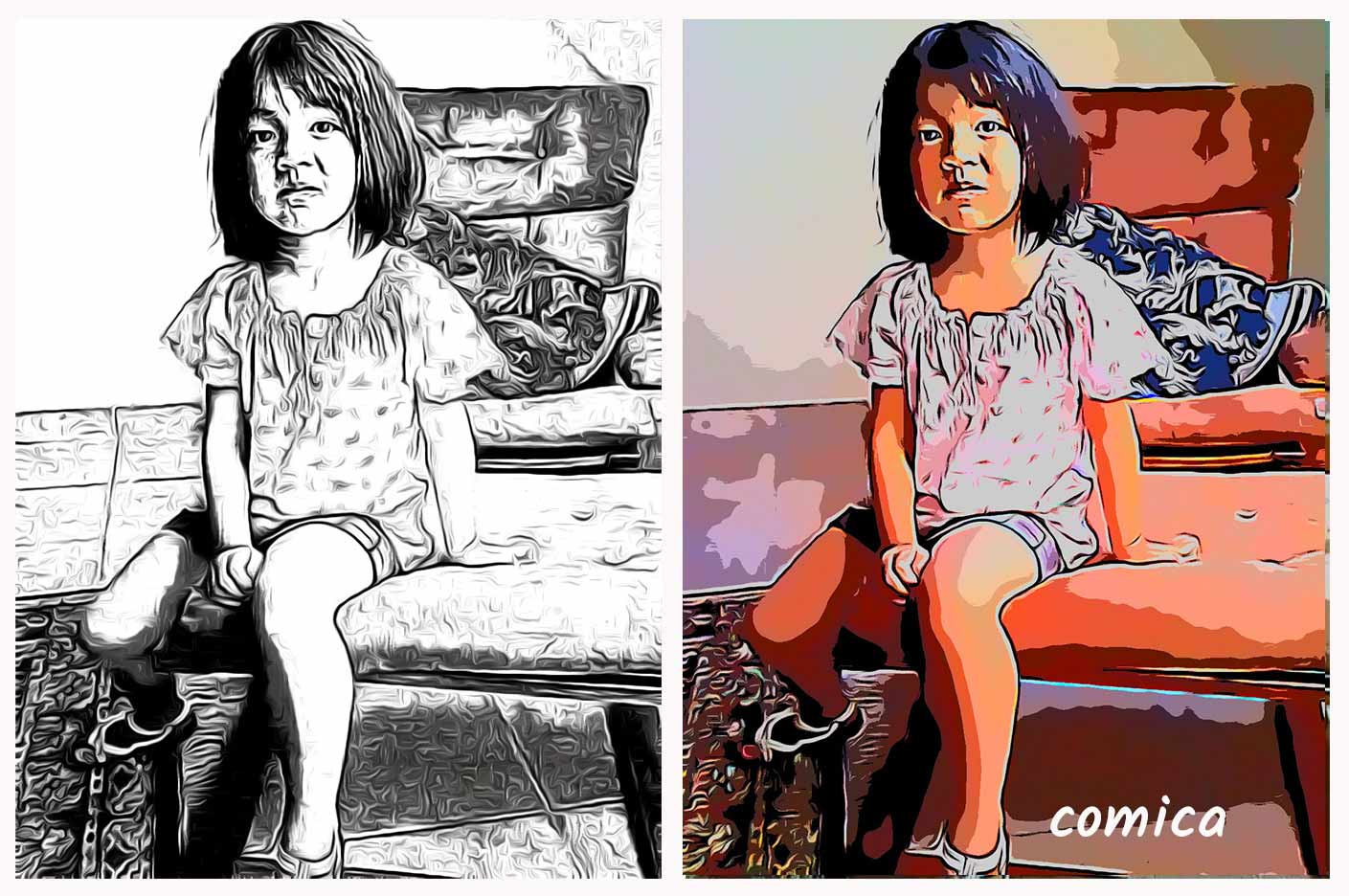 But not only does it transform your photos into cartoons... but it is also able to add bubbles and stickers... and also to help you edit a comic strip (in multi mode...)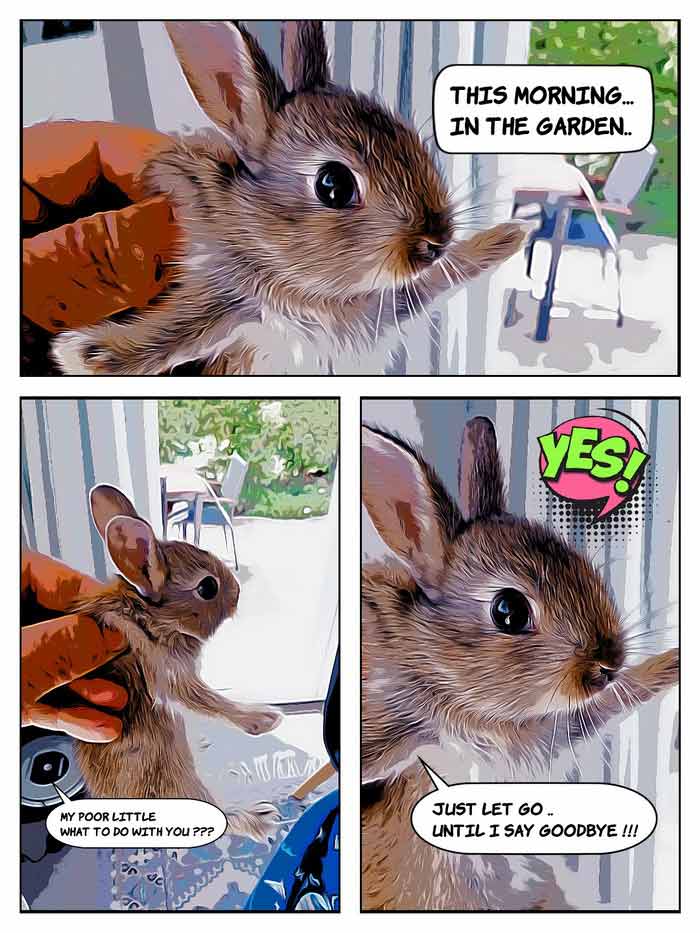 Note the cartoonization of the rabbit which is frankly good! So it's a very nice software, which does the job well. To remember!
See this special page of this site dedicated to COMICA....
PRISMA.
We no longer present the PRISMA application, which in its time brought a new approach to automatic image processing... It is a precursor of all the other excellent applications that have succeeded it with more or less happiness!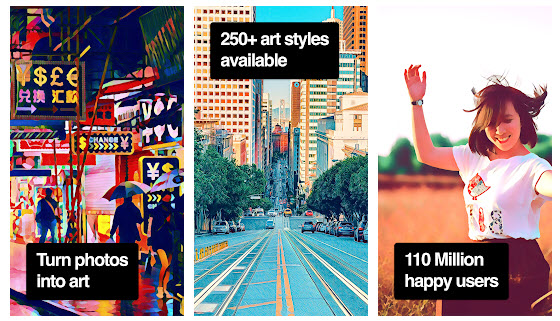 Varied and original effects, daily updates... and great flexibility in image processing... And all for free, without any untimely advertising that spoils everything! Unfortunately, the line drawing leaves something to be desired!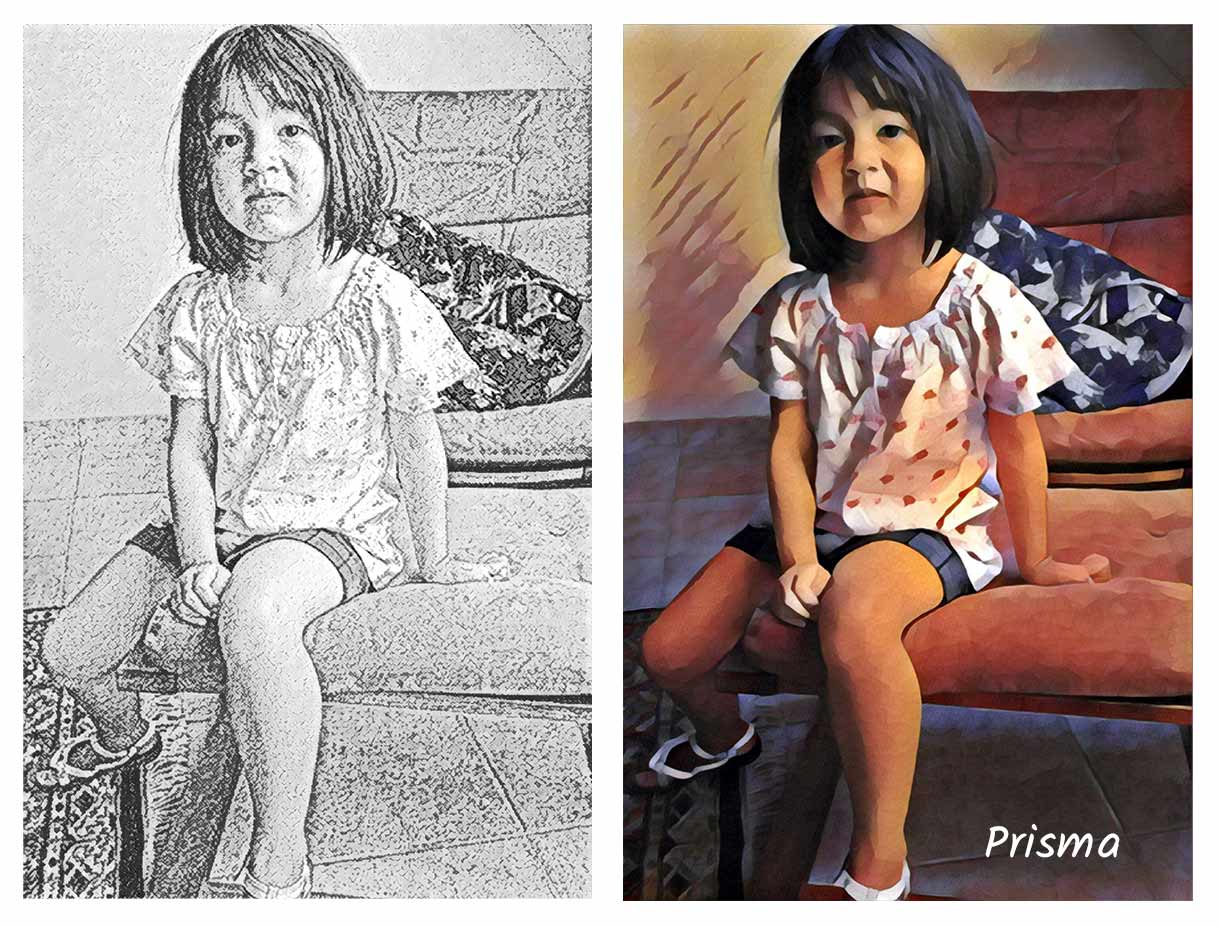 CARTOON PHOTO FILTER
You can easily find it on the PlayStore and certainly has its double on the Apple store.... He promises us art photos....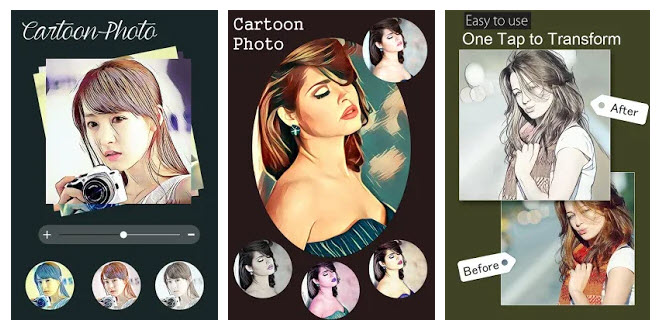 Very fast, not too spoiled by advertising, the effects are easily selected... I retain 2 of them, rather average but let you explore the fifteen others available....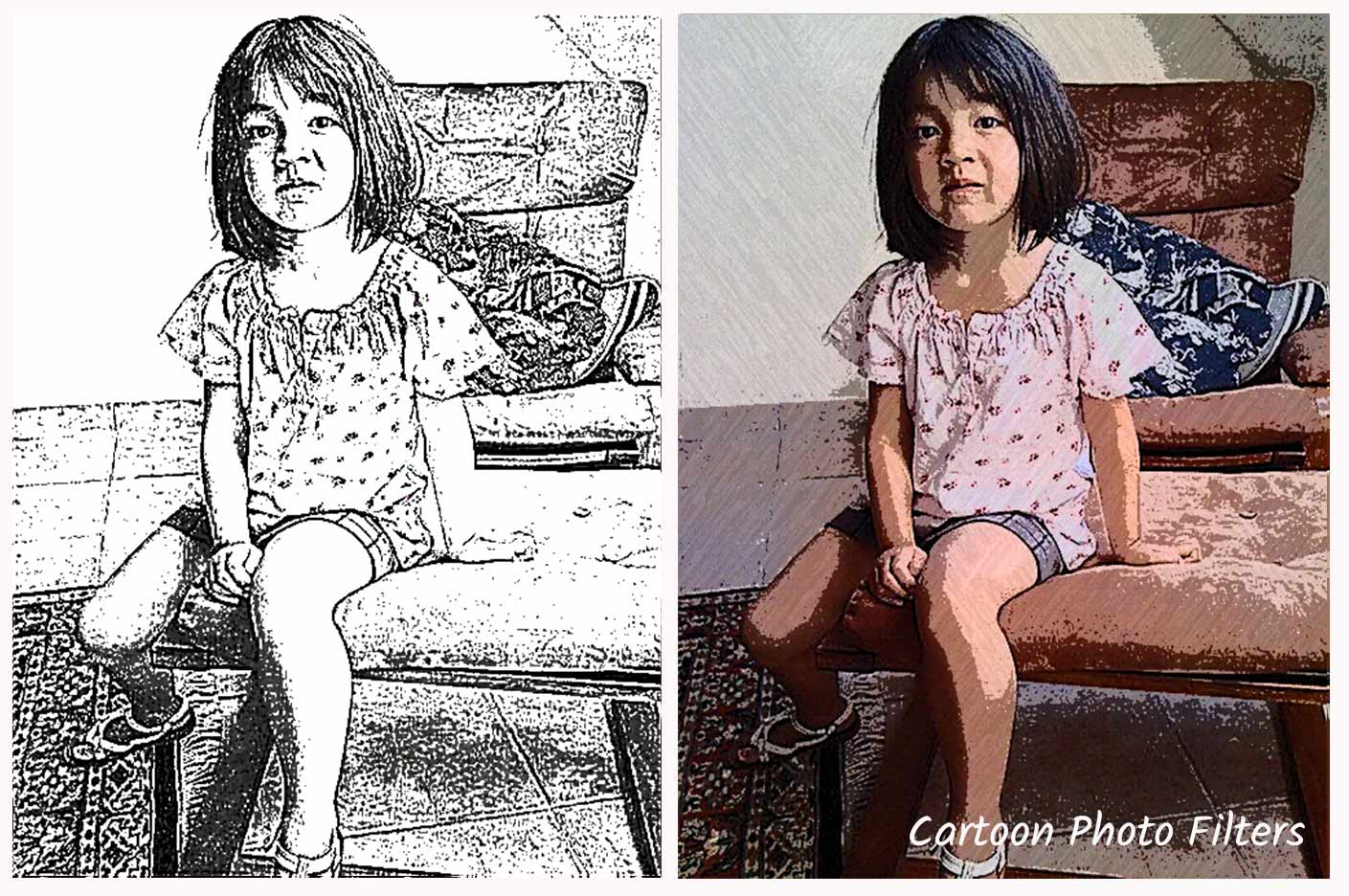 The work is "honest" and nothing more... I would have liked a drawing with a more refined line, without the many slags that enamel it...
PAINNT ART FILTERS
Here is another very nice soft, which is a little far from the initial purpose: "How to cartoonize a photo" because when you try it, you go beyond the limits to get straight into the artistic... A host of effects, each more stunning than the next....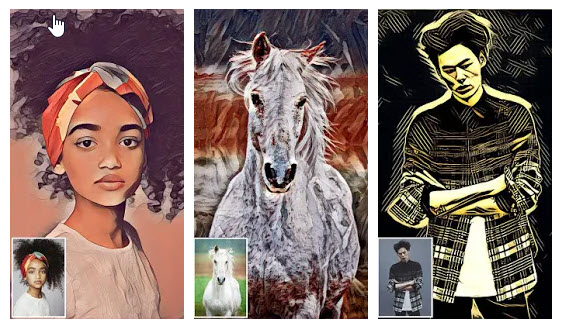 Among the dozens of filters available, a little like PRISMA, I extracted these two thumbnails of photos transformed into a B&W drawing and a photo transformed into a cartoon... The quality is there, the design is well marked and the colours, adjustable, are pleasant...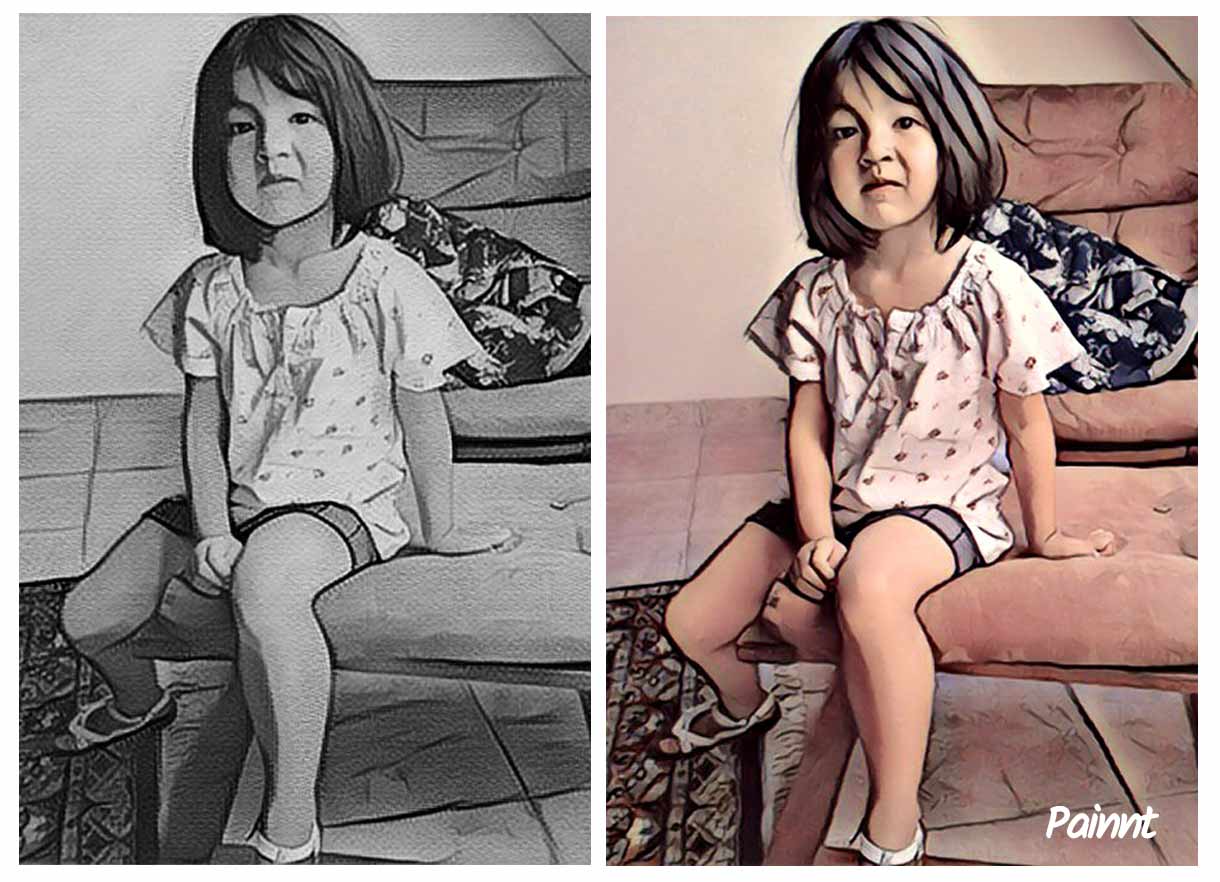 Only shadow on the board... if you want to try it for free, you will have to ingest incessant ads that spoil the fun... But if you search well on the net, you will probably find a version less loaded with ads? (Shh... it's illegal!)
PICSART
It is undoubtedly one of the prettiest and most efficient... A very rich interface, tools, layers... It's almost like being in Photoshop because the interface is so neat and functional.... It is a very complete photo editor....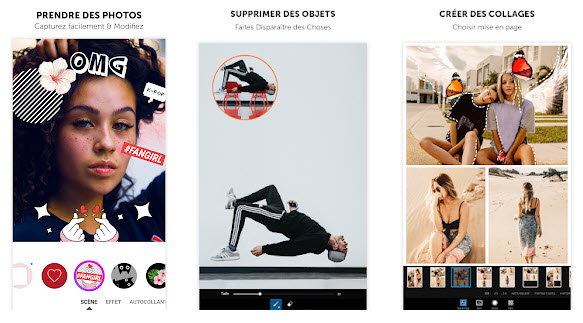 The filters, while not excellent, are efficient and fast: there seems to be only one treatment that establishes a black and white image... the color (fx) effects are then applied on this basis.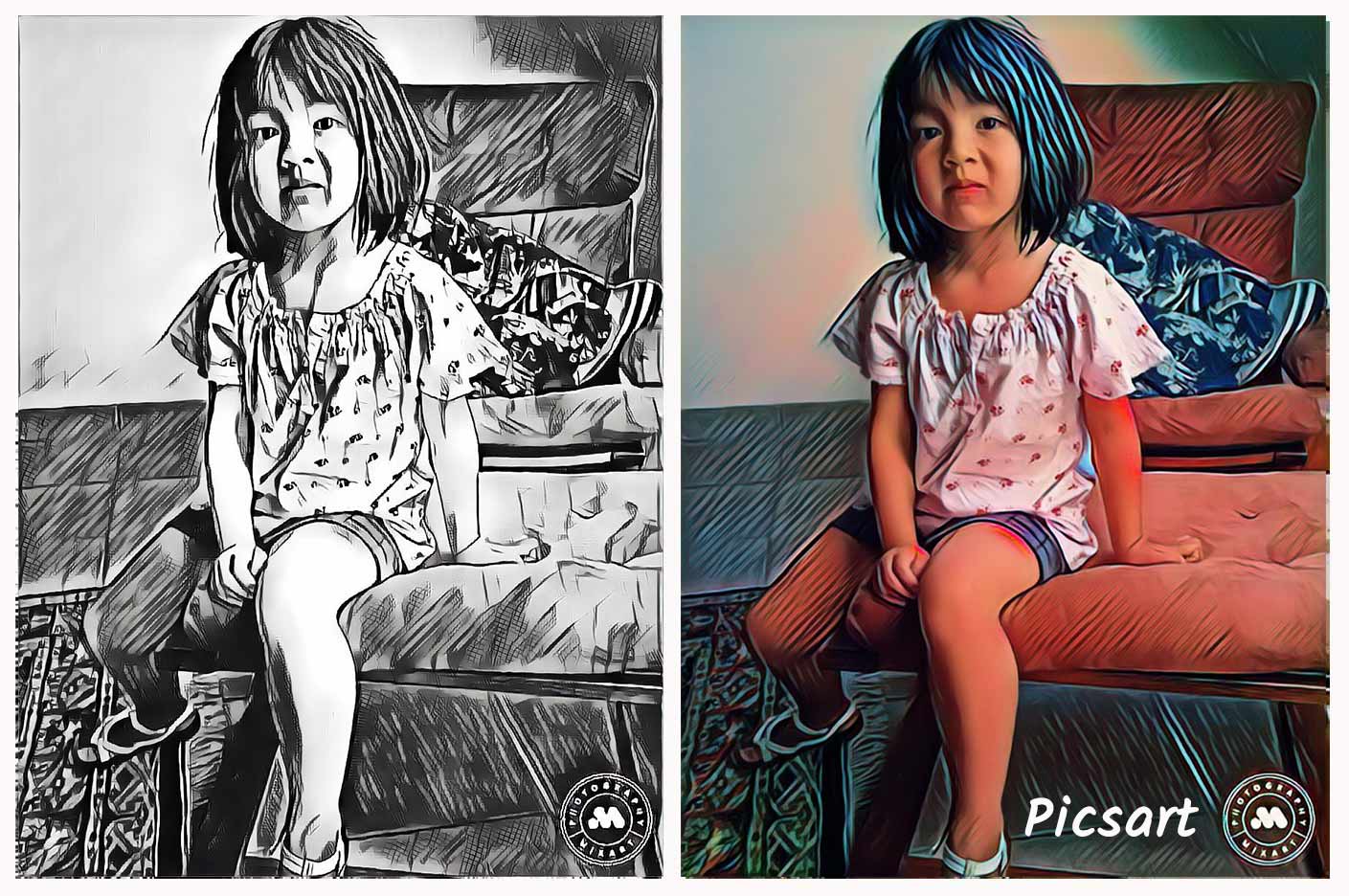 The final images are discreetly tagged "Mixart".... For lack of time, I didn't try to deepen the reason for this tag....
THE CONCLUSIONS....
---
Of course, everything is relative and you can't fully explore a software in such a limited time...
Nevertheless, 4 softwares have caught my attention particularly for the quality of their results: CARTOON PHOTO EDITOR, PAINNT, PICSART and COMICA. These are the only ones I will keep on my laptop for their speed, the sharpness of the results and the richness of the effects offered... I leave PRISMA aside, for which I already had many preferences!
I confess to having a weakness for comica to whom I give the first prize!!!!!
Turning a photo into a cartoon automatically has never been easy, all the more reason to praise the quality of these software programs specialized in transforming photos into cartoons...
This page will be completed and updated according to the new features that may appear, thank you for reading it and see you soon!