>> PAINTINGS AND DRAWINGS  

> Put your own picture on a popular fake  mag cover : you are the star of the next years!
Make your own fake magazine now. Because it's desperate for you to wait the prince charming kiss to be in the headlines !
You can put your pictures on the FAKE PEOPLE MAG... or if you prefer an international career... on the FAKE French VOICI MAG ...
Don't forget to have also a look on How to turn a picture to comic character page.
> Cyclads Islands... I have a dream !!! Let's have a Greece travel and meet in SANTORINI for a gallery of BLUE PAINTINGS like the sea and warm like the Greek Aegean sun.

> A Xmas gift, a birthday ? A retirement ? A surprise to give to somebody you love ?
You've many reasons to order a pencil portrait. It's a low cost gift and always a pleasant surprise !
>> FRAMING PICTURES

> Is your home rather shabby chic or country ? Unless it is traditional style or has a modern design ?
It's important to know that before choosing your frames...
Look HERE how to choose your frames to decorate your interior...

> You have a hard time to arrange your picture frames on the wall ?
This is a small tool to place the frames ? How much for this tool? Just about 5 cents !!!
A great tool to arrange your frames on a wall



> Do you want to make your own picture frames ? Without a lot of equipment ? But never played the carpenter?
So look at that page and start at once making your first frame !
Go to Making a classic frame.
>> SCRAPBOOKING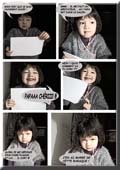 > How to turn your photos into cartoons and comic strips ? Look at this new manner to do.
And make a comic strip from photos is easy with photoshop CS or any other image editor !

>Make a photo mini album from an A4 sheet of photo paper...
A very simple technique ... and you have all the portraits of your family in your pocket!
Make your own 8 pages
mini-photo album...

> Leave on a trip and want to have the memory of it?
Create here your  travel diary... Enter the ANNE world and scrap a travel journal with her !