How to recover an image
on the BEFUNKY.com website
I love the befunky.com website for its fabulous richness in image processing... If you go there, you'll be amazed by everything they offer! What interests me particularly are the almost infinite possibilities offered to transform a photo into a drawing, an oil painting...
The only problem is that this site is not free! And for someone who uses it only once in a while, the subscription is quite expensive... Too bad their economic model would only be better if the pricing policy was lighter!
Processing a photo on befunky
---

 Open your photo ont the windows desk...

  Go to bekunky.com and click on create and then on Photo Editor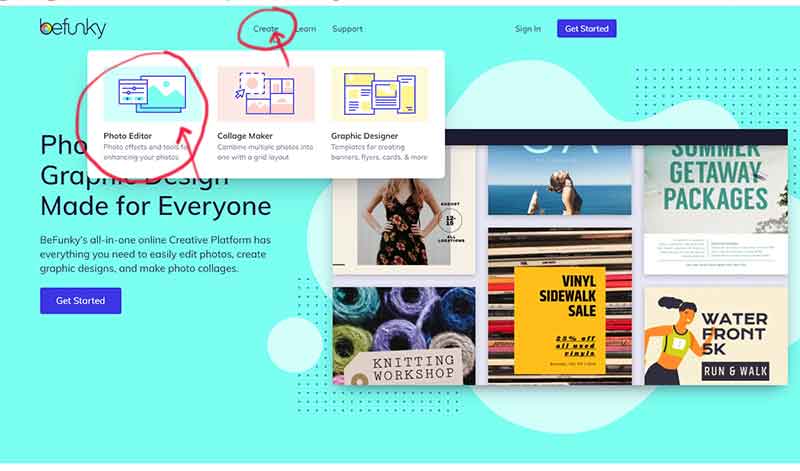 In the window that opens, Drag and Drop the photo to be processed... A nex page is opened : In the left menu, choose the "Artistic" option... You will be able to explore the very rich options of Befunky. Note that the best results are obtained with ".DLX" filters.

 Process your photo with one of the filters you have tried... I chose the Pointillism DLX filter... and here is the result I got...
If you are not registered on the site, you cannot save your work... And you notice in the bottom left corner the Befunky tag...
On this site there is a tutorial to remove it... and recover your processed photo...
But we'll do even better... we'll get this Befunky image back with almost nothing to do...just a few clicks and no headaches!
How to recover your processed image...
---

 In your browser (here I give you the way to do it with Chrome). If you don't use Chrome, you should find the equivalent in your personnal browser!
Click on the 3 dots at the top right of the window... A drop-down menu appears... then click on More tools... then, in the new menu that appears, click on development tools...
Select Sources (4) then click on the directory in (5)... your photo is displayed: click on it.
Your photo is displayed on the right as a thumbnail... all you have to do is drag and drop it onto the desktop

 You now have your processed and untagged photo! I just decreased the light a little and gave it some vibrancy to reinforce the color dynamics...
I encourage you, if you often use Befunky.com services, to take a subscription. All information and prices on the site Befunky.com !
Get your image from FOTOR
---
Fotor.com is also an online image processing site, a little less powerful than Befunky but which provides very satisfactory... Its image processing filters will become very efficient when they are accompanied by a little artificial intelligence... Again, this is a site that you can "try" before taking out a paid subscription. There, it's easier to get your image back...
To try the filters, here is a picture...

 Open Fotor.com and pour into your image... Click on All Art in the left menu and choose the Structuralism filter by clicking on its thumbnail. After a processing time that could be improved, the image appears as a thumbnail...

 Now right-click on the processed image and, in the menu that opens, click on copy image... or save image as...
Your image is now in the files of your PC!
G.