The author
> how long do you scrap?

I scrap since approximately 5 years.  My first motivation: my children, of course !

> What do you prefer to make out of Scrap?

I adore to age, damage, "cradosser" (my term with me for inking)… It was thus extremely logical that the heritage, the vintage and the smart shabby as private individuals have my preference !!!! It is a style which makes it possible to make pass from many emotions…

> Which are your preferred colors?

The CHESTNUT, but I also like to mix the ROSE/CHESNUT and the BLEU/CHESNUT… Finally, in short, if you did not understand, I ADOOORRRREEEE the chestnut !!!! lol


> What brings scrap to you?

For me, scrap is an art of living… It is a creative leisure "generous" in the direction where thanks to it, one shares our feelings, our joys, our wounds through our achievements.

During many years I suffered from the loss of a loved one… and scrap was my discharge system, my therapy!!!!

Therefore, I try, through my achievements, to pass a maximum of feelings. My original intention: my children must know how much I like him !

One of my greater joys is when all my family is interested by my work… So, many which is those thinking of me when they cloud in the secondhand trades or go in draperies.

Scrap bring to me much in my daily life but I must acknowledge that association "Si on scrappait?" we created with Sylvia is a result ! This adventure brings much joy to me thanks to the kindness, the generosity and the humor of our adherents which did not hesitate to follow us in this adventure!!!!

Visit the blog GREGRE:

http://scrapgregre.canalblog.com/

Hardware requirement 
- Matched acrylic Paintings, a matched paper.
- photograph (printed on canson paper), fabric.
- heat gun, versamark, Distresser photo vintage,
- Stazon timber brown, edge distresser,
- paper to be sandpapered, Stamp "writing",
- utee, two-sided adhesive 3D, lace, various embellishments.
Bibliography
If the pages smart "vintage" and "shabby" make you dream without you knowing by where starting, this book is for you! All the bases are there, and would owe you in little time to control the basic techniques to make pages in this style. Without speaking about a mini really original, and really sympathetic album…
Realization of the bottom 
Take your canvas fabric and pour a little of your paintings on it.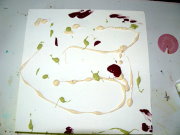 Take a spatula or a brush and spread out your colors. Do not hesitate to leave a little thickness, it's good.....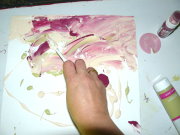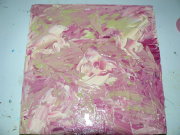 Once your spread out painting is finished, take your heat-gun and dry your fabric.


You will notice that your painting make of "bubbles" at the places where your painting is thickest.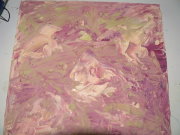 Two solutions arise then to you…. Either you let the bubble "fall down all alone" and you pass to side…. Either you insist on this bubble so that it bursts.
ATTENTION : however not to burn your fabric!!! Here what that gives…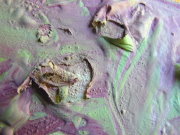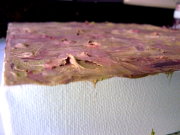 I created these melt… thanks to my impatience! Lol ! I do not like to await only that dries!!!!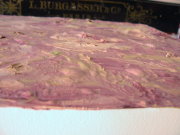 So certain colors appear too sharp to you, you can attenuate them while passing a bit of Distress "photo vintage" when your painting is dry .
Your photograph
You can, of course, print it on photo paper, color, black and white or sepia (this last has my preference….) but I advise you to test other matter such as the bazzil, the transparency or the canson paper (which is not very expensive) as in this example.

Take your Edge distresser in order to damage the contour of your photograph.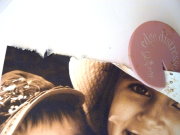 You can also fold your photograph and sandpaper it, then, on this fold…. It will have an older effect.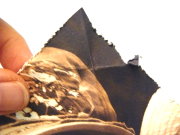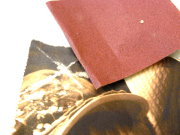 Then, pass with acrylic resin on all edges :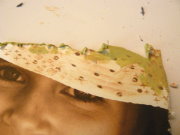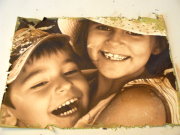 In order to give a little relief to your realization, you will be able to use double-faced adhesive fam 3D in order to stick your photograph.




Continuation (2)